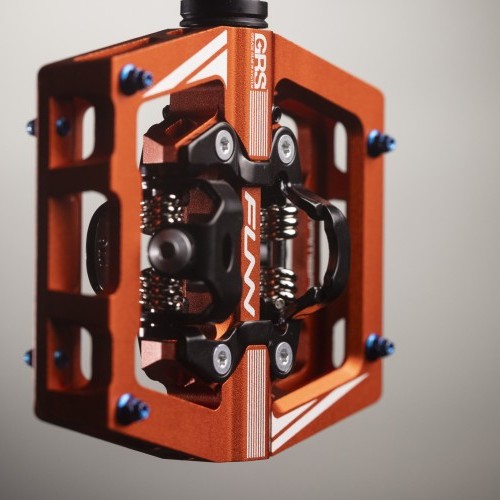 Funn Introduce New Mamba S Pedal | The Best Of Both Flats & Clipless?
Wed 7th Apr, 2021 @ 12:30 am
Win a Peaty's Complete Bicycle Cleaning Kit this issue in our FREE subscriber prize draw.
The Funn Mamba S brings together the power of clips with the control, fun and freedom of flats. Lighter and lower profile than the original Funn Mamba pedals, the Mamba S is perfectly suited for enduro racing, trail riding and all-day, off-road adventures. Available in single and double-sided versions, the Mamba S combines a flat-pedal style platform and a tough, reliable Shimano SPD mechanism. Clip-in when you need power, use the platform when conditions get steep and technical.
"Our original Mamba pedal was designed for the brutal conditions of World Cup downhill and has helped carry both Phil Atwill and Veronika Widmann to scores of elite podiums and top 10 results."

– Funn
The Mamba S takes that winning design and slims it down for enduro, trail and gravel riders… or simply anyone that prefers a smaller and lighter clipped pedal. Measuring 83mm wide and 98mm long the Mamba S is the ideal compact platform pedal, matching plenty of clearance with a low weight.
The heart of the Mamba S is a Shimano SPD mechanism for instant, flawless engagement. The pedal body is a super durable and super high-quality CNC'd platform with customisable pins for perfect grip. The Mamba S rotates around a CrMo axle with a DU bush and cartridge bearing, guaranteeing both world-class performance and pedals that will just keep on working, whatever you throw at them.
Funn is committed to creating durable and sustainable products and the patented GRS system ensures pedals will last longer and can be serviced more easily. GRS allows riders to inject grease into their pedal for a quick-and-easy service that doesn't require a full strip-down or any specialist tools.
Replacement axle and pin kits are also available through FunnMTB.com, Amazon and Funn's dealer network to keep your pedals in perfect condition season after season.
The Funn Mamba S is now on sale worldwide, with distributors listed on the FunnMTB.com website. Prices for the Mamba S Single are $125USD / £105GBP, with prices for the Mamba S Double at $135USD / £110GBP.
Key Features:
Made from tough but lightweight AL6061
Available in double or single-sided options
4 replaceable pins per side on clip platforms
11 replaceable pins per side on flat platforms
Compatible with SPD cleats
GRS system for easy maintenance
CrMo axle w/ DU and cartridge bearing
Supplied with spare pins and tool
Platform size W83mm x L98mm x H13.4mm
Spare parts available
Clip Double side 465g / pair
Clip Single side 405g / pair
Red / Orange / Blue / Green / Black / Grey
Featured in this Post
Comments