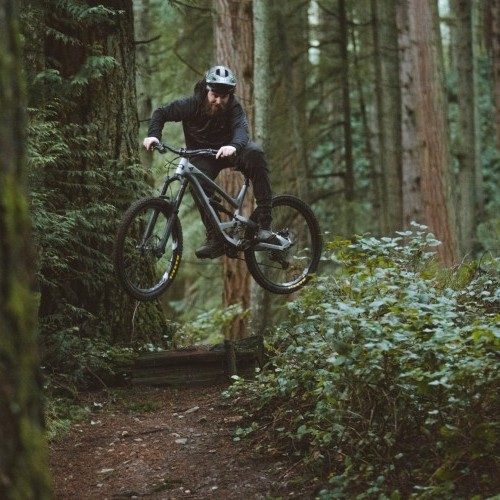 Full Metal Goat | Graham Agassiz Joins The YT Family
Tue 6th Apr, 2021 @ 6:30 pm
The name Graham 'Aggy' Agassiz is music in any freeride fan's ears. It conjures up images of a fearless mountain biker living uncaged, sending it down scree chutes with clouds of dust and rock tailing behind him or boldly showing off his impeccable style on the biggest drops you can imagine. The Canadian freeride mountain bike pro hailing from Kamloops has sent the most treacherous terrain and the gnarliest features. After recently signing with YT Industries, Aggy introduces himself to the YT Family the only way he can. Currently, Aggy is recovering from a leg injury. We wish him all the best and a speedy recovery!
Win a GO3 Camera by Insta360 this issue in our FREE subscriber prize draw.
Graham Agassiz – A force of freeride
Agassiz grew up in one of the most epic mountain biking areas the planet has to offer, but it was the New World Disorder sequel that got Aggy pumped to get out on the mountain bike. Having dug into the two-wheeled world of BMX and Motocross already, the addition of mountain biking to his quiver of talents came naturally. "I think New World Disorder 5 kicked things off for me. Rose Hill was my place to learn the MTB way and I learned my trade by just riding, discovering things for myself, and looking up to riders like Robbie Bourdon, John Cowan, and Thomas Vanderham along the way", Aggy explains looking back. For the 31-year-old riding mountain bikes is essential to his way of life: "I ride because it is my escape, it makes me happy, and I just live in the moment. It's hard to explain but biking almost therapy in a way." His passion has taken him around the world and his dedication is the foundation for constantly pushing for the progression of the sport. "My best line? Hard to pick one. There have been a lot of lines over the years that I'm really proud of; lines I built and the runs I showed, somewhere in Utah at Rampage."
"Our roots are embedded in gravity and freeride mountain biking. It only seemed fitting for the CAPRA to be featured by Aggy. We are stoked that he is part of the YT Family now and watching him send our new full metal goat through Canada is awesome. I can't wait to be able to hook up, get some laps in and crack a few post-ride beers with him later in the year."
– Markus Flossmann, Founder YT Industries
"This was the first time riding the CAPRA ever, and I instantly felt right at home. It was like it was meant to be. A good enduro bike needs to be a lot of things. I'm pretty particular when it comes to the overall setup of the rig, but everyone has their own thought process on this. I feel very comfortable on the new bikes and I look forward to pushing boundaries on my TUES and DECOY too when I am back on the bike!"
– Graham Agassiz, YT Family member
Full Metal Goat – Send it all day, every day
In 'Full Metal Goat' we see Aggy showing off his daily routine and doing what he does best: shredding, sending, scrubbing – no matter what the conditions are or the time of day. Getting to know the new aluminum CAPRA the Canadian proves that the GOAT still has it what it takes for unlimited GOOD TIMES. "We shot the video on the Sunshine Coast of BC. We spent about ten days battling snow and rain, but it made for really dynamic filming opportunities. My favorite trail during the production was Coastal Cruise, one of my all-time favorites." Currently, Aggy is recovering from a leg injury. We wish him all the best and a speedy recovery!
For more Information about YT Industries:
http://www.yt-industries.com
Featured in this Post
Comments