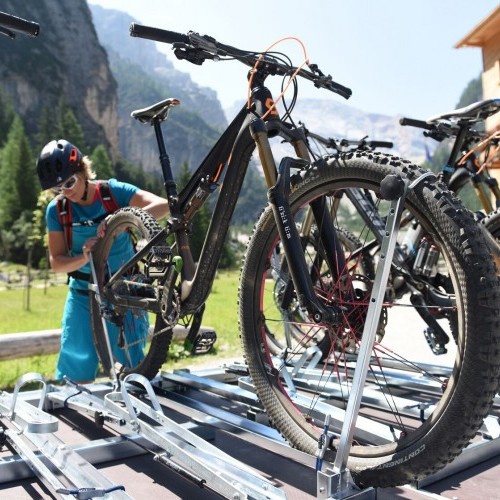 True Nature Travels & Ladies AllRide Offer Women Empowerment Biking Clinics in the Dolomites
Thu 5th Apr, 2018 @ 3:30 am
True Nature Travels & Ladies AllRide Offer Women Empowerment Biking Clinics in the Dolomites
True Nature Travels is thrilled to announce a new women's adventure retreat this June in the amazing Dolomites of Italy! With a focus on bringing women together to face fears and enhance their lives, Professional coaches Lindsey Richter and Meredith Brandt of Ladies AllRide and Grit Clinics will teach mountain biking skills among the beautiful backdrop of the Italian countryside. They will be partnering with True Nature Travels, a retreat company with over ten years of experience providing diverse wellness, service, and education programs around the world.
Created by professional mountain bikers and skills instructors Lindsey and Meredith, Ladies AllRide is a movement dedicated to growing the community of female mountain bikers across the globe. Ladies AllRide runs national clinics with the mission of empowering women and creating space for female athletes. These clinics continuously sell out. This year they are partnering with True Nature Travels to take their clinics worldwide for the first time.
Lindsey and Meredith say of their clinics, "AllRide is a message: We should ALL RIDE bikes and get the most out of life." Linsey says, "I teach people how to give their bikes life and help them develop a deeper relationship with the mountain bike lifestyle. I know firsthand how mountain biking can enrich women's lives and bring so much joy and happiness into their worlds! I must get more women involved involved with this community!"
From August 25- August 31, 2018 mountain bikers will join True Nature Travels and Ladies AllRide coaches Lindsey, Meredith, and Angi in San Vigilio Di Marebbe, Italy for the trip of a lifetime! This destination trip will be packed full of exciting trails, skill building clinics, adventure, relaxation, and culture. Participants will stay at a gorgeous resort in the Italian countryside while enjoying rich meals made with fresh and local ingredients. This retreat also includes freetime to hike in Fanes-Sennes-Braies Nature Park, rock-climb, zipline, horseback ride, and simply relax and soak in the Italian culture.
True Nature Travels is excited to be partnering with Ladies AllRide for this amazing Italian experience! Additional Ladies AllRide sponsors include Liv, SRAM, RockShox, vittoria, CamelBak, save our soles, Thule, Sombrio, SMITH, Picky Bars, G-Form, Five Ten, Crank Brothers, DT Swiss, Dumonde Tech, Deschutes Brewery, humm kombucha, Petal Power, GU, zealios, Walton Family Foundation, Bike Flights, and RuffWear.
Student Testimonial
"Not only is Lindsey knowledgeable, she is able to convey that knowledge in a way that makes you understand why you're doing what you're doing. Lindsey is someone who truly enjoys teaching and her energy and enthusiasm for the sport is infectious. The fact that she shreds on a bike, is tireless, funny and fun is just a bonus."
To Register and for full retreat details: http://truenaturetravels.com/retreats/mtb-italy-ladies-allride
Featured in this Post
Comments