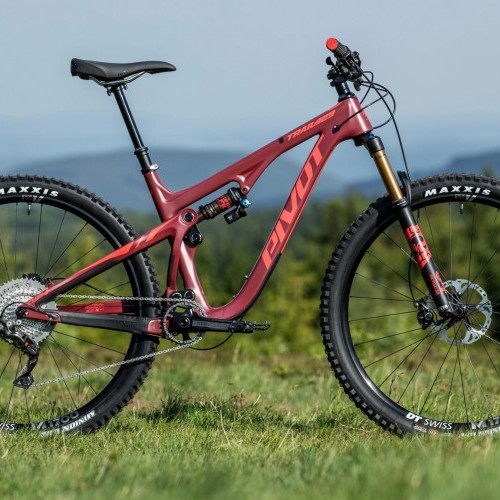 First Ride: Pivot Trail429
Thu 24th May, 2018 @ 9:30 am
Pivot's latest 120mm 29er, the Trail429, is described by Pivot as "crazy fast, ridiculously capable". We took a closer look to see if these claims were true.
The Trail429 is the successor to the Mach429 Trail, which came out 3 years ago. The new bike enjoys some updated, modernised geometry to improve both its climbing and descending abilities. It's also been beefed up a little, yet is lighter than its predecessor. It is available with either 29" or 27.5+ wheels.
Married to a 130mm fork, this bike will take almost everything you throw at it, finding its limits only in the steepest roughest of trails – downhill or enduro bike territory. Not all that surprising since this is a trail bike.
The frame design has been completely overhauled. Retaining the mid-travel DW link design, the lower link has been widened by 25.4mm to increase stiffness. This means that the frame is not compatible with a front derailleur, but with the popularity and efficacy of 1x set-ups this is unlikely to cause any major headaches. The double-wishbone rear triangle replaces the single-sided version of the previous bike, plus it now sports a 12x157mm super-boost rear end.
The headangle has slackened ever so slightly from 67.5 degrees to 67.3, a difference we're confident most people won't notice. The seat angle is now a steeper 74 degrees, which helps keep the front of the bike down when climbing. Perhaps the most exciting changes are the reach and chainstay lengths. The chainstays are now 430mm down from 443, whilst the reach has been extended – on the medium sized frame we tested it had increased from 409.2mm to 440mm. Numbers on paper don't really look all that exciting, but the shortened back end made the bike extremely playful, and despite it being a 29er, really easy to pop the front wheel up and over anything that got in its way… and ideal for doing a good old wheelie. The reach felt perfect both seated and standing (our tester is 172cm in height). The wheelbase is 30mm longer than the Mach 429 Trail, and whilst we weren't able to compare back-to-back, the Trail429 never once felt unstable at speed.
We had the opportunity to ride on a real variety of trails – from near-flat rooty singletrack, to full on bike park laps complete with some decent size jumps, and back up again.
The climbing prowess of this bike is not to be sniffed at. We rode the Pro XT build with the upgraded Fox DPX2 shock, and a Fox 34 fork up front. With the shock fully open, we were able to get up and round some quite tight sections albeit with a slightly soggy feel to the back end. Trying the same section again with the shock in the firm position, the bike felt taut and responsive with little or no pedal bob. Spinning away up fire roads was efficient and comfortable.
On the flatter singletrack we encountered, it was easy to throw the bike around and change direction quickly, and if you want to hop n pop your way down the trail, you will not be disappointed. It was seemingly effortless to get this bike in the air off the slightest excuse of a kicker.
As soon as we pointed it down hill, it got even more fun. High lines, drops, jumps, you name it, the Trail429 took it all in its stride. The rear end dealt with everything perfectly, and quite often felt like it had more to give than 120mm of travel. Even when accidentally left in the firm position, the shock behaved well, and it wouldn't be until we reached the next descent that we realised we'd done the previous one in the firm setting.
Steeper and rougher terrain didn't really phase the Trail429 either. It handled well, the only real difference between this little bike and something more "enduro" being that you perhaps needed to treat certain trail features with a little more caution – but not a lot! The Fox 34 was reaching its limit in more aggressive terrain but the frame has been designed to be used with a 130 or 140mm fork so an upgrade to something a little less flexy wouldn't be out of the question. Despite the fork's limitations, we never felt like the front wheel was being deflected from the line we'd chosen, and pointing it down steep stuff is more likely the exception than the norm on this bike – and for that, it is perfectly capable.
So is it really crazy fast and ridiculously capable? It's definitely very capable, yes. We wouldn't hesitate taking it for a jaunt round any UK trail centre or local hand-cut trail spot, and we'd expect it to deal with whatever we threw at it – although keeping those super steep or rough descents to a minimum. Is it fast? Well, that all depends on you. But when you get it there, its perfect mix of stability and agility will be sure to put a smile on your face.
The Trail429 will be available as a complete bike only, due to the potential difficulty in sourcing super-boost rear wheels. When buying the 29" configuration, it is fitted with a zero stack lower headset cup but is supplied with a 17mm cup to be used with 27.5+ wheels in order to raise the bottom bracket to compensate for the slightly smaller wheels if they should be used in the future. The 27.5+ version is fitted with the 17mm cup from the factory, and ships with the zero stack cup.
The Pro XT test model we rode was equipped with Shimano gearing and brakes. The Pivot Phoenix carbon bars are billed at 760mm wide, but with the Phoenix Padloc grips, came up at more like 770mm. The 55mm stem, 150mm Fox Transfer post and WTB saddle rounded off a well thought-out set of components.
Pricing ranges from £4,750 to £8,100, with Team, Pro and Race options available, each with a choice of SRAM or Shimano gearing and braking.
Featured in this Post
Comments