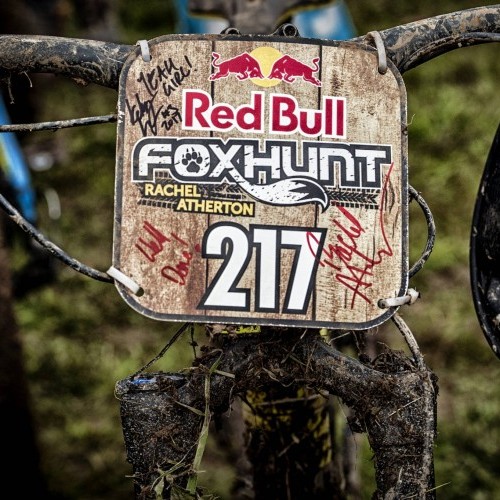 Five Time World Champion Rachel Atherton Is Back for Red Bull Foxhunt 2018
Sat 16th Jun, 2018 @ 3:30 pm
Red Bull Foxhunt is returning to the hills of Machynlleth, Wales on 29th and 30th September 2018 as five time world champion Rachel Atherton, who missed out last year due to injury, returns as the fox.
Traditional roles will once again be reversed, as the hunters become the hunted. A mass start will see 300 female riders playing the part of the hounds as they try to outride one of the best female downhill racers in the world – Rachel Atherton.
The Welsh route proved popular last year, and is the most challenging yet. The 300 riders will need to battle it out down the specially built course without being caught. Combining tight wooded sections and open spaces, riders will have keep their heads up to dodge the trees, keep their elbows out to hold their place, and sprint down the course to stop other riders and the five time World Champion pass. The hounds will also need to think about tactics as a mass participation start calls for some clever thinking about which line to take and where to sit in the pack to avoid crashing.
Entries for the 2017 event sold out in a record time of 12 minutes, and it was easy to see why. The event took place in Rachel's home town of Machynlleth and the new technically challenging course tested the riders to the max as they tried to stay ahead of the fox. Mille Johnset was the first down the hill, with Rosy Monaghan in second with closely followed by Claire Bennett in third place. The honorary fox in 2017 was Rachel's Trek Factory Racing Enduro teammate Katy Winton, who managed to catch a number of the women.
Entries for the 2018 edition will go live on 18th June for 300 experienced riders to compete in Machynlleth. It will test the riders' technical ability as they look to stay ahead of Rachel over the challenging route. The event includes practice runs, seeding and of course, the main event against a festival backdrop of entertainment and refreshments for the female downhill MTB community to enjoy.
Speaking about the event, Rachel Atherton said, "I'm so stoked to be returning to this year, I can't wait to get back out there with all the shredders. Red Bull Foxhunt is always a highlight for me, it's such a great atmosphere and provides a friendly environment for girls to come down and ride, hang out and do some yoga. We have so much talent in this country and I really hope this encourages more girls to hit the trails and get into the sport".
Entries for Red Bull Foxhunt will go live on 18th June at redbull.com/foxhunt.
Join the conversation @RedBullUK #RedBullFoxhunt
Featured in this Post
9,804
326,422
Austria
47,790,335
Comments