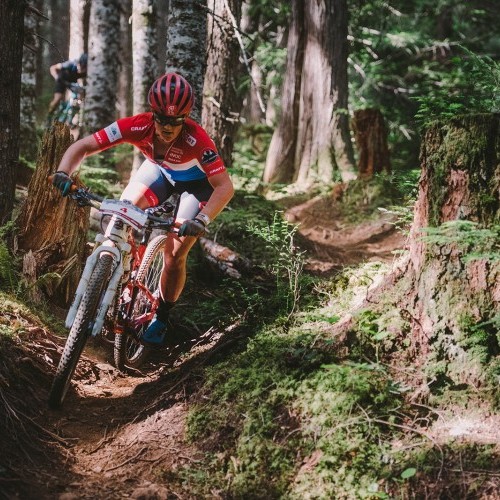 Kicking Off The 2018 BC Bike Race
Fri 6th Jul, 2018 @ 12:30 pm
The 12th edition of BC Bike Race kicks off today when 600 racers from a record 40 different countries arrive in North Vancouver. We are as excited as ever to welcome new and returning faces to our backyard. This year, for the first time, the race will begin in the scenic Cowichan Valley and will end in Squamish – a favorite stage for our racers.
Geoff Kabush is our defending champion and will be battling it out against a strong Open Men's field. Pan American Games Gold Medalist, Jeremiah Bishop from the US and 5-time Cape Epic winner, Karl Platt from Germany are both new to the event and we can't wait to see what they bring to the table! "All my mates did the race and said I have to do it," says Karl. "They were really impressed with the relaxed atmosphere and how people enjoyed it. They were also impressed with the trails and everything around. I am not new to BC but it was always my wish to experience it a bit more, so I think the BCBR is a great opportunity!"
Cory Wallace won the race in 2016 but was unable to defend his title last year when he was forced to withdraw during stage 7 due to an illness. Quinn Moberg, the local hero, will get to race his home trails for stage 7 this year, which could lead to a nail-biting finish. Also returning this year are Tim Johnson and Sam Schultz. Both racers encountered challenges last year – Sam withdrew from the race in Squamish, after a podium finish a couple of days earlier, due to sickness. And Tim received a crash course in suspension set-up during the week after developing serious blisters due to a combination of too much tire and suspension pressure and skinny grips. "I was trying to go fast and trying to keep up with the lead group and I just shredded my hands," says Tim of his experience. We are looking forward to seeing what he can do out there this time with a year of BCBR under his belt!
"I'm stoked to come to check out BC Bike Race for my first time. It's like single track Christmas! I don't know what's coming, but I know it's good! The field is stacked with an all-star lineup perhaps the toughest yet! This should make for a dynamic race with possible lead changes, though out the week. I am gunning for a stage win and a top three overall, but my final goal is to see what the local beer is all about!"

– Jeremiah Bishop
Katerina Nash is our defending champion in the Women's Open category, "as a racer I always want to do my best at any race I compete at. Therefore, defending my BCBR title is a goal. However, it is the race itself, the trails and the welcoming communities that I think about and get excited about when returning to BCBR." Also, back this year and vying for the win is Helke Elferink who took the third step overall last year. Hannah Finchamp, who new to the race this year, will also be pushing for the top step. This current Collegiate national mountain bike champion also took the amateur wold XTERRA champion titles at ages 16 and 17.
Hannah Barnes, a world-traveling adventure athlete, will be getting a taste of what coastal British Columbia has to offer and Canadian freestyle skier and reigning Olympic Gold Medalist in ski cross, Brady Leman, will also be experiencing our race for the first time!
BC Bike Race wouldn't be the event it is without the mountain bike community as a whole. We are looking forward to having some of our local community legends join us this year. Noel Buckley, the owner of Knolly Bikes, will be racing, as will Trail Builder, Penny Deck. On our North Vancouver stage, all the racers will get to enjoy Penny's hard work! Grant Lamont has been a Course Director with BC Bike Race for the last eleven years, this year he is riding the event for the first time! And of course, we are delighted to be welcoming back Graeme Fitch. Graeme is the only racer who has finished all 11 years of BC Bike Race – that's 77 stages in total!
We would like to extend a heartfelt thank you to the communities we visit – Cowichan Valley, Cumberland, Powell River, Sechelt, North Vancouver, and Squamish for hosting us and sharing their incredible trails with our international field of racers. We are also honored and grateful to be riding and sleeping on the land of the Quw'utsun, K'omoks, Tla'amin, Shishalh, Tsleil-Waututh, and Skwxwu7mesh First Nations. And of course, without all of the dedicated trail builders and volunteers, British Columbia would not be the mecca for mountain biking that it has become.
This year it will be easier than ever to follow the race! With live action updates on Twitter, Facebook Live feeds of starts and finishes, Instagram stories and posts, up-to-the-minute online timing results, and daily race reports, photo albums, and videos – you will feel like you're right in the middle of the action! Head over to our homepage to find all the latest race info all in one place!
Featured in this Post
70,079
Canada
28,059
Comments