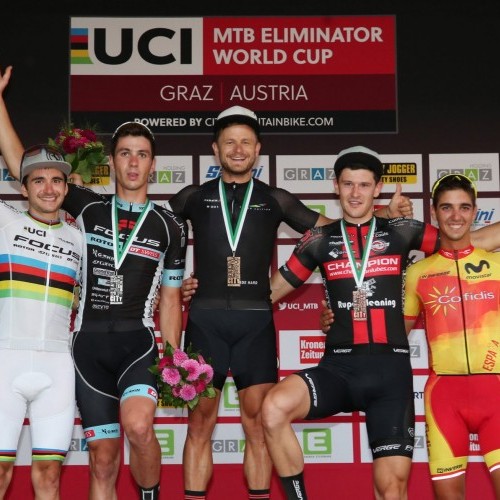 UCI MTB Eliminator World Cup – Round 3 Race Report
Mon 30th Jul, 2018 @ 12:30 am
ROUND 3 – GRAZ (AUT) – JULY 28.
Home success for Austrian's Daniel Federspiel
Daniel Federspiel wins a spectacular third round of the 2018 UCI MTB Eliminator World Cup in Graz, Austria. Federspiel won the men's race, ahead of Frenchman Hugo Briatta and Belgian champion Fabrice Mels. World champion Titouan Perrin-Ganier settled for fourth place, after claiming his second consecutive European title yesterday in Graz. Anne Terpstra, Cross-Country athlete had won qualifying and was favoured to win the women's race.
Round three of the UCI MTB Eliminator World Cup in Graz (AUT) saw lead changes in the men's overall standings, with Dutch champion Jeroen van Eck moving into the leader's jersey after claiming second in the small finals (6th place). Norway's Ingrid Boe Jacobsen strengthens her lead in the women's overall with a total of 145 points.
Recently crowned Dutch Cross-Country champion Anne Terpstra set the fastest time in the qualifying time trials and continued her strong start by making it easily to the finals. Joining her on the podium in Graz were European champion Iryna Popova and Marion Colin from France.
Daniel Federspiel now finds himself at the 5th position in the overall standings, while Jeroen van Eck takes the leader's jersey with 108 points, 15 more than Lorenzo Serres (93), with Hugo Briatta in third at 65 points. Titouan Perrin-Ganier is fourth in the standings.
Men's results – Round 3
1. Daniel Federspiel (AUT)
2. Hugo Briatta (FRA)
3. Fabrice Mels (BEL)
4. Titouan Perrin-Ganier (FRA)
Women's results – Round 3
1. Anne Terpstra (NED)
2. Iryna Popova (UKR)
3. Marion Colin (FRA)
4. Ingrid Boe Jacobsen (NOR)
Featured in this Post
Comments