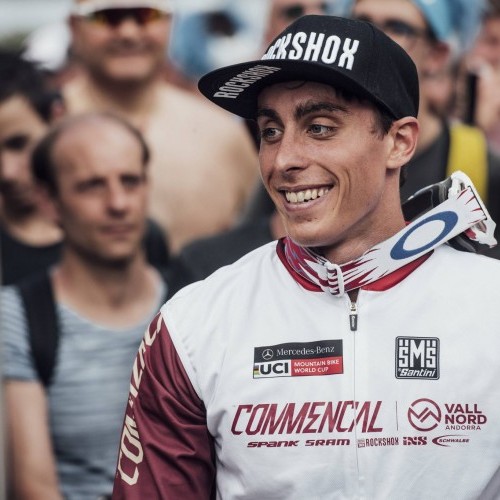 All New Champion – 2018 UCI Downhill World Cup
Fri 17th Aug, 2018 @ 9:30 am
At the penultimate round of the 2018 UCI Downhill Mountain Bike World Cup, Amaury Pierron wraps up his first overall title and draws comparison to other greats of the sport.
With one round remaining on the 2018 UCI Downhill Mountain Bike World Cup calendar, Commencal–Vallnord team rider Amaury Pierron is officially your new World Cup champion. Given his three-in-a-row winning streak earlier in the season, the championship isn't that much of a mathematical stretch of the imagination. Unless you own a crystal ball, though, you probably did not have any money on Pierron during preseason prognostication. Fair enough, neither did he. But he put in the work anyway, and it paid off.
After Pierron's career-first elite World Cup victory at Fort William this past June, we wrote about the young Frenchman's persevering work ethic — about how at RockShox tuning camp at Tennessee's Windrock Mountain Bike Park, in February, in the cold and rain, he kept ripping laps and working on his setup.
What you didn't see in that surface story about Amaury's drive and dedication was the 21st-place note next to his name after World Cup number one. Nor did you see the 43rd-place next to his name after a Fort William round of the UK National Downhill Series just a few weeks prior to the World Cup event there.
Like competitors in every other professional sport, DH athletes draw inevitable comparisons to other riders both current and past. But even if you know that, you probably never considered that Amaury Pierron had often been compared to some of his racing classmates — guys like Loic Bruni and Luca Shaw and Loris Vergier. And those comparisons probably sounded uncomfortably like, "Why can't you be more like your brother?"
When Amaury took the top spot on the box at Fort Bill, the comparisons became a bit more complimentary. When he won again at the next round in Leogang, Austria, the comparisons switched in focus to from whom he resembled on the bike to whose career he'd ultimately emulate in terms of overall wins. After he'd crossed the line at Val di Sole to make it three in a row, people started talking about a possible record-setting fourth. At Andorra-Vallnord, Pierron finished 2nd, which is a career-making ride for many, but not as much if you're aiming for records. Once again, comparisons changed.
A massive off during practice on the iconic Mont-Sainte Anne course signaled a bit of uncertainty for the young Frenchman. It's been said, though, that the mark of true sportsmanship, and of a real champion, is an ability to get back up after a setback and compete — no matter what the eventual outcome.
On race day, after every competitor had crossed the line, Amaury Pierron held the 4th-place position. It was enough to solidify his series title in the UCI Downhill Mountain Bike World Cup. There at the finish line, despite knowing he'd done all the necessary math to win the World Cup, he was still content to sit back let the race winner and countryman Loic Bruni enjoy his day in the spotlight.
If you want to compare Amaury Pierron to anyone, maybe just compare him to the guy who won the 2018 UCI Downhill Mountain Bike World Cup. That guy will be out there doing the work.
Featured in this Post
Comments