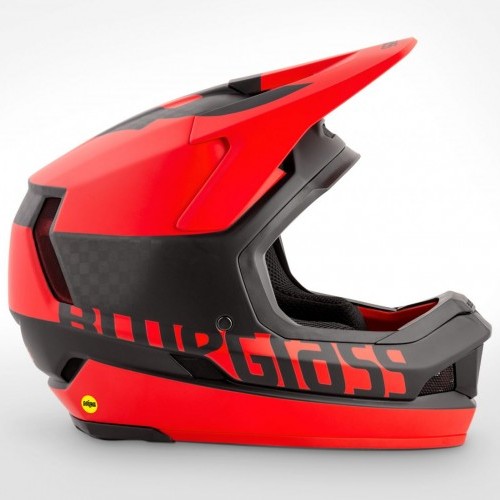 New Bluegrass Legit Carbon Helmet
Mon 3rd Sep, 2018 @ 12:30 pm
Win a Peaty's Complete Bicycle Cleaning Kit this issue in our FREE subscriber prize draw.
Already proven in the Downhill, Enduro, Freeride and Slopestyle events, the Bluegrass Legit Carbon has a lot of clever features – which make for a race-ready helmet.
Race Construction
The LEGIT Carbon uses a carbon fiber outer shell paired with a multi-impact EPS liner to achieve the finest blend of high impact performance and low weight.
Safety-Release and Flexible Visor
The LEGIT Carbon features a flexible safety-release visor to avoid twisting of the neck in impacts from any angle.
Hearing Vents
Helping riders hear better, maintain balance and hit their optimum performance levels.
Breathable Chin Guard
The ASTM certified chin guard hosts three wide vents that allow you to breathe easily. ASTM is the only standard testing the safety of the chin guard. We use the most stringent standard there is, to give you peace of mind wearing our new LEGIT Carbon in downhill races where you need the best protection possible.
MIPS
The MIPS:E2 liner is made up of two multi-directional, stretch fabric layers sewn together around a thin, plastic foil. When inserted between the comfort padding of the helmet and the outer EPS shell, the Liner provides broad coverage from rotational impacts without sacrificing comfort or sweat absorption.
Snap-In Padding
The LEGIT Carbon is suitable for all head shapes and sizes, thanks to its meticulously refined internal shaping. The comfort is boosted even more by the snap-in soft padding.
Air Channeling
Vents and air channeling are optimized for all day park sessions. The two large exhausts work in synergy with the EPS channels, keeping you cool at both high and low speed.
Enhanced Durability
Durability and quality are enhanced by an injected PU foam paired with the chin guard and three polycarbonate shells strategically moulded on the EPS liner.
Bluegrass Legit Carbon:
– XS | 52/54 cm | 1100 g
– S | 54/56 cm | 1100 g
– M | 56/58 cm | 1100 g
– L | 58/60 cm | 1200 g
– XL | 60/62 cm | 1200 g
– RRP: 450€ | £400 | $499
– Durable helmet case with integrated goggle pocket (into the box)
Featured in this Post
Comments