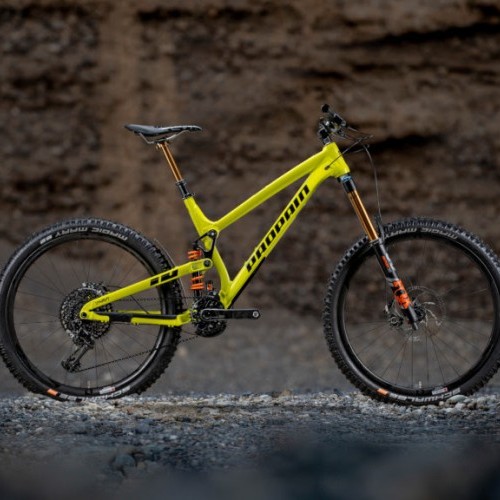 Propain Spindrift 2019
Thu 27th Sep, 2018 @ 6:30 pm
The Spindrift by Propain has blossomed into a guarantor of success and has been very popular amongst fans thanks to its versatility. For 2019 this bike has had a number of updates now making it even better!
Freeride bikes are on the rise again and don't have much in common with the classic old school freerider. In recent years, much has changed in terms of components and geometry meaning modern bikes are becoming more versatile. A tour in the Alps with 180 mm suspension travel was regarded as more of a masochistic journey five years ago. Today with the Spindrift you can crank it up the hill and enjoy all the benefits this bike has to offer on the way back down. The Spindrift can only be described as a 'mini downhill bike' that you can also pedal uphill!
The Spindrift whipped up a considerable amount of dust at its launch and has cleaned up on the award front since then. It is no surprise as it effortlessly straddles the divide between an enduro and a big bike. This means you can work your way up the climb and get full downhill performance like never seen before.
Updates for 2019
For the model year 2019, the Spindrift is launching with several updates further boosting its reliability and performance. Based on customer feedback Propain has responded to these needs and much more as explained below:
Now available in size XL for taller riders
 Double sealed frame bearings (Propain Dirt Shield)
New hydro-formed seat-tube to get more space for shocks (Fox DHX2 and Float X2)
 Smooth Welding for stronger joins and a sleek look
Main bearing with more support for increased rigidity
Generous down tube protection
Bottle cage installation possible
Internally routed cables
New rear mech hanger
Specs
As with all current models Propain gives their customers full control over how they want to build their new bike. Propain only provides feature recommendations from entry level through to high end parts enabling customers to change all parts to their liking. Pricing sees the Spindrift ranging between €2,265 and €5,845.
The Spindrift is now available in the colours Lime, Matt Black, and Aluminium Raw from the Propain online shop.
Featured in this Post
Comments