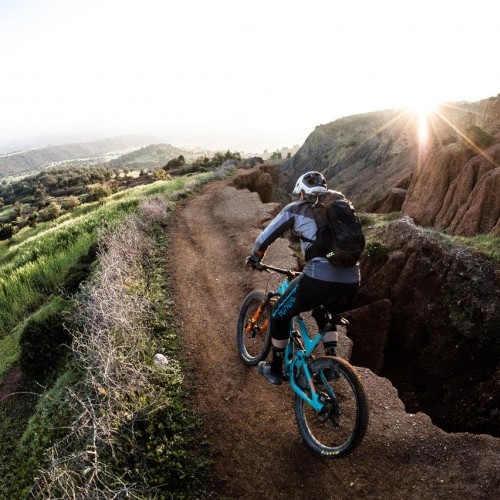 Morocco High Atlas Mountain Bike Tour – H+I Adventures
Tue 2nd Oct, 2018 @ 9:30 am
Riding ancient Berber trails
Awakening to the morning prayer call reverberating around the mountains I wobble to the window where the world is beginning to stir. The sun is painting the peaks orange whilst puffs of smoke rise from the huts below into the sharp morning air, suddenly all falls silent once more. As enthralling and enchanting as Marrakech was with all the hustle and bustle and its deeply ingrained culture, this was the side of Morocco I'd come to see. My companions for the trip were Eric Porter and Euan Wilson, both of whom have had their fair share of adventures into the unknown. Luckily we had local guide – and soon to be friend – Lahcen at our disposal. He knew the remote routes through the Atlas Mountains like the back of his hand.
Dodging chickens and cats we hit the dirt roads of 'downtown' Imlil where the locals are going about their morning commute and groceries. Just outside of town we meet a couple of local men and their unperturbed mules, onto which we pack our bikes either side before they begin their stern march upwards leaving us in their dust and hoof prints. The native Moroccan nomads, called Berbers, may have used mules as transport for both themselves and belongings, but we find them to be just as capable for carrying our bikes. By the time we'd reached the top the mules had dumped our bikes and were already scrambling back towards Imlil.
The high pass offers us a vantage point onto our trail running into the valley below, a tiny scar in a range of towering ridge lines and textured scree fields. Following in the tracks of the Berbers before us we cling to the narrow trail cut in by the passing of feet and hooves, attempting to ignore the drop to oblivion on our right hand side. Bobbling over fiery red boulders that ping from beneath our wheels the trail surface changes suddenly to a silver sheen, both grippy and slippery in equal measure. As we fall in gradient our surroundings become less lunar and increasingly lush, the trail becomes less exposed, allowing us to switch focus from survival to satisfaction. Under the watchful eye of a trio of local youngsters we pick our way down a rocky staircase before stopping at a mountain refuge where Lahcen begins chatting to the owner. Seconds later mint tea is being poured from a height. This stuff is like rocket fuel, with a sugar content so high you can feel the enamel stripping off your teeth as you drink it. Bloody good though… It doesn't take long for us to discover how warming, hospitable, and generous the locals are.
On H+I Adventures NEW mountain bike tour of Morocco you'll ride through the heart of the dry and rugged Atlas mountains, following the ancient paths walked in by generations of Berber traders. Climbing and traversing high mountain passes, descending sparse singletrack to lush valley floors…each day punctuated by mint tea and a mind-bending blend of cultures.
During your time in the Atlas mountains of Morocco, you'll ride a point-to-point route on centuries-old Berber trade paths that criss-cross this landscape. Walked in by generations of nomads and their mules these trails are now impeccable singletrack for mountain bikers.
Featured in this Post
Comments