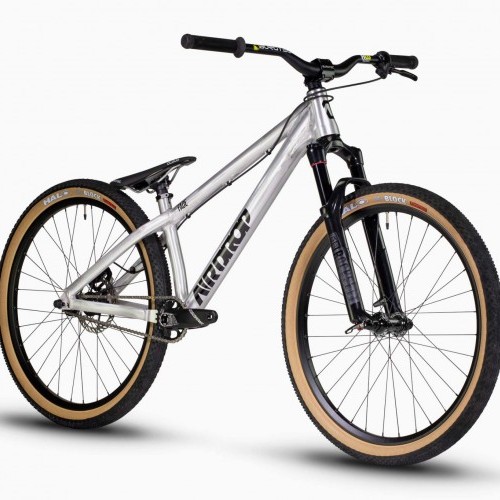 New Airdrop Fade Dirt Jump Bike
Thu 11th Oct, 2018 @ 9:30 pm
Introducing the Airdrop Fade, a dirt-jump bike in its rawest, purest form. It's a bike we've wanted to do since we started Airdrop three years ago, but it's taken until now to get it right. The original idea was for it to be a proper dirt jump bike, not an extra-small version of something else. No compromises: no removable dropouts, no mech hanger, no ISCG tabs. Just clean lines and a heap of fun. What the Fade does have is dialled geometry, super-clean horizontal dropouts, a threaded BB and cable routing for a rear brake only. How it should be.
You can run the Fade as a pure dirt jumper, a pump-track bike, skatepark, street… whatever you like. It's about having fun, going fast and being creative on the bike.
Truth be told, we probably shouldn't have built this bike at all. It doesn't make a lot of sense, or at least not commercial sense. But that's not what Airdrop was meant to be about, so in a way we're sticking to our guns. We both wanted a DJ bike and let's be honest – they're just cool – so we pulled out all the stops to make it happen. Airdrop is still a tiny company so we really have to earn everything we do. And as they say, "if a thing's worth doing, it's worth doing well". Which is we're so proud of how the Fade has turned out. We really sweat the details: local riders told us they hated chain-tugs because they're fiddly, so we built internal CNC tensioners. The seat-cinch faces forward so your post won't seize. We CNC both the seat- and chain-stay yokes so you've got loads of clearance even if you trash your wheel, and there's a beautiful open-ended gusset at the headtube.
Features
Designed by us in Sheffield
Custom butted 6061-T6 tubeset
26" wheels with loads of clearance
Horizontal CNC dropouts
Integrated CNC chain tensioners
CNC chainstay yoke
Forward facing CNC seat cinch
Open-ended headtube gusset
Frame weight 2.4kg
The Fade is available as a frame-only option for just £299 (with CNC seat clamp) or a full Works bike built with Rockshox Pike DJ, Burgtec finishing kit and Halo wheels for £1499. We decided early on not to do a 'price-point' bike with shit parts just to look competitive. As with all Airdrop bikes, there's our custom build service in place for anyone who wants something a bit different.
The Fade was always going to be a legitimate dirt jump bike so we've made no compromises on the geometry. The 385mm rear end is one of the shortest on any bike – and that's with the inboard tensioner fitted. Standover is tiny with a 330mm seat tube and the BB's just right at -25mm. The one big dierence between this and a bike from a pure DJ brand is that we've made the front-centre a little longer so that MTB riders accustomed to a long trail or enduro bike can jump on it and feel right at home.
Why so much tyre clearance? You can still ride to the pub even if you've trashed your rear wheel. The hose guides run centrally so you can run your brake lever on the right or left, and coil the hose whichever way you like.
Available to Order Now
The Fade is available to order now, with stock arriving in the first week of November. One frame colour – Raw (with a clearcoat), one size and more than a dozen decal colour options. Choose a frame only or a fully built bike, the Fade Works. And of course there's our one-to-one custom build service to consider.
Fade Frame: £299 (including CNC seat clamp)
Fade Works Bike: £1499 (Pike DJ, Burgtec, SRAM Level, Halo wheels)
For more details and to order head to: http://www.airdropbikes.com
Featured in this Post
Comments