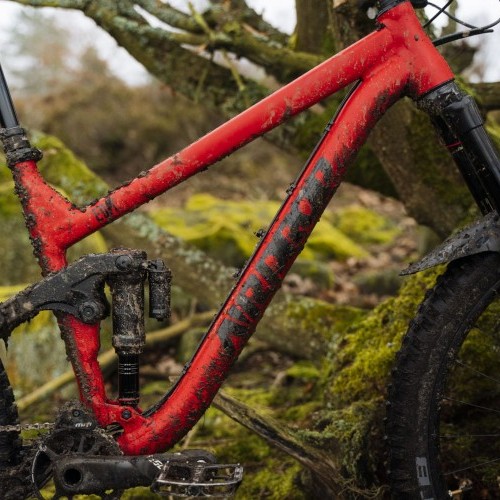 Introducing The Airdrop Edit v3
Wed 27th Feb, 2019 @ 10:00 am
Ladies and gentlemen, boys and girls, step right up for the best news you'll hear all week: the new Airdrop Edit is here!
It's been three years since Airdrop Bikes started. Ed sacked off his job and launched the brand using his life savings, starting with a bold gambit on a new full suspension bike called the Edit. That first bike, designed in Sheffield, tested in the local woods and built in Ed's garage, earned us a small but loyal following.
Now it's time for something new, something better. We've taken everything we've learned; all the small triumphs and mistakes, feedback from customers, riding experience and new industry tech and rolled them up into a brand new bike: The Edit v3.
It's still very much an Edit: a proper, rowdy full suspension bike. An alloy frame with the right geometry, 27.5" wheels and 155mm rear wheel travel. It's progressive so you can run a coil and it's got enough mud clearance for Wharncliffe in January. It's got more industry buzz-words than you can shake a stick at. You can even pedal it up a hill.
Let's be honest: anyone can make an alloy bike, right? Maybe. But not everyone is willing to do what it takes to make one this good, this focussed. We've lived and breathed this bike, riding it into the dirt and sweating every detail. We think there's a place for high-quality, high-performance alloy bikes and the Edit v3 is out to prove it.
Back To The Drawing Board
All our frames are made in small batches, which gives us the opportunity to make revisions as we need or respond to customer feedback. We're constantly developing the bikes. But we saw an opportunity to improve in so many areas, we took the tough decision to start again; to risk everything we've built the brand on and go back to the drawing board.
The challenge was to retain the essence of the original Edit – keep it rowdy, fast and fun – but to fold in everything we've learned and take advantage of the latest technology. The result: it's still an Edit. But it's the best Edit we've ever made, and we're very, very proud of it.
The Frame
Our 'Tried & Tested' design philosophy is popular with core riders who appreciate a bike designed not just to perform, but that's also easy to live with and work on. Little details like a forward-facing seat cinch, standard bearings and external cable routing might not make a difference in a showroom, but they sure as hell do when you're in the mountains or at a race.
Geometry & Sizing
Behind every design decision is the question: is it better? Our ethos is to challenge the norm, to be progressive but not extreme just for the sake of it. Or, for that matter, to grab a headline and sell a few more bikes. If we don't believe in it we don't do it. Every bike we make must be one we want to ride. And a bike we want to ride needs to be fun.
Yes we value stability, speed and grip. But we also accept we aren't riding the gnarliest, steepest terrain all the time. And we want our bikes to be easy to ride. If you feel at home on the bike you can push that little bit harder, be a bit more creative and just have fun with it. This means a balanced position on geometry; longish but not too long, lowish but not too low and slackish but not too slack.
The Edit v3 now comes in a 4-size range. And it's not just about making all the bikes longer. In fact, we've made the Small a bit shorter, the Large a bit longer and added a genuine X-Large on top.
Buy the bike with the reach that's right for you and don't worry about standover; all sizes of the Edit v3 are low, and you can slam a 170mm dropper in any of them – or run it sky-high if you like.
About Airdrop Bikes
We've come a long way in the last couple of years, but Airdrop is still a work in progress. We've moved out of Ed's garage and into a dedicated workshop in Sheffield. We've added a hardtail and a dirt-jump bike to the range. James has come on board, bringing with him a wealth of experience – both on and off the bike – and a dog. But in many ways, Airdrop is still a startup. Or maybe more accurately an upstart.
After a decade working for some serious businesses, Ed got sick of the relentlessly commercial ethos; growth at any cost, price engineered products, shit service and cynical marketing tactics. What was it all for? Making some rich guy richer? That's not a good reason to exist.
The Airdrop project is about building something we can be proud of. It's about focussing on quality and service, looking after people – our staff, our suppliers, our customers – and enjoying it every day. Working to a set of positive values and trying to behave with a bit of integrity.
That might all seem like common sense but it turns out trying to stay small and putting integrity above profit goes against the grain. It's hard. Bringing a new bike like the Edit v3 to market represents a couple of years of serious effort and a massive level of commitment. But if at the end of the day we can say that we're proud of it, and people are proud to ride them, it'll be worth it.
Featured in this Post
Comments