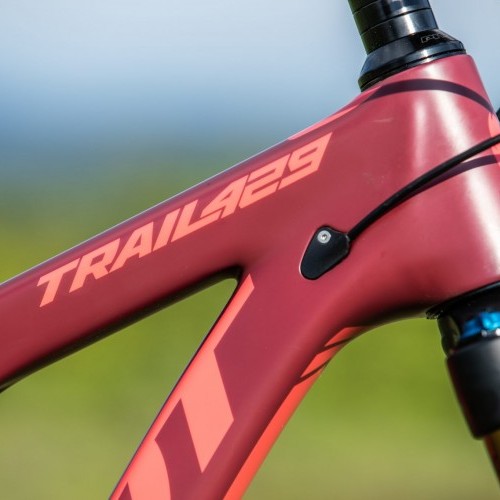 The Best Trail Bikes of 2018
Tue 20th Nov, 2018 @ 3:30 am
As the world rotates into 2019 MTB mode we take a look back at some of the best trail bikes that have come through the doors at IMB towers over the past 12 months. With more and more advances in technology and the movement towards longer frames, 2018 saw trail bikes become more accomplished on rougher ground, while price point bikes just kept getting better and better, opening the world of MTB up to new riders. Here's a run down of IMB's best trail bikes of 2018:

When Cube rolled out their 2018 range last year it featured a mix of both old favourites and revamped models. The Stereo range didn't get a huge overhaul other than some tidy batteries on the electric range, and in the standard bikes, the 120 and 160 remained unchanged. It was the 140 that had seen the full makeover and was…...
The Spirit of the trail bike is alive and well in the Stereo 140. Hot on the pedals and designed to make you feel fit and smoke your mates both up and down the hill. The limits of the Stereo can only be found in the super steep and rough trails, but you'll still come out smiling and be fresh enough for another round.

Pivot has wasted very little time in overhauling their range, delivering new versions and brand new models at what seems like an alarming rate. Switchblade, Firebird, Mach 5.5, Mach 6, all of these feel like they were released only yesterday. The style, engineering and even elements of geometry have been shared across the range to produce a coherent collection of…...
This is a trail bike with ideas way above its station and no idea when to quit. Pivot has taken the essence of the old 429 and combined it with the aspirations of an Enduro bike. The end mix gives a truly versatile bike that can handle a huge range of trails and challenges with XC-like speed agility without losing out on comfort or capability. I defy anyone not to love riding this bike, it is pure riding fun whatever you do with it.

For those of a certain age, the name 'Marin B17' will invoke fond memories of early full suspension mountain bike design, happy hardcore on the radio and probably more than a little luminous lycra. Halcyon days indeed! The original B17 was one of the first bikes designed for throwing about and having fun on; making use of a more progressive…...
If you're on the lookout for an outstanding bike on a budget, then the B17 1 has to be seriously considered. The plus tyres and modern geometry provides stacks of confidence to new and experienced riders alike.
While not a mountain goat of a climber, the hefty but exceptionally capable B17 1 manages to nail that very tricky price point at the entry level of the market. This is a bike which expertly combines a great frame – ripe for upgrades – with snappy suspension, dependable components and forgiving tyres that, when combined, encourage rowdy riding on groomed trails as well as natural ones.

Since the beginning of the 20th-century, German company, Rose has grown through family generations from a tiny bike shop into a huge direct sales outfit, which employs nearly 350 people. Their latest to their bike range is the Pikes Peak which offers two different 27.5 bikes based on the same versatile lightweight (2380g) carbon frame. Aimed at the 'enduro' end…...
It is evident after some thorough testing that Rose has really taken the time and care in bringing this bike to the table. The PROGEO may not be everyone's cup of tea, but it works and adds a unique element of versatility to the trails. It looks fantastic, it's great value for money and is guaranteed to provide buckets of fun. If you're looking for a trail bike that can hold its own on the occasional enduro this is a great shout. A rare balance of stability with agility, this one has been a joy to ride.

For 2018 the Vitus range gets an overhaul, with all the main bikes getting some updates. If the Sommet is the full enduro race machine, then the Escarpe is better described as a trail bike, but as I found out testing the previous version, it could easily play enduro if required. For this year the geometry gets a tweak, wheels…...
It's rare a sub two grand bike can be so impressive straight out of the box. Modern geometry and all the right components add up to a comfortable, confident machine that likes to hit trails far above its pay grade. More Enduro than trail bike, the Escarpe is likely to appeal to riders on a budget who want an all-round bike that won't sap all the fun out of a trail centre and will keep you safe on more serious terrain.

In recent years Marin have seriously stepped up their game. The appointment of Matt Cipes as their MTB Product Manager in 2015 putting them on a mission to bring their range back to the top level, where they belong. With a swathe of new bikes over the past 2 years, the output has been excellent, with well-received bikes across the…...
The Marin Rift Zone 3 is, without doubt, a very impressive trail bike mixing clever design and choice of components, which allows those with a lower end budget to access high-end performance. The industry seems to be demanding that bikes get longer and slacker these days, but Marin has stuck with what they think is best for their 'trail' bike and good on them. What they have produced is a well-balanced all-rounder that is guaranteed to provide heaps of fun. If Marin were to throw some better tyres and a longer dropper post into the mix we would end up with a bike that would be very hard to fault.
Show Us Yours
Give us your feedback and let us know your favourite trail bikes of 2018 below in the comments, on our Facebook page and on Instagram with the tag @imbikemag.
Featured in this Post
Comments