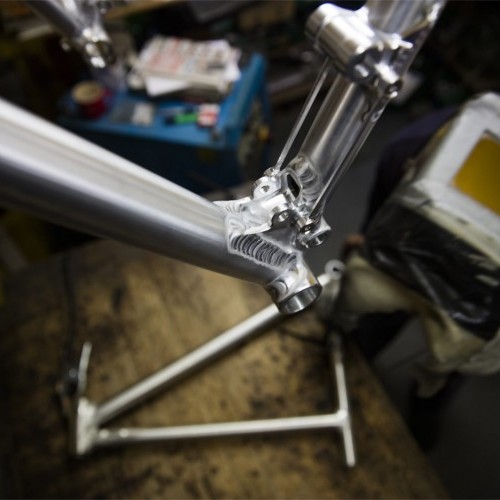 Nicolai: Behind The Scenes At The In-House Fair 2019
Wed 27th Feb, 2019 @ 9:30 pm
Ever wondered how your dream bike is made, or where all your hard-earned cash is going? Nicolai are once again opening up their doors to show off the craftsmanship that goes into each of their highly desireable bikes. Ready for some gratuitous workshop shots? Click and get to it…
"It's time again! The Nicolai Bicycles in-house fair 2019 is just around the corner!"
Part I/II
13 April 2019 On Saturday the 13th of April we will open the Nicolai factory at our new location in Mehle and show you who, how and where the frames for the hottest bikes are built. Learn more about our newest models, the manufacture and the production. It is welded, milled, turned, coated and assembled. Look over the shoulder of your colleagues and machines and get to know the details behind the frame production. With delicious food and cool drinks, we will also find time for chatting and exchanging and of course the traditional guided tours with Kalle or Vincent will take place. Of course we also have all the latest bikes on site for you to take a ride with. To test them properly we recommend the second part of our fair. More information about the program and about exhibitors will come soon.
How to get there / Address – Google Maps
NICOLAI Ltd.
Altenbekener Str.
2a D-31008 Elze / Mehle
Part II/II
14 April 2019 Let's biking together! Part two of the fair will NOT take place in Mehle but in the perfect Test´N ride environment in the Bikepark Sankt Andreasberg in the Harz Mountains. Together with our partner TrailTech Mountainbiking you have the possibility to test our bikes in guided tours and to improve your riding technique if necessary. In order to give all those interested the possibility of a test ride, we ask you already now for a fair time planning for the ride, which should not exceed one hour per bike. We are looking forward to testing the newest bikes together with you and to hunt over the trails of the Harz.
How to get there / Address – Google Maps
MSB-X-Trail Bikepark Sankt Andreasberg
Matthias Schmidt Mountain 4
D-37444 St. Andreasberg
Featured in this Post
Comments