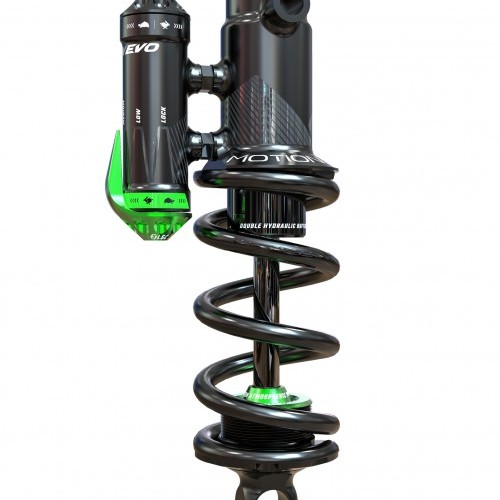 Wed 20th Mar, 2019 @ 9:30 pm
Beauty is in the eye of the beholder and suspension fork design just got a whole load more interesting… if not better looking!
The beginning of the year was marked by intense activity at Motion! Not only did they completely sell the first series of the E18+ forks (27.5" + / 29" wheels) but they also delivered all of their E18 forks at the beginning of January! They have since had the first unanimous feedback from users: the Motion fork is astonishing!
Motion Ride is attracting more and more attention from the media and web influencers. Lately, it is the Scottish YouTuber Ali Clarkson who has dedicated several test videos to the E18 fork with impressive images. For a great summary, go straight to 9:55.
"The anti-dive system works perfectly, it's amazing. I drove twice as fast as I expected. I love it!"

– Ali Clarkson
As for our customers, ambassadors and partners, here are their first comments:
"First ride, first sensation was the gain in grip at the front, and the feeling due to the wheel trajectory. A feeling of security and being able to play with this security to let go more on the bike."

"Test of the Motion E18 fork: visually debatable, but in use, quite amazing. Looks are easily forgotten and the riding is great."

– Instagram @kerk5.9

"The first word is stunning. Comfortable, reassuring, the feeling of being able to ride everything. Way more efficient front braking."

– Instagram @dirty_tawara
Motion Ride will be present at the Taipei International Cycle Show from March 27 to 30. These 4 days of exhibition will be an opportunity for them to meet many professionals from the bicycle industry from around the world – both major brands and distributors – who will be able to test the E18 fork and discover the innovative technologies that they are developing. It is also at this show that they will unveil their latest new product under patent, to go with their fork, the Flow Evo Coil rear shock, which completes the E18/E18+ fork!
Once again, Motion Ride have developed an entirely new technology with a unique design and have created a technology that separates oil movement and energy dissipation, allowing the integration of new features that are unique in the world, including hydraulic buffers in compression and rebound. This means that no matter what the pilot does, the rear shock will never bottom out. The Flow Evo Coil rear shock will be available for pre-sale on the website http://www.motion-ride.com from April 15th at a preferential price of €792 instead of €990. A special package for E18 fork + Flow Evo rear shock will be offered at the advantageous price of 1990€ (instead of 2690€).
Featured in this Post
Comments