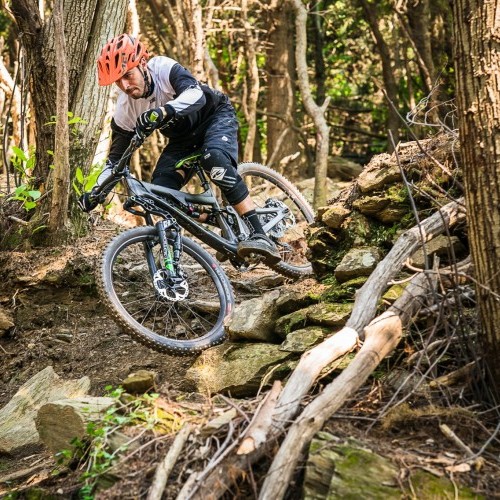 Motion Fork Now Available In The UK Via Upgrade Bikes
Sat 4th May, 2019 @ 6:30 pm
Win a GO3 Camera by Insta360 this issue in our FREE subscriber prize draw.
Upgrade Bikes LTD has been appointed as the UK's exclusive distributor of MOTION suspension products.
MOTION is a French company, founded by Mathieu Alfano. The company's first two products are the E18 and E18+ linkage forks that are designed to improve your ride by countering the brake induced dive inherent in telescopic forks.
The MOTION forks achieve this anti-dive behaviour through the use of a highly engineered linkage which joins the steerer to the carbon legs. A unique carbon spring called a 'Wave' is used to suspend the rider, whilst damping is controlled by MOTION's own 'Flow' thru-shaft damper which runs at low (atmospheric) pressure.
The E18 is designed for 27.5" wheels and is available in 150, 160 or 170mm travel options.
The E18+ model is the 29" version and is available in 140, 150 or 160mm travel.
Retail price for both forks is £1500.
Damian Mason, one of Upgrade Bikes' Directors stated:
"MOTION has created a linkage solution that works brilliantly for today's market in which riders are attacking technical trails and steep descents at speed. Telescopic forks have become increasingly complex with highly sophisticated dampers but still rely on low speed compression to maintain ride height during braking. The MOTION Fork offers a mechanical solution to this problem while still offering effective damping in all scenarios. With the E18 and E18+ forks, you can ride with the utmost confidence, utilising more effective braking, and maintaining neutral body positioning at all times.
"We are excited to work with MOTION on this very innovative and unique product and look forward to future suspension developments from them soon."
Upgrade has stock and demo forks available now. You can order directly from Upgrade Bikes or through your local bike shop, who will be able assist you with setup. The forks will also be available to demo on DMR test bikes at the Malverns Classic 14th to 16th June. To find out more, contact Upgrade Bikes on 01403 711 611 or  info@Upgradebikes.co.uk.
View the MOTION range on the Upgrade Site.
For more information on the technology between MOTION products, visit their website.
Featured in this Post
73,912
2,148
Comments