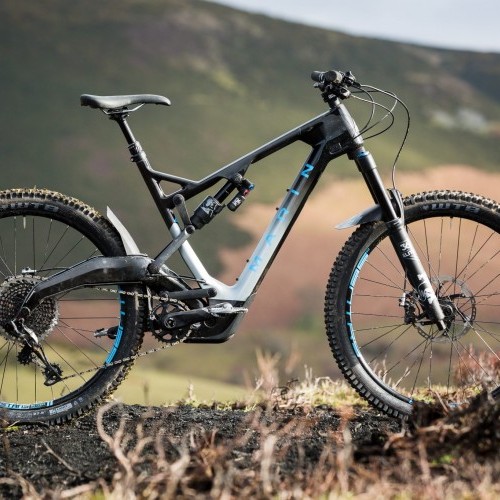 Marin Mount Vision: First Ride
Mon 4th Mar, 2019 @ 6:30 pm
Marin is certainly pushing forward on all fronts these days, with budget hardtails and affordable full-suss bikes mixed with the wild and expensive Wolf Ridge and now, the Mount Vision. Adding to the top end of their line, the new Mount Vision takes the Naild suspension design and wraps it into a 150mm travel 650b 'do it all' trail bike.
There were plenty of doubters after the Wolf Ridge was launched and plenty of confusion as to what this new suspension platform would bring to the world of mountain biking. With both Marin and Polygon committing to bikes using the Naild suspension system it was only a matter of time before the next one showed up. Having ridden all three of the previous Naild machines I was very excited to get my hands on the latest and greatest versions. As with anything new, it can take a while to work out the niggles and this second generation bike has clearly ironed out some of the wrinkles.
Marin is keen to stress that, like all their bikes this is 'Made for Fun', and although there are plenty of racers supported by Marin, this is not their sole aim. For them riding is about the experience, not just about the clock. So with this in mind, I swung a leg over the new machine to see how much fun I could have on a sunny Welsh hillside.
First up is the sizing which is improved over the Wolf Ridge and now sits comfortably alongside their other bikes such as the Alpine Trail, which keep seat tubes short and reach fairly long. Seat angle is a modern 75 degrees and the backend is a compact 420mm, keeping things in line with the 'made of fun' brief. Sitting on board, there is plenty of room, (I was on the XL), and it feels on trend for reach without getting into super long territory.
Get pedalling and the familiarly strange Naild React2Play suspension does its thing and gives a great platform to pedal through without stiffening up and losing traction. This is something that comes out time and time again with this suspension system, and smashing pedals up a steep climb gives an experience that should be mutually exclusive – that of firm pedalling but plenty of ground-hugging traction. This climbing is further enhanced by the steep seat angle that really helps the Mount Vision get going uphill.
The Mount Vision is both simple and complex at the same time. I feel it's certainly difficult to understand exactly what's going on with suspension, but to ride the bike is a simple exercise in mountain biking fun. The set up is straight forward, just set the sag and go, with as little damping as possible. The Naild system is designed around low friction (no damping) and behaves itself best when not interfered with. There are adjustments, but the starting point is fully open. Once riding, the simplicity continues, with no buttons, levers or cables, just plush travel that happily responds to pedal inputs.
The main takeaway from this bike on the trail is that it is exceptionally easy to ride. I have no data for my speed (it felt fast), but the personal feedback I felt from corners, jumps and rock gardens were that the bike was incredibly happy to comply with my inputs and it took very little time to get used to. Back wheel, front wheel, cornering traction, the Mount Vision is just confidence inspiring and encourages a rider to play on the trail. The combination of modern angles (65° head) and great power transfer means that both flowing pedalling trails and far more challenging rough ground are both on the menu.
Ground tracing is a term that has come through from Darrell Voss, the man behind Naild, and it's a good term. The Mount vision certainly hugs the ground and cornering traction is immense. Even in slick patches of mud, the back end is working hard to find traction and keep you on track. It's a magic carpet ride experience and something that defines these bikes, couple that with the 2.6 tyres and the thing sticks like glue in the turns. The addition of a linkage to drive the shock is a real bonus and has stiffened up the back end and made the whole bike feel more stable and precise through corners. The rear axle is also new and this again keeps everything tight and stiff out back.
Aesthetically, the Mount Vision is the best looking Naild suspension bike I've seen, and this is definitely going to help. Moving the shock up and adding the linkage has helped in this, but it still has that distinctive shape that will divide opinion. There is also now space for a water bottle, that will please plenty of folks, and if you're lucky enough to fit an XL frame, you get two bottle mounts!
A short ride on a new bike sometime raises more questions than it answers, and I'm certainly keen to get a longer test and see how the Mount Vision holds up on more technical ground. With the new Alpine Trail covering the full-on Enduro style riding (at a much cheaper price point), it'll be interesting to see how much overlap there is between these bikes. The Mount Vision is clearly a playful and exuberant bike, but I have a suspicion it's probably even more capable than it lets on. It's definitely a good pedaller, and if it can hold its own in the really steep terrain then we're looking at a truly versatile and unique bike.
If you want all the fine details you can check out the full press release here
Keep an eye out for a full review in the coming months.
Photos: Tristan Tinn
Video: Pete Archer
Featured in this Post
Comments