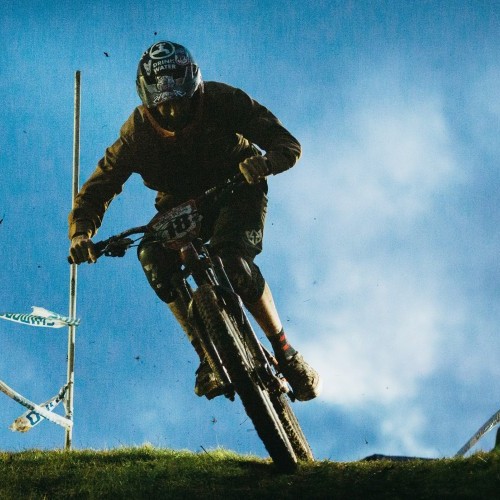 The Howard Street Dual – Sheffield
Wed 13th Mar, 2019 @ 12:55 pm
Possibly one of the greatest races in the UK will take place on Saturday 23rd March in Sheffield, UK – the great Howard Street Dual! If you're around in the North of the UK over that weekend then we highly recommend that you go spectate, plus you get to see the legend Steve Peat compete!
Don't call it a comeback… we've been here three years. Back for its 3rd year the Howard Street dual returns pitting European riders against the finest local talent.

Dual is the most exciting form of mountain bike racing, the head to head, shoulder to shoulder nature gets riders and spectators hearts racing. The knock out format see's the fastest qualifiers meeting in the final rounds, always drawing the largest gasps.

The unique city centre location houses a course rammed full of testing terrain running from the Millennium Galleries down to the Train station. The mixture of wooden features and street furniture with slick off camber grass corners challenges riders in a way that rewards speed and skill but punishes mistakes harshly. Racing elbow to elbow forces mistakes and riders must keep their heads if they want to do well. Each round consists of two legs giving the racers a chance to make a mends or just more mistakes.

Sheffield is the Outdoor City and the Howard Street Dual is the jewel in the crown of the month long festival of the outdoors. Each year two thousand people have witnessed the racing either captivated by the spectacle as they passed by or in it for the long haul enjoying the local pubs' and cafes' supplies.
Sheffield's finest Steve Peat and inaugural champion, Brett Penfold, have unfinished business. Last year's nail biting finish saw Steve fall spectacularly on the last feature but manage to make up time on the second run in a breath taking display of skill and mathematics.

The race is about showcasing the excitement of mountain bike racing right in the heart of the city, educating the masses about what goes on normally tucked away in the woods or ont moors.

On Saturday 23rd March, 32 lads and 16 lasses from across disciplines will meet on Howard St to do battle. Racing begins at 5pm as darkness descends with finals from 6 and prizes at 7, hyped by Toby Parodi atop his tower through the Redbull sound system. Racing will be broadcast on the big screen for the assembled masses and streamed live on YouTube from 5pm presented by Anna Glowinski and Richard Cunynghame.

Racing amongst others will be Peaty, Ratboy with his 50:01 brethren Sam 'Dave' Hockenhull, Dual Champ Brett Penfold, German DH Champ Nina Hoffmann with European guests Fabio Schäfer and Jasper Jauch #BikesNotBrexit. However, we've left some race places open for other fast lads and lasses. So, if you've got a string of good results and you're keen to race, get in touch with your roots and rain details: ThisiSheffield@gmail.com This race is put on by This is Sheffield and made possible by Sheffield City Council, the most forward thinking mountain bike city in the lad. There really is nothing quite like the excitement of dual racing: it entrances spectators from the uninitiated to the expert; challenges riders skills and ability to keep their cool and most importantly puts a massive grin on everyone's face, just remember to bring your cowbell! #DualRules
Featured in this Post
Comments