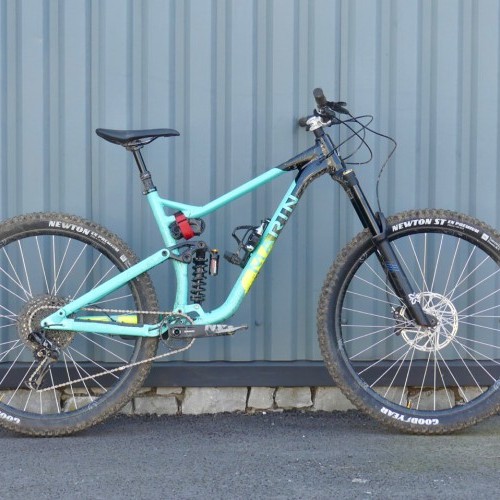 Marin Alpine Trail – Mid Term Review
Tue 30th Apr, 2019 @ 12:30 pm
Win a GO3 Camera by Insta360 this issue in our FREE subscriber prize draw.
Alpine Style
The Alpine Trail was one of my favourite bikes from 2018. combining some great geometry, cool parts and a friendly price tag to make a real crowd pleaser. No fancy concept suspension, just tried and tested bounce and set up to hit the hardest trails straight from the box. It was an obvious choice for a longer test and a good rig to dangle some shiny test parts from. Having spent some time on the Alpine trail 7, it was time to check out the 8. What happened to 1 through 6 I've no idea, but the 8 is one better than 7 and as a result, you get upgraded spec across the board. While the 7 is the real bargain, the 8 offers an awesome set up for the £3000 price tag.
With a price that could easily just be spent on a frame alone, these days this represents something of a bargain. Marin has been smart and made some great spec choices to bring it all in on price. We get Fox Performance suspension that eschews the Kashima of the more expensive version and keeps the internals simple with a GRIP damper. The Drivetrain is mostly NX which keeps the gear range high and the brakes are covered by 4 pot TRP slates. These are not my favourite brakes but do offer enough power to be appropriate for a bike this capable. Wheels are Marin own brand any shod with the excellent Vee Tire Flow Snaps, which are a great all-rounder.
Deity give a short and modern cockpit, KS do the dropper and WTB volt saddle finish it all off. It's a great build, and happy to get on with it straight away or take a few upgrades to make it even more capable.
The Evolution
So it's clear that this bike is no longer stock, and has undergone a bit of an overhaul due to swapping parts for testing. First up we've gone up a notch up front and strapped on a set of X-Fusion Trace 36 forks which give 170mm of travel. Out back Marzocchi has taken over the suspension with their excellent Bomber coil, which for 300 quid is a bargain and has turned the bike into a plush, ground-hugging downhill machine.
The brakes needed a swap early as the TRPs were not built to match the speed of this bike, or perhaps these riders need for deceleration but the Codes are top of my list for braking duty at the moment. Elsewhere, Hope has taken over the cockpit, Goodyear provides the grip and a set of OneUp pedals have snuck in there for flat pedal fun.
So perhaps at the moment not much remains of the initial spec, but the frame is the core of this build, and despite its bargain start-up the price the Alpine trail can do justice to the most expensive of components with ease.
So what's it like?
This is not a placid bike, this is not a bike for gentle spins around the park, this is a bike capable of the rowdiest terrain. But, and there is a but, because somehow it managed to be fun, and I mean really fun. I never thought I would find myself riding a 29er with 170mm forks and suggesting it was playful, but here I am…
The geometry aims to put downhill performance at the heart, and it does this well. The 65 head angle feels hugely confident descending into the rough and steep ground, the long front centre adding to this and keeping the thing stable. The fun bit comes from two things, one is the lively suspension, which always feels tight and energetic, but willing to absorb big hits. The other fun bit comes from the back end, which is pretty short for a bike like this, and although I'd be happy with it longer, it does a good job of keeping it playful.
CLimbing up is not off the table despite this being a coil sprung beast. The steep seat angle keeps things forward and although this is more diesel engine than pocket rocket, height is gained with a determined tenacity. The frame is essentially well balanced and simple to get set up, the single pivot Multitrac suspension does the job well but does feature the usual characteristics of this design. The Alpine Trail rewards an off-the-brakes charging approach, and time spent dragging the brakes results in a rougher ride. The short end balanced with an XL frame also means that the front-rear balance isn't perfect, and an extra 15mm on the back would work well for me, but I am getting picky.
Overall, the Alpine Trail represents a big mountain ready machine at a price that won't break the bank and be highly appropriate for upgrading as and when possible. Race enduro? go uplifting? or even just go riding, the Alpine Trail is a versatile bike providing you ride terrain that challenges you.
Featured in this Post
Comments