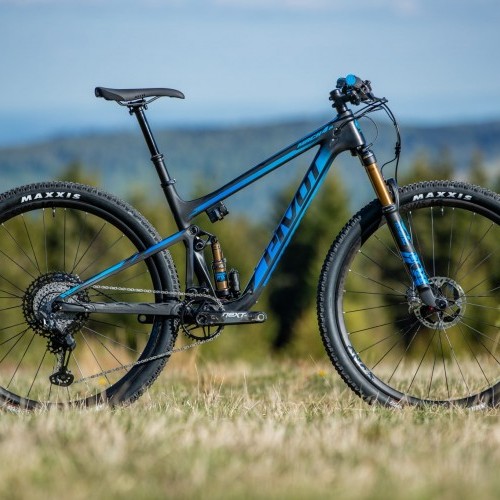 First Ride Report – Pivot Mach 4 SL
Thu 23rd May, 2019 @ 8:09 am
The All New Pivot Mach 4 SL
With Pivot having overhauled much of their range in recent years it was only a matter of time before they turned their attention to their shorter travel bikes. The Mach 4 SL rolls into the range to take the XC market by storm and aims to place Pivot firmly at the top of the list for high-performance race bikes. Describing it as a gravity-defying XC rocket ship, it's clear that the bike is all about speed.
The previous Mach 4 was a 650b bike, and the 100mm of travel remains, but this one rolls on big wheels. With XC bikes undergoing a bit of a renaissance, this bike is primed to dive straight into the new world of modern short travel mountain bikes.
So essentially this is a 100mm travel, carbon race bike capable of taking a rider to the top step at a world cup event. This is the lightest and fastest bike pivot ever made, and from Pivot, that's something to think about as they're not known for portly bicycles. That weight is officially 1930g for a frame, with a complete World Cup build coming in at 9.4kg (size small XTR build). Overall the Mach 4 SL is a full 300g lighter than the old Mach 429 SL.
Most strikingly, the shock orientation is different from the rest of the range but still uses a DW link to make sure that 100mm of travel is delivered in the best way they can. The frame is designed to work with 100-120mm forks, which suggests that the design of this bike hasn't been purely focused on traditional XC performance.
Of course, being Pivot there are strong ties to both Shimano and Fox and we see full Fox Live integration. This allows the damping of the suspension to be controlled electronically to always provide the best possible solution to the terrain and rider input. Pivot suggest a short travel bike like this is the best application for Live Valve as it allows for exceptional pedalling, all the time, with no need to switch anything on the bar.
Geometry is progressive for this genre, with a size large getting 460mm of reach. Bearing in mind Pivot's long travel 29er the Firebird 29 gets a reach of 475mm (large) it's clear to see that XC is catching up to Enduro. Elsewhere there is a 'slack for XC' 67.5 head angle with a 120mm fork, but you can add one degree if you run a 100mm fork. Seat angle is 74, so not particularly steep, but for XC racing if it gets steep you're out of the saddle, so it's of little consequence. Chainstays are 431mm and sizing runs from XS to XL, all of which have bottle cage mounts (even 2 sets on the XL). It's worth noting that standover height is very low and the XS has a height of just 61.3cm! Excitingly, well at least for me, the frame even has clearance for a 2.5 Minion tyre out back, not something you're likely to see on the World Cup circuit!
Routing is internal, including compatibility with dropper posts, which is surely a sign of the times. I'm not entirely sure I can ride a mountain bike without a dropper anymore, so I was certainly pleased to see our test bikes kitted out!
There is a baffling number of specs and options for the Mach 4 SL, and some eye-watering prices but frames start at £3,550. If you fancy a full build there are Race, Pro, Team and World Cup builds available with prices generally ascending in that order. Fox Live becomes an option Pro level builds and above and there are Shimano and SRAM drivetrain options at all levels. At World Cup level, the build gets a 100mm fork and a fixed post but if you want to splash the cash with a full Fox Live Valve and AXS build then that'll cost £11,700.
The Ride
There was a time not long ago that the thought of a 100mm XC bike launch would have filled me with fear, not just from lycra anxiety, but real fear for my safety as I plummeted down the trail with a towering seat post and tyres with barely any tread. Times are a changing however and XC courses are becoming more progressive and riders are demanding more versatile and capable bikes, without compromising on weight or efficiency.
So the Mach 4 SL is Pivots entry into this new world of xc bikes, aiming to take its riders to victories and handle some gnarly terrain on the way. The result of this evolution is that I'm now really excited to ride these bikes, and no longer fear that they will immediately show up my riding inadequacies.
Equipped with some of the finest equipment money can buy, my Mach 4 SL was a thing to behold. A quick spin on the pedals and it felt not unlike an e-bike with rapid acceleration and an eagerness to move evident from the start.
Now climbing is at the heart of this bike, so pedalling up anything other than ridiculous inclines feels relaxed and easy. The Fox Live set up knows what's going on and there is always something firm to pedal against. No pedal bobbing in sight due to both the DW link and the electronics means you can mash pedals out of the saddle and still get a firm platform. As soon as things relax and you roll into a descent, things open up and the suspension is there for the taking. There is a lot going on with Fox Live, with accelerometers and the like, but it really just feels like magic.
With sizing now at a 485mm reach on the XL, It's a roomy cockpit, and with modern bars and a not ridiculously long stem, things feel very familiar, only faster. It is a forward-focused position but far removed from the extremes of XC bikes of old. There is a thoroughly modern feel about the Mach 4, but it has certainly not relaxed into some lazy trail bike, it is lightning fast.
Things get properly exciting with the trail levels off and start to descend, the dropper post makes a huge difference and allows you to move around the bike and make up for any lack of depth in the suspension. I say lack of depth because that is the only thing it could possibly be lacking, the sensitivity and intuition of the Live Valve make the bike grip the ground with an intense need to put down power at all costs.
The Fox Live Valve knows what's going on and keeps things firm when you need to pedal and open when you don't. I did find it a bit confusing pumping corners or popping off roots, as the fork wasn't as predictable as I wanted. I found that reducing the level of sensitivity on the Live Valve kept it open more often and worked better for me. I can imagine that an XC racer would appreciate the firm nature of a higher setting, which is easily toggled on the battery unit.
Although most of the builds look to share a similar purpose and spec, it is possible however to tweak the Mach 4 SL to the dark side of mountain biking. By that, I mean the ability to run a 2.5 tyre in the rear which is the start of a possible transformation. I was fortunate enough to get a tyre swap and try the bike with some burlier rubber and the results were pretty awesome. Like an Olympic athlete gone off the rails, it's certainly possible to send the Mach 4 SL down the wrong (or right) path.
This is where the versatility lies in this bike. With a fixed post and a 100mm fork, this is a bike that could destroy the field in an XC race. However, add a little more travel and some bigger rubber and you have a precision trail bike ready to slice through singletrack at warp speed. For me, the latter is where things get interesting as I spent the day trying to find the edge of control, and universally failed to get the bike out of its depth. I'd never imagined one day I'd be firing an xc bike off a lip with a smile on my face, or drifting around corners with a foot out. The era of modern XC is upon us, and I'm happy to get involved, as long as I don't have to wear lycra.
So is the Mach 4 SL a sharp, precise trail bike that just happens to be at home on the world cup XC circuit? Or a thoroughbred racer with a miss-spent youth? It's hard to decide but for the Mach 4SL, versatility is the key for this flashy speed machine.
Featured in this Post
Comments