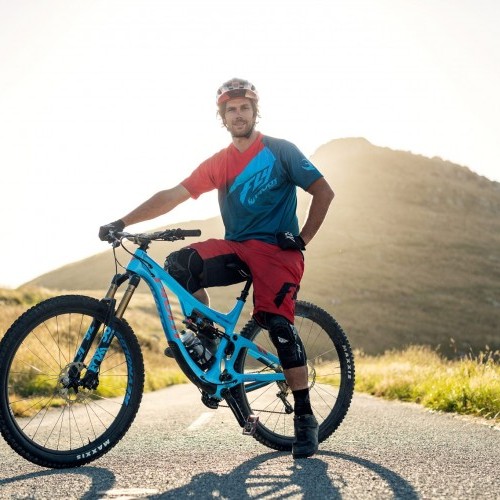 Pivot Factory Racing EWS Madeira Report
Thu 16th May, 2019 @ 9:30 pm
Heading to the Island of Madeira in the Atlantic Ocean Eddie and Matt were feeling fresh and ready to race after a 'training camp' in Lisbon. A fun week involving surfing, Metallica concerts and of course some riding had them relaxed and ready to charge.
Madeira is a small island that packs a lot of punch. Varying terrain across the island makes it ideal for riding and the amount of trails is unbelievable. One phrase commonly heard on the island it that the only flat bits of land are the airport and the soccer filed, a perfect place for a mountain bike race then.
Cole Lucas has joined the usual suspects at the EWS after a brilliant start to the season in New Zealand and Tasmania saw him pick up an impressive 5th and 10th in his first senior races! Cole has been riding his Pivot Firebird. When we heard he was struggling to make it to all the races, we had to step in and help.
Thursday
Changing from the previous races this year, the EWS in Madeira will be raced in eight stages over two days. Training is therefore also two days, making the overall riding time and work load for the event high! Bodies and bikes were going to be tired come Sunday.
All stages were practised in race order. Stage one was aptly names 'Hole in One' as it started next the local golf course before diving back into some tree cover where the trail got steeper and more technical. This trail set the scene for the event ending on a finger of land that stuck out into the ocean and showing the verity of terrain what was going to be raced over.
Stages two and three had a very similar feel to each other, some fast open sections punctured by heavy breaking and tight corners. The team was enjoying the terrain and the grippy dirt but knew that come race day the tracks would have started to break up under the constant pounding from over 300 of the world best riders.
Friday
The overall profile of the second day was downhill as a shuttle took the riders and mechanics inland as they worked their way back to the beach with little climbing between stages.
Team mechanic Kurt was making the most of the trip, using the team plate to allow him to ride with Eddie and Matt during training. Scoping lines, filming tricky sections and assessing the terrain with respect to bike set up while also enjoying a few days of bike time.
Five stages on the second day were going to challenge the riders with a back loaded event. The much hyped 'Gamble' stage kicked things off and didn't disappoint. A trail made famous from the recent Gamble mountain bike film featured some big jumps, fast rollers and huge berms. With Eddie and Matt's downhill pedigree they loved the track and were relishing racing down it.
Another good day training for the team kept the spirits high, amazing trails were only bettered by the views. Gaps in the tree cover on stage six and seven gave way to stunning views of the Atlantic and heaps of photo opportunities. With training completed there would be no time for photos come race day!
Saturday
Day one started with a long stage at almost 7 minutes of racing. Coming out hot Eddie pushed hard early in the loamy wooded section, hanging on and digging deep in the 30 second climb roughly one third into the stage he crossed the line in 5th.
Matt was equally looking to get the racing off to a good start and rode a clever stage, saving some energy and riding smart to avoid stalling on some of the lower corners. Matt finished the first stage in 10th, a brilliant start to racing.
Cole finished in a solid 31st but admitted he left some time on the stage and knew where to improve on the next stage.
Stage two flowed through some fast open meadows before ending with some incredible tight turns,. Riders were showing their creativity and skills getting around them on front wheels, drifting or with a foot out. A great stage for everyone saw whole team in the top 20 with Eddie 9th, Cole 14th and Matt in 17th.
The final stage of day one was of classic EWS vintage. A mix of open grassy turns, tight rocky turns and wooded sections kept the riders on their toes. Eddie had mastered the tight turns and was sprinting hard out of each one, setting a blistering time for 6th on the stage and 5th in the overall.
Matt had a solid ride with no mistakes but felt he kept it a little too safe and with super tight times went into day two 12th in the overall.
Cole was continuing to ride brilliant showing everyone how the move from to junior to senior racing should be done! Sitting in 22nd after the first 3 stages he was ready to charge on Sunday.
Sunday
With a great first day racing and an early night the boys were ready to charge again. The fast and fun Gamble stage was now a challenge to race. Corners getting dusty and blown out were hard to carry speed through and all the jumps and rollers were a physical test to wake the riders up.
Eddie didn't need much waking up, smashing the stage and using his strength to post the 2nd fastest time, an amazing start to the second day racing. Matt and Cole were riding well but a few mistakes and blown out corners cost them some time.
A small crash after catching a pedal on stage five for Matt lost him some time but with two strong stages on six and seven he recovered some time on the fast technical sections he enjoys.
Eddie continued his good form with more top ten stage times, a 5th on the stage seven, the Queen stage. This stage started fast and flowing but riders needed to keep alert as there were some tight off camber corners where running wide was not an option. Smart riding ensured Eddie gained valuable seconds over his rivals on in such a tightly packed top ten.
The final stage was a repeat of stage three from the previous day with a little addition through town to finishing right on the beech. After a long two days riding Eddie was sitting in a fantastic 5th, the fatigue was starting to tell but Eddie rode a safe and solid 8th fastest on the final stage. With super tight times and hugely competitive filed he was knocked into 6th be the smallest of margins.
Matt ended the day with a blinder of a ride, taking no prisoners he finished with a top ten time on the final stage and pushed his overall position up from 17th to 15th
Cole was equally looking to gain time to the last meter of racing and pushed his place from 29th up to an impressive 25th. A great final stage with riders improving their positions everyone was exhausted but pleased after over 30 minutes of race time.
Another fun, action packed and successful Enduro World Series Round for the team in the bank with everyone fully enjoying their trip to Portugal and Madeira. Each rider coming away happy with their riding and smiles on their faces is always great to see.
Huge thanks to everyone with all the support, we couldn't do it without you! We will be back in action in 3 weeks' time in Fort William for the Downhill World Cup round 2.
Cheers, The Pivot Factory Racing Team
Featured in this Post
Comments