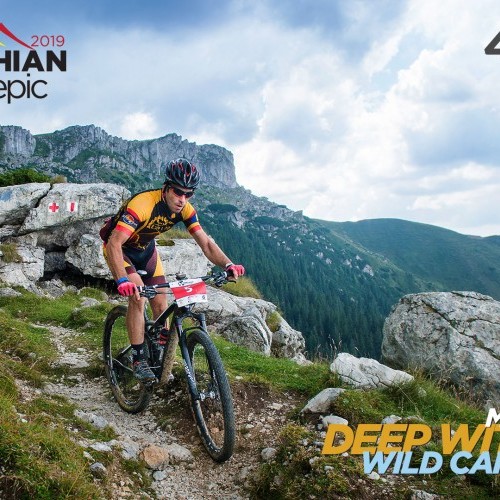 5 Reasons to Attend Carpathian MTB Epic, The Premier Stage Race in Eastern Europe!
Fri 14th Jun, 2019 @ 6:30 pm
5 Reasons to Attend Carpathian MTB Epic, The Premier Stage Race in Eastern Europe!
The summer is upon us, finally. In the lookout for authentic MTB experiences, the Carpathian Mountains in Romania stand out due to their great scenery, rough terrain and back-to-basics old-school trail riding. If you are seeking to rediscover the true nature of MTB and also experience an unforgettable social and multicultural experience in Romania, here are a few reasons why you should consider joining the Carpathian MTB Epic (www.carpathianmtb.ro), between the 1st and the 4th of August:
1/ A fairytale landscape which can only be described as MTB Heaven. You will plunge into dramatic landscapes that bring forward the intricate structures of old mountain roads and mountain crosses lying dormant, waiting to be discovered. It's a truly unforgettable journey which starts at the border between ages and worlds, in a place of myth and legend, the Bucegi Mountains. Give yourself the chance to admire this raw amazing scenery!
2/ Trails. The 173 km tracks with an 8,050 meters of epic climbs are a wonderful physical challenge and a lifechanging experience. New tracks, most of them never explored by riders,   all traversing natural parks and wild regions unique in Europe will be your dramatic path to a breathtaking experience.
3/ Olympic level Race Village and top services. All participants are accommodated in the Race Village which gives two main advantages: the riders from all over the world can have a great multicultural experience and secondly, they can enjoy the comfort of a warm 3* hotel bed, at the end of the day. You will also benefit from a full meal plan (breakfast, recovery meals and dinner) and the farewell buffet party, all providing opportunities to share stories and make new friends.
Other race services (medical assistance, bike wash, mechanical assistance, timekeeping, GPS tracking, Chill-out zone etc.) are all described in the Packages & Race Services section. Pool, sauna, pub & an array of relaxation games & activities are available at the Race Village. It's a family friendly environment & a relaxing atmosphere, in case you want to bring your loved ones with you.
4/ Amazing sites. Just 13 km away from the race village, there is Dracula's Castle, a construction that has fascinated and inspired many for hundreds of years. The wonderful fortress which first served as customs and was later on a hospital, a Royal summer residence and is now a museum, is connected to the legend of Dracula through Bram Stoker's novel which also became a successful movie. Dracula's Castle welcomes 800,000 visitors every year; you should not miss it! Nearby, there is also the Black Church in Brasov, a beautiful Gothic monument built nearly 500 years ago.
5/ Get some fun! Take some days besides the race to take part in fun activities for great memories. Summer is a great time to enjoy Romania. Brasov, the closest city to the Race village, is a wonderful mash-up of traditional charm and modern city life.  Tourists enjoy top-rated restaurants and enrich their social media feeds with photos of fortified churches or Strada Sforii, a great attraction, the narrowest street in Europe.  Very close by, there is an outdoor adventure park offering forest-lined ropes & zip-line courses for all levels and a dinosaur-themed park featuring large statues plus a 9D theater, playground, museum & other activities. So, there's plenty to do around! One more tip: just before you fly back home, you can make a few-hours stop at Therme Bucharest. Heaven on earth is only 6 km away from the airport, Therme being the largest relaxation and entertainment center in Europe. The center includes a wide variety of botanical plants, with a palm tree plantation of 1500 units imported from 6 countries. The thermal water temperature is 33 degrees Celsius, all year round. Sands of Therme is the largest urban beach in Europe.
Here's an extra tip for you: start training for this summer's MTB experience! Whether you plan to compete at the highest level, or simply want to get to the finish line each day, there are a number of important components you should look to include within your training and preparation in order to make your experience that much more enjoyable. Rule 5 Cycling Coaching led by Ian Jeneer will help you be in the best place possible for this event.
Getting closer to nature and taking a break from your noisy daily life makes you happier, less stressed and more energetic. It's not us, but scientists who say that! Enjoy the tranquility of nature and the revigorating power of pure MTB by living an amazing experience in the Carpathians!
Comments