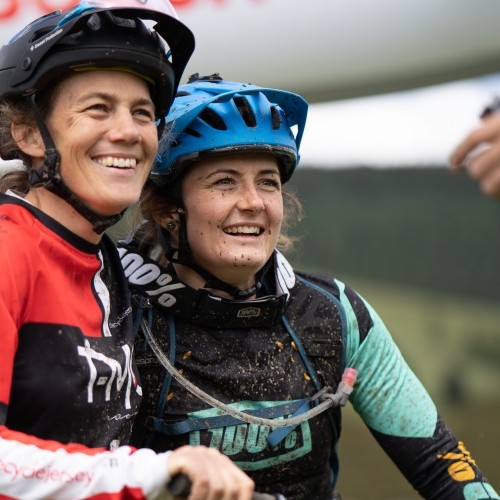 Riders of All Ages & Abilities Electrify the Trails in the UK's First Ever Bosch eMTB Challenge Supported by Trek
Fri 21st Jun, 2019 @ 12:30 am
Riders of All Ages & Abilities Electrify the Trails in the UK's First Ever Bosch eMTB Challenge Supported by Trek
Sunday 9th June saw the first UK edition of the Bosch eMTB Challenge Series supported by Trek as eMountain Bike riders hit the iconic trails of Innerleithen in the beautiful Scottish Borders.
As part of the 2019 TweedLove Transcend Bike Festival, the electric mountain bike (eMTB) Challenge featured three categories – 'Explorer', 'Amateur' and 'Advanced', taking riders on a 30km exploration of the stunning Tweed Valley and demanded over 800m of vertical climbing. A combination of uphill and downhill timed stages tested both 'Amateur' and 'Advanced' riders on their technical skills against the clock, whilst riders in all categories were tasked with reaching orienteering checkpoints during the transfer stages – requiring athlete endurance, navigation and of course battery management skills.
The event attracted notable rider diversity of all ages and abilities, with 64 eMTB riders from both professional and amateur backgrounds entered to race. Ranging in age from 17 to 70, there was a truly inclusive feel to the event with participants travelling far and wide, from the local valley to Italy and Germany.
The youngest rider on the course, Ben Repton ('Amateur' rider), 17, said – "I came here to ride with my dad. I've always loved riding eBikes. The course was spot on today, I loved it." Ben's father, Phil Repton ('Amateur' rider), 53, added – "We drove for five hours to get here and it has been absolutely awesome. I'm riding with a Bosch Performance Line CX motor and hit Stage 5 with only one bar left. I thought, 'come on, you're going to get up there', and it [his bike] did. Absolutely mega. Being able to ride some sections with the pros as well is fantastic."
The Trek Factory Racing (TFR) team was also out in force, with pro downhill MTB riders Kathi Kuypers, Tracy Moseley, Katy Winton and Greta Weithaler tackling the Advanced category stages in a bid for victory, with Moseley eventually taking the Female 'Advanced' category win. German TFR rider, Kathi Kuypers, said – "This is our team's third year in a row competing in eMTB races but it is our first Scottish eMountain bike race. It has been really awesome – Stage 1 was brutal and so long with the uphill section. I was screaming through the forest because I loved it so much. I can't wait to try more Scottish trails – normally trails aren't that hard but here you need to be far more skilled to take on the technical and slippery terrain. It was amazing – going uphill I had a heartbeat of 181 BPM!".
"This was my first proper eBike challenge – I really enjoyed the uphill stages, they were challenging both physically and technically, and that is something that's new for me, to be racing uphill. And the downs were pretty hard today with super sticky mud.

"The whole social atmosphere and being out with a group of people is great. There was a seventy-year-old guy I bumped into competing, as well as all the professional full-time racers. It really shows that inclusiveness, to be doing an event together and riding round together. A really cool experience and a beautiful place to do it".

– British TFR rider Tracy Moseley
Festival Organiser, Neil Dalgleish, thought the UK's first round of the series was a great success – "We are so proud to have hosted the first-ever Bosch eMTB Challenge as part of Transcend Bike Festival. The festival was all about riding bikes for everyone and the eMTB Challenge brought another element that we have never been able to provide before. Everyone had such an amazing day exploring the Tweed Valley and experiencing the limitless possibilities of fun you can have on an eMTB."
Results
'Advanced' Male Winner – Darren Howarth (18.54.65)
'Advanced' Female Winner – Tracy Moseley (19.44.24)
'Amateur' Male Winner – Ben Repton (17.37.32)
'Amateur' Female Winner – Rosie Bowker (35.16.07)
'Explorer' Male Winner – Simon Anderson (stages not timed)
'Explorer' Female Winner – Rosie King (stages not timed)
Featured in this Post
Comments