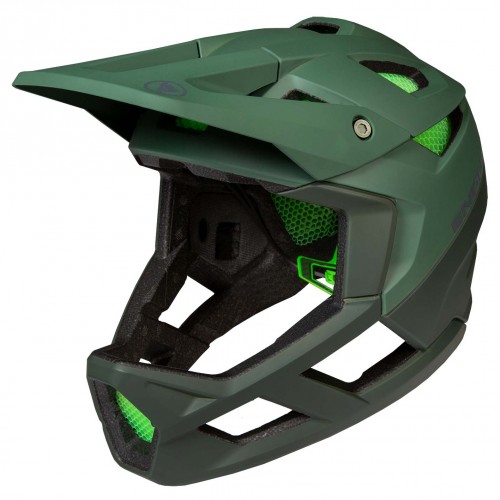 Endura's New MT500 Full Face Helmet Wins Gold-Plated Recognition at OutDoor by ISPO
Fri 21st Jun, 2019 @ 9:30 am
Endura's New MT500 Full Face Helmet Wins Gold-Plated Recognition at OutDoor by ISPO
The bleeding-edge innovation and radical new approach to the development of the MT500 Full Face Helmet has paid off, and the Endura Team is delighted to get independent feedback that it's been worth the effort by winning Outstanding Outdoor's Gold Award! 21 judges from 9 countries experienced and discussed all applications and selected the awardees in the beautiful Annecy Mountains. In this context, the Endura MT500 Full Face Helmet was chosen as Gold Winner in the category Bike Gear, which means it was the best voted product in this category.
Tested and ridden by a rack of Enduro and DH talent including Joe Barnes and Team Hazzard, the Lupato brothers, Morgane Charre, Ella Conolly, and Mikayla Parton, the all new MT500 Full Face Helmet will be available in retail from mid-July. It is the first full face to use the advanced energy absorption offered by Koroyd® technology at the burly end of the mountain bike helmet market and brings full head and face protection for enduro, downhill and bike park riders into the expanding helmet offering. Safety needn't come at the expense or comfort and by using large vents and an air intake zone as well as fast wicking padding means that this is a lid that doesn't have to be removed when the trail heads upwards.
The full Koroyd® core produces an unbelievably light, fully DH certified full face which boasts a unique chinbar construction built around an internal skeleton, providing strength without excessive weight. The size M/L weighs in at a game-changing 640 grams. The fully compatible MT500 Full Face is available in three sizes, and the fit can easily be fine-tuned with the one-hand microadjustment fit system and multiple anchor points for the rear retention system. Antibacterial fast wicking spacer fabric padding makes the helmet super-comfy on the head and options of chinbar padding are included. The MT500 Full Face Helmet comes in forest green and black and is backed by a 90 Day Satisfaction Guarantee. It is also covered by Endura's Crash Replacement Policy and Endura Product Guarantee. Certified to ASTM F1952 and CE Standard EN1078:2012 + 1 A1:2012.
#ProtectionItsInOurDNA
Featured in this Post
23,636
77,505
Comments