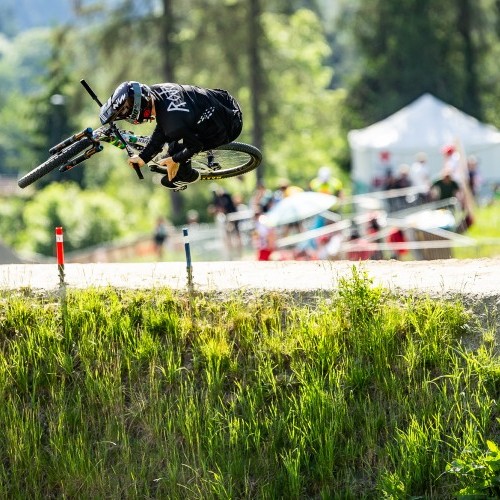 Söderström Back On Top at Speed & Style at Crankworx Innsbruck
Sat 15th Jun, 2019 @ 12:30 pm
Win a GO3 Camera by Insta360 this issue in our FREE subscriber prize draw.
In a battle reminiscent of Slopestyle days of old, two Crankworx legends found themselves going head-to-head for gold in today's Mons Royale Speed & Style at Crankworx Innsbruck. After charging hard and going big up against some of the fastest and most stylish riders in the sport today, Martin Söderström (SWE) and Kyle Strait (USA) were the last men standing. In the end, Strait went down on the first jump of the second matchup, and the Big Swede came out on top in the discipline that's become his focus at Crankworx.
"This means so much," said the 29-year-old, breathless after four rounds of competition in the blistering Austrian sun and temperatures that reached up to 33°. "The less disciplines you do, the more pressure there is. I feel like when I was competing in Slopestyle and I only did these ones for fun, these ones were way easier. Now that I'm only focusing on it, I get so much more nervous."
Each 10+ years to competition at this level and both looking as on top of their games as ever, Söderström and Strait were both pedalling hard and going big on the two judged hits. Strait crossed the line 0.05 seconds ahead of Söderström in their first matchup, but the Swede pulled back some time thanks to his signature double tailwhip and 360 tabletop. In the end, the American took the advantage, but only by 0.01.
"It was like back to zero again. I thought 'Oh, damn. I wish I had something to go on,'" said Söderström. "I knew that if I wanted to beat Strait I just really, really had to push it. And then unfortunately he crashed."
"Almost perfect," said the 32-year-old American of the outcome of his day. "Speed & Style is all about being consistent and I fell just a little bit short. It was good racing out there, but it was hard work."
"I feel like the whole day, I've had to go faster and faster every round because the competition was just really, really strong this year," added Söderström, who's coming off a second place finish in the Mons Royale Speed & Style Rotorua in March. "Many, many good guys. It was a crazy bracket that I got the whole way down. That makes it feel even better standing here."
The points from both today and the contest in March now give Söderström a solid lead in the Crankworx Speed & Style World Championship which will crown the season's overall victor in Whistler in August.
Rounding out the podium, a big result for Garret Mechem (USA), who earns his top Crankworx pro result to date.
"It's unreal. No words really to describe it," said the 19-year-old. "It's a dream of mine to compete against these guys. They've been through the ranks. They've done it all. They're the ones to beat, and I'm stoked to be able to compete against them and see where I stand."
Full results: https://www.crankworx.com/cwx-results/results/?eventid=59&catid=221
Next up, Crankworx Innsbruck Slopestyle goes LIVE from Austria to the world on Red Bull TV and crankworx.com.
Saturday June 15th 9:00 am CEST
Saturday June 15th 12:00 am PDT
Saturday June 15th 7:00 pm NZST
Get the times and details for all live webcasts during Crankworx Innsbruck: https://www.crankworx.com/innsbruck/schedule/
Featured in this Post
Comments