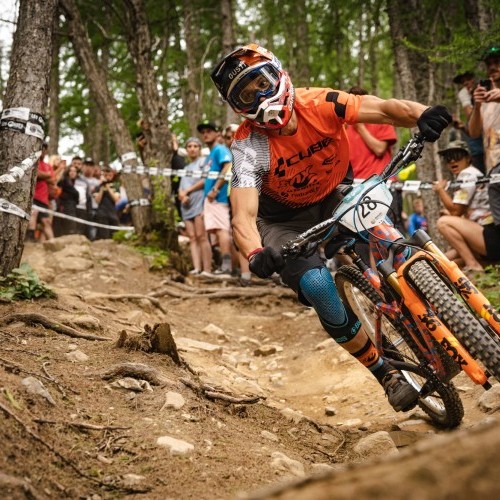 Bronze for the CUBE Actionteam in Les Orres
Tue 9th Jul, 2019 @ 9:30 pm
The CUBE Actionteam shone bright at the fifth round of the EWS in France, taking third in the team classification with Gusti Wildhaber finishing an impressive eighth in the men's race.
The Enduro World Series headed to France last weekend for the fifth stop on the calendar. Whilst severe weather cut short the race on Sunday, it detracted nothing from the long, challenging stages faced by the riders.
Wildhaber followed up a great start on stage 1 with a crash on stage 3. Luckily, he was able to continue racing and posted top 10 times across the board to secure himself the 8th spot overall: "I'm super happy with the result. It was a hard race." Finishing 18th overall, Greg Callaghan was clearly happy with his result for the first time this season. "I'm stoked to be feeling good again on the bike after such a long time. I had the speed to make the top 10 until a big mistake derailed me on stage 4. The result doesn't quite match how I felt, but means I can now really look forward to Whistler." Zakarias Johansen (20th) and Sofia Wiedenroth (24th) put in solid performances and secured the team the 3rd spot in the team classification.
"Gusti's 8th place is a great result for us and was a major factor in landing us on the team podium. He's rid-ing consistently well at the moment and is our big hope for the next race in Canada on 11 August," says team manager Claus Wachsmann.
Featured in this Post

95,440

402,599
Comments