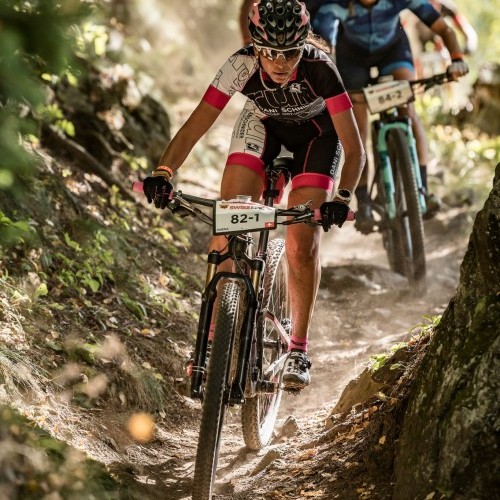 2019 Swiss Epic Starts Today
Tue 20th Aug, 2019 @ 3:30 am
Today marks the start of the 2019 Swiss Epic and this year promises to be an intense affair with some of the most decorated stage racers ready to tackle the trails of Graubünden.
Over in the elite men's field, there is a stacked line-up of European mountain biking stars, with a touch of international talent added to ensure a captivating race. At the forefront of the favourites list is 2018 runner up, Konny Looser. The Swiss rider will have a local partner in his bid to win the title, but he will have to hold off the 2017 champions, Centurion Vaude, and the perennially dangerous Buff SCOTT team along with the powerful Italian Trek Selle San Marco quartet.
Looser will team up with Oliver Zurbrügg for this year's race. Despite four Swiss Epic finishes to his name the BiXS Pro Team rider has yet to stand atop the final podium. That is a fact he will seek to rectify come the 24th of August, in Lenzerheide. In Zurbrügg he has a partner with the experience to challenge for victory, but Looser will be up against some of the world's most experienced stage racers.
Few, if any, can boast the collective experience and outright speed of the Centurion Vaude squad. Daniel Geismayr is one of the finest stage race and marathon specialists in the world. In Vinzent Dorn he has a young, explosive, partner on the rise. Their team manager Alexa Hüni confirmed that the pair are highly motivated for the race in Graubünden.
"After we had some really bad luck with injuries at the Absa Cape Epic this year, we are even more keen on repeating our victory from 2017" Hüni stated. "The Epic Series is an absolute highlight of our 2019 racing season and we are trying to compete successfully in as many races as possible."
After missing the 2018 race, and the chance to defend the title he won alongside Jochen Käss, Geismayr is aiming to use the Swiss Epic to launch a late season drive for victories.
"It fits very well into our schedule and will give us the ultimate sharpening of our form and fitness in preparation to the UCI XCM World Championships" Hüni explained. Before pointing out that the challenging route would provide the Centurion Vaude riders with ample opportunity to attack. "We will take any chance, whenever we sense one" she smiled.
If Geismayr and Dorn agitate the racing with aggressive tactics that will suit the powerful Buff SCOTT team. The Spanish squad's build-up has not been trouble-free however. "We are really sad, as unfortunately, Luis Leao had a bad crash and he cannot attend the Swiss Epic that was one of his biggest focuses this year" Buff's Sport's Marketing Manager Gil Vilar pointed out.
"Luis was training since April to be in Switzerland at his best shape. Firstly, we were coming with two great teams to be fighting for the top positions but after this bad incident for us, we can just come with one team. We can say that the couple, Francesc Guerra and Enrique Morcillo, are planning this race consciously and will do their best to improve the fourth position they got last year. There is no doubt that they will give everything to get their goal, to be in the podium; even though we know the high level of the professional teams that take part in this race. They finished in sixth position this year at the Absa Cape Epic and were really close to the top five, so there is no doubt about their strong level."
Over in the womens field, Swiss marathon champion, Ariane Lüthi headlines a distinctively international field of elite women for the 2019 Swiss Epic. The five day, S1 Union Cycliste Internationale stage race is set to take place in the Graubünden canton from 20 to 24 August. Alongside the local Swiss heroine is New Zealand's Samara Sheppard; while the pair will contest for victory against teams from across the globe.
Lüthi won the inaugural edition of the race back in 2014 and will be eager to add the 2019 title to her palmarès. The Kross Factory Racing star splits her time between her native Switzerland and the sunny climate of South Africa. Winning on home soil remains very important to her though. "I'm really looking forward to racing the Swiss Epic again, after missing the 2018 race" the three-time Swiss marathon champion said. She will be representing Poland's largest charity, Wielka Orkiestra Świątecznej Pomocy, alongside the three-time Kiwi Cross Country champion Sheppard.
"I really love the race" Lüthi enthused before pointing out: "The Engadin Valley in particular is very popular with visiting mountain bikers. It's really one of the most beautiful areas with lots of purpose built mountain bike trails."
Hielke Elferink, who has unfortunately been forced to withdraw from the race with a knee injury, has a wealth of local knowledge. "I've lived in Davos for two and a half years now and though I am Dutch, I somehow feel so much at home in the mountains" Elferink smiled. "The riding is really great. You will find so many options with your bike" she promised.
"Riders will have to tackle long climbs; which could take about 45 minutes. But once we are at a certain level it could be that we are sent into a very nice alpine trail, which kind of stays at the same altitude and has a lot of short steep climbs, combined with nice technical parts. I expect a very hard, but super nice week of racing. The area you will cross is a true paradise" she concluded with a wry note to her voice, knowing that she would be missing the ride through paradise.
To follow all the racing action from the 2019 Swiss Epic mountain biking fans can visit http://www.swiss-epic.com. The race will also feature extensive live coverage on social media, with regular updates and highlights from the event on Facebook, @SwissEpic; Instagram, @swiss_epic; and YouTube, Swiss Epic.
Comments