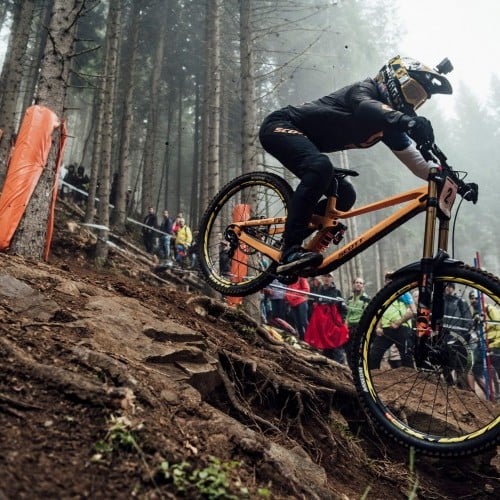 Lenzerheide DH World Cup | Warning – SPOILERS!
Sun 11th Aug, 2019 @ 12:30 pm
Swiss wins see Pierron and Cabirou lock in Bruni and Hannah showdowns.
French pair Amaury Pierron and Marine Cabirou won the UCI MTB World Cup downhill races in tricky Lenzerheide conditions to take the men's and women's titles down to the final USA race. Here is all you need to know:
Saturday's weather conditions were extremely testing with the women getting the worst of the rain and fog early on as Kiwi Kate Weatherly and home hope Emilie Siegenthaler put in strong runs to lead before Cabirou sent down a storming run to take the hot seat.
Germany's Nina Hoffmann was the penultimate rider but a rear puncture put paid to her hopes as fastest qualifier Tracey Hannah failed to beat Cabirou's time by 0.264s leaving the Frenchwoman to enjoy back-to-back victories and just a 150-point deficit to Hannah overall.
Cabirou, 22, said: "Two in a row is just incredible. I did too many mistakes during my run, but I stayed on my bike. I am so happy. I cannot wait to be in Snowshoe."
Australian Hannah said: "It was weird because at the top it was raining and I know how slippery the outside corners get. I had to read the track as it was going. It was fun. Happy to get down without a crash and it's good for the points overall. I love the old tracks in America and hopefully it will be dry. I will give it my all."
In the men's race, Frenchmen Baptiste Pierron and Florent Payet led early on before Britons Reece Wilson and then Laurie Greenland both bettered their times.
Amaury Pierron was a man possessed as he earned a huge 4.266s lead with South African Greg Minnaar the only man to get within a second as title rival Loic Bruni, Australian Troy Brosnan and fastest qualifier Danny Hart were all unable to deny him a third 2019 victory.
Pierron, who is only 90 points behind Bruni overall, said: "I did not expect this after the first day of practice with two bad crashes. It was perfect conditions, just a bit slippery. I did a mistake at the bottom, but that was enough. For the overall, a win is beautiful."
Bruni, who also has three 2019 wins, said: "I knew Amaury was going to be really hard to beat. I started to lose confidence. I did a pretty good run. They were better than me today. This season is crazy. We don't have points in quali at Snowshoe, so it will be full on."
Women's UCI MTB World Cup downhill at Lenzerheide:
Marine Cabirou FRA 3:34.304
Tracey Hannah AUS +0.264
Emilie Siegenthaler SUI +7.085
Kate Weatherly NZL +7.478
Camille Balanche SUI + 7.649
Women's UCI MTB World Cup downhill standings:
Tracey Hannah AUS 1460 points
Marine Cabirou FRA 1310
Nina Hoffmann GER 819
Veronika Widmann ITA 754
Rachel Atherton GBR 730
Men's UCI MTB World Cup downhill at Lenzerheide:
Amaury Pierron FRA 2:49.422
Greg Minnaar RSA +0.951
Loic Bruni FRA +1.400
Troy Brosnan AUS +2.160
Danny Hart GBR +3.222
Men's UCI MTB World Cup downhill standings:
Loic Bruni FRA 1312 points
Amaury Pierron FRA 1222
Troy Brosnan AUS 1094
Danny Hart GBR 883
Loris Vergier FRA 859
Featured in this Post
Comments