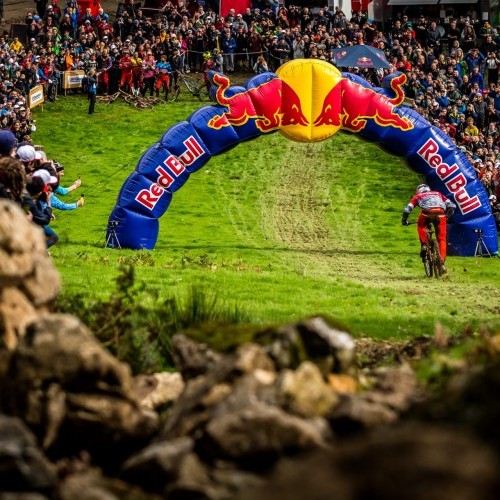 Red Bull Hardline Returns This Weekend!
Thu 12th Sep, 2019 @ 3:30 am
The sixth edition of the toughest downhill mountain bike race in the world, Red Bull Hardline, will take place this weekend in the hills of Dyfi Valley in Mid Wales.
The world's best and most progressive mountain bikers will be taking on the intense course of Red Bull Hardline. Built by local legend Dan Atherton, the course combines tricky technical downhill features with huge freeride-style jumps.
Red Bull Hardline tests even the most skilled riders, with giant slab rolls, tight wooded sections, the iconic road gap jump (with a trajectory of 55 ft) and some new epic jumps which will test the riders at speed as they enter the final section of the course. The final fly off, which is the biggest jump ever at Red Bull Hardline, will see riders fly 65 ft (the length of a football pitch) as they speed towards the finish line.
The 24 strong line-up includes 2018 winner Gee Atherton, 2017 winner Craig Evans and British stalwart Brendan Fairclough. 11 riders will make their debut at this year's race, coming from a host of different disciplines including MTB Freestyler Matt Jones, Enduro riders Cole Lucas and David McMillan and downhill MTB rider Matt Walker.
3,000 spectators will head the to the competition over the weekend. Tickets for the final on Sunday have sold out, but a limited number of tickets still remain for Saturday, where fans will be able to watch all the riders during the morning practice session and qualifying runs in the afternoon.
For those who can't make the event, live-action will be broadcast on Saturday and Sunday from 2 pm at redbull.com/hardline with commentary from Rob Warner. Warner will be joined in the commentary box by downhill mountain biking royalty, in x5 DH World Champion Rachel Atherton. The British Red Bull Athlete be on hand to provide her expert opinions and insights whilst the riders tackle the brutal course built by her brother Dan Atherton.
For more information and to buy tickets please visit redbull.com/hardline and join the conversation @RedBullUK with the hashtag #RedBullHardline.
Win a Peaty's Complete Bicycle Cleaning Kit this issue in our FREE subscriber prize draw.
Featured in this Post
29,151
361,145
Austria
47,790,335
Comments