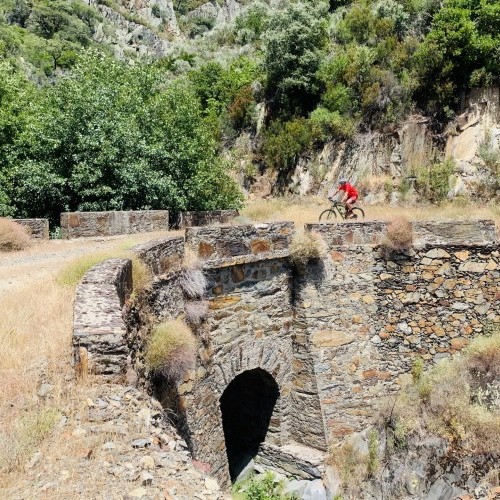 MTB Madrid – Lisbon | 10th Edition in 2020
Tue 22nd Oct, 2019 @ 9:30 am
Fancy taking on an epic MTB challenge by riding from Madrid to Lisbon off road? The annual Bike Madrid-Lisbon MTB ride is back for its 10th anniversary with the dates announced for next summer, here's the full press release below:
The Bike Madrid Lisbon event is already a well-established event, with its first edition dating back to 2011. Many adventurers have already crossed these challenging Iberian mountain routes on this event, either by mountain or road bike, and we plan to keep bringing more and more.
The Mountain Bike 2020 edition already has its dates set: from June 19th to July 5th.
This journey's itinerary keeps evolving, with constant improvements to better this spectacular experience, that we consider to be one of the most exciting adventures in Europe!
This means:
2 countries, starting in Spain and ending in Portugal
15 stages of rewarding trails crossing the Mountain Range of the Iberian Peninsula
1.260 km and + 26 560 m of ascent in total
Guided Tour with a backup vehicle, with mechanical assistance and a spare bike
GPS Tracks for the more independent adventurers to follow at their own pace
Accommodations handpicked in the best locations and special dinners
Gourmet buffets mid-stage with regional products to nourish and energize
We pride to offer our bikers a full and complete service, meaning everything is arranged and organized. Bikers just need to ride, eat and sleep!
Available in 4 options, since we like to adapt to our participants busy schedules:
Complete Tour » 15 stages from June 19th to July 5th
Spanish Week » 8 stages from June 19th to June 27th
Portuguese Week » 7 stages from June 27th to July 5th
A La Carte » choose which stages you want to do
Entries for 2020 are open and the remaining places with 20% discount are still available.
Don't miss the crossing from the capital of Spain, Madrid, to the capital of Portugal, Lisbon. Be part of the list of the 2020 SURVIVORS!
Bike Madrid Lisbon is a spectacular biking adventure, only possible to the most strong and resilient riders, which want to join the exclusive list of riders that completed this EPIC crossing!
For more information, click here
Comments