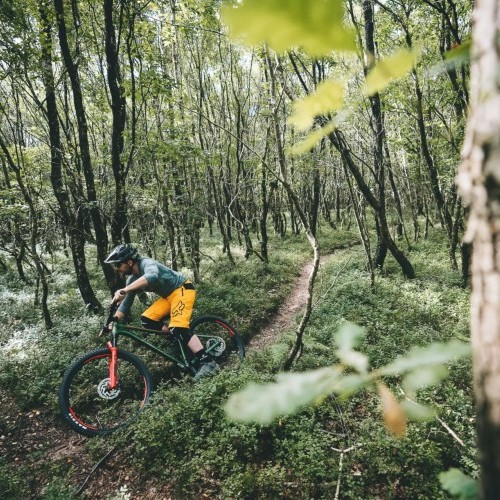 The New MERIDA BIG.TRAIL
Thu 13th Aug, 2020 @ 3:00 pm
Merida are excited to present to you, the all-new BIG.TRAIL hardtail. While full suspension bikes become more sophisticated and capable on the way down but also on the way back up again, the trail hardtail has quietly developed in its shadow, for the new BIG.TRAIL they have paired up with some of the leading UK cycling dealers and have combined their market knowledge and experience with the know-how and design/engineering ability of our Germany based R&D team. Welcome to the new BIG.TRAIL.
Win a GO3 Camera by Insta360 this issue in our FREE subscriber prize draw.
The New BIG.TRAIL – Trail Fun Simplified
Nowadays we often associated trail and mountain biking fun with more and sophisticated full suspension travel as modern full suspension bikes become not just more capable on the way down but also easier to pedal and more efficient on the way up. However, the simplicity and capability of the hardtail remain a strong contender in the world of mountain biking. But it is not just at home on subdued trails or in the world of XC racing, but it also finds its way onto the more demanding tracks out there. However, to hit the more challenging trails that little bit harder, you need the right tool for the job.
Welcome to our new BIG.TRAIL, our take on the fun-packed, versatile, capable and rewarding trail hardtail category. Our BIG.TRAIL combines the simplicity and low maintenance of a hardtail with the capability and the fun factor of a long travel bike. For us, the BIG.TRAIL symbolises TRAIL FUN SIMPLIFIED.
The UK has been one of the driving forces in Europe if not in the world when it comes to taking hardtails on demanding trails and tracks, so it was obvious to bring leading UK dealers and our R&D team together to create our four BIG.TRAIL models. Their combined market knowledge and experience paired with the design and development know-how of our German R&D team was the perfect combination to develop this new bike for the 2021 line-up.
The new aluminium BIG.TRAIL is based on 140 mm travel forks, a modern and aggressive bike geometry, long dropper posts and 29er wheels with up to 2.5" tyre clearance.
With a 65.5° head angle for increased stability, a 75.5° seat angle for effective climbing and a reach of up to 475 mm, the geometry of the new BIG.TRAIL is aimed at aggressive trail riding as well as long days in the saddle. The super sloping top tube gives confidence, and plenty of space to manoeuver on the bike as well as allows for 150 mm dropper posts (125 mm in size S) to be fitted.
Further features of the BIG.TRAIL are internal cable routing, Boost standard front and rear, space for two water bottles plus 'Trail Mount' inside the frame, external bottom bracket, Sram UDH hanger, tubeless-ready rims with 29 mm inner width and 180 mm rotors front and rear.
For more information on all Merida products, please click here.
Featured in this Post
Comments