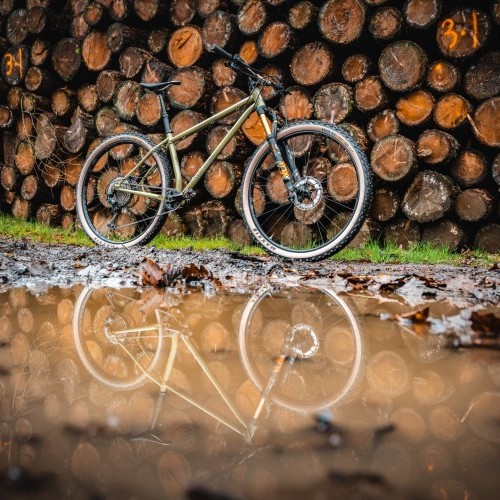 Pipedream | The Sirius Is Back!
Thu 12th Nov, 2020 @ 6:30 pm
Pipedream cycles have brought back the Sirius name and this new hardtail is ready to hit the trails! Full press release below:
We are very excited to announce that the Sirius is now in stock and ready to hit the trails! It's no secret that the Sirius has been on its way for some time, with those in the know getting their pre-orders in early (thanks folks!).
What is it?
The Sirius is a short travel, steel hardtail ready to turn the volume up on your local trails, allowing riders to sharpen up and push the pedals hard. Optimised for a 120mm fork (100-130mm) with a 65-degree head angle, this is a short travel bike ready to encourage you to hit some serious terrain or serious miles. Made to the highest standards that Pipedream is renowned for, the Sirius represents the ultimate in steel hardtail performance.
What do I do with it?
Local loops, trail centres, epic xc adventures, the Sirius is a blank canvas ready to be built up as you see fit. With the world in varying states of lockdown, never has there been a better bike to sprint from the front door and hit the trails. However, with Pipedream geometry, the Sirius will happily be your short travel, rowdy, hardtail companion, to take you through winter with a smile on your face.
D.O.G
Drop Optimized Geometry is our philosophy for bike design, providing the best balance of comfort, confidence and fun. You can rest assured when things get exciting, our bikes will keep you on track. Sure our bikes and long, low and slack, but we've been doing that for a long time, it's nothing new.
Steel is Real
Once again, a custom tubeset is used to build the Sirius. The tubing is designed specifically for the frame so that the custom butt profiles are optimised for strength and performance, negating the need for external reinforcement. This delivers the clean aesthetic Pipedream is known for and enhances the properties of the tubing. No gussets, no problem.
What the Fork?
Yep, we have a rigid fork coming, especially designed for the Sirius to turn it into the ultimate bikepacking, adventure bike. Who said you had to compromise on downhill performance when heading deep into the backcountry. Oh and if you want to get super quirky we've got flat-mount dropouts coming so you can go drop-bar too…
Stuff you'll want to know:
For more info, visit pipedreamcycles.com
Featured in this Post
Comments