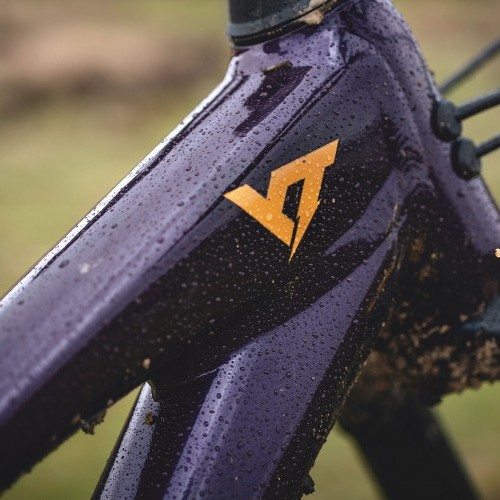 News: YT CAPRA MX Uncaged 9 & DECOY MX Uncaged 9: Return of the Shred
Fri 18th Mar, 2022 @ 9:30 pm
What do you get when you mix Swedish gold, a bit of goat, a dash of duck, and the color Deeper Purple? Once you wait for the smoke on the water to clear, you get the hardest-hitting Enduro riffs of all time – the CAPRA MX Uncaged 9 & the DECOY MX Uncaged 9. Boasting an Öhlins RXF38M.2 and TTX22m suspension package these MX hitters will be that little devil on your shoulder, encouraging more amplitude and speed on every trail. Hot off the heels of the previous LTD and Shred models these are unique concepts available now, however you won't have to wait much longer for the full metal CAPRA Core 2 experience.
CAPRA MX Uncaged 9- The 3rd Generation CAPRA goes AL
Instead of heading to the mould like its CORE 3 & 4 counterparts, fully metal manufacturing processes such as hydroforming, cold forging, welding, and heat treatment are used to create a high-performance alloy frame. Available in 5 sizes the CAPRA MK3 alloy platform features a 77.6° seat angle and 64.2° head angle, which combines a comfortable pedaling position with serious sending prowess. Just because its aluminum doesn't mean you miss out on the best features either. Double sealed frame bearings, top tube mounts for on-bike storage, geometry adjust flip-chip, SRAM UDH mech hanger, and a TM6000 water bottle all feature aboard this 170mm travel aluminum Ibex. Last but not least, the biggest news is for the bottom bracket bandits around the world; it now has a BSA 73mm threaded BB. Put that in your comments section and smoke it.
Öhlins have won over 300 world championships in their history, so it's clear they know a thing or two about manufacturing the best suspension on planet earth. The TTX18 damper brings class leading support to the 38 RXF M.2 fork with externally adjustable high & low speed compression and rebound. You can also say goodbye to tokens in this fork, as the twin piston triple chamber air-spring allows ramp up adjustment using a trusty shock pump. Topping off the Swedish gold package, the Öhlins TTX22m rear shock sits at the heart of the bike. The twin tube damping circuit combines the goldilocks qualities needed for hard hitting riding- traction, stability, and consistency.
Gear duties are shifted onto SRAM GX Eagle 52T 12 speed drivetrain and CODE R brakes slow the show down. Instead of grabbing this beast by the horns, you'll be holding onto a Renthal Fatbar and Apex cockpit with ODI grips.
Crankbrothers Synthesis Enduro wheels are wrapped in Maxxis rubber, with an Assegai MaxxTerra EXO up front and the trusty DHR II MaxxTerra EXO+ hanging out the back. When you have time to catch your breath and take a seat, that's taken care of by YT's own Postman dropper and SDG Bel Air 3.0.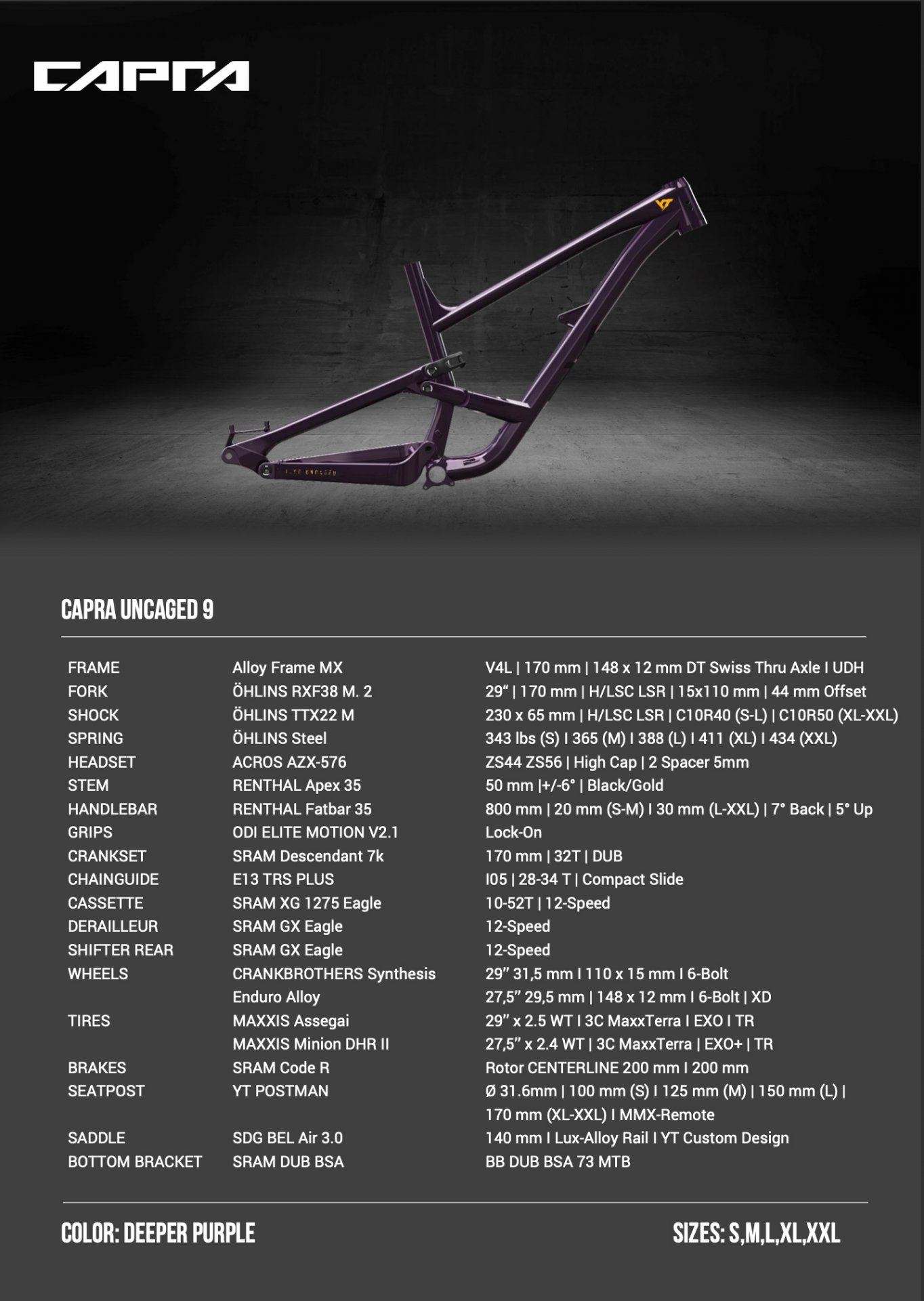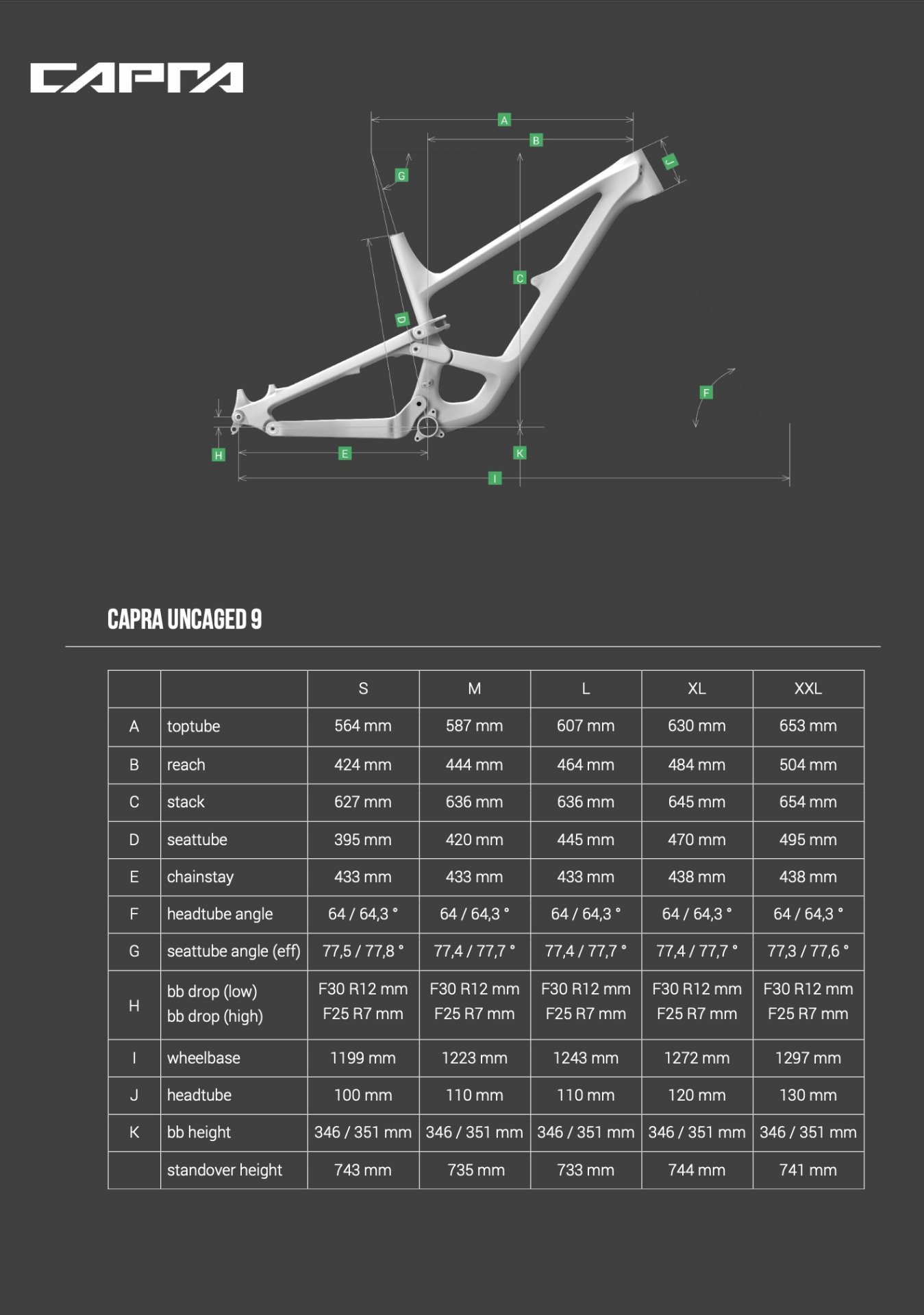 DECOY MX Uncaged 9
Whilst the previous DECOY Shred was a firm favorite for many, you can't stand still these days and the Uncaged 9 model certainly doesn't rest on its laurels. A Carbon Hybrid MX frame paired with progressive yet pedal friendly kinematics of the V4L suspension, help you tackle any size trail feature up or down. Shimano amplifies your input with the EP8 drive unit, outputting 85nm of natural feeling torque to assist you up the most technically challenging routes.
The control system comprises of the slim-line Shimano E7000 display & controller, both keeping the Renthal Fatbar cockpit looking clean. YT isn't one to do things by halves, and the 540Wh battery is no off the shelf job. The custom design shifts the center of gravity downwards to increase cornering capability and up the fun factor.
The Öhlins suspension technology keeps you trucking when proverbial hits the fan, with RXF38 M.2 170mm up front and TTX22m 165mm rear travel respectively. The Hyperglide+ shifting technology of the 12 speed XT groupset accelerates shifting speed whilst offering smooth ratio changes up and down the block.
The YT Postman also goes up and down with the press of a lever and has an SDG Bel Air 3.0 saddle on top. The tried and tested SRAM Code R's are responsible for keeping your rubber side down. Speaking of rubber, the exact same tire combo is carried over from the Decoy's Uncaged 9 counterpart.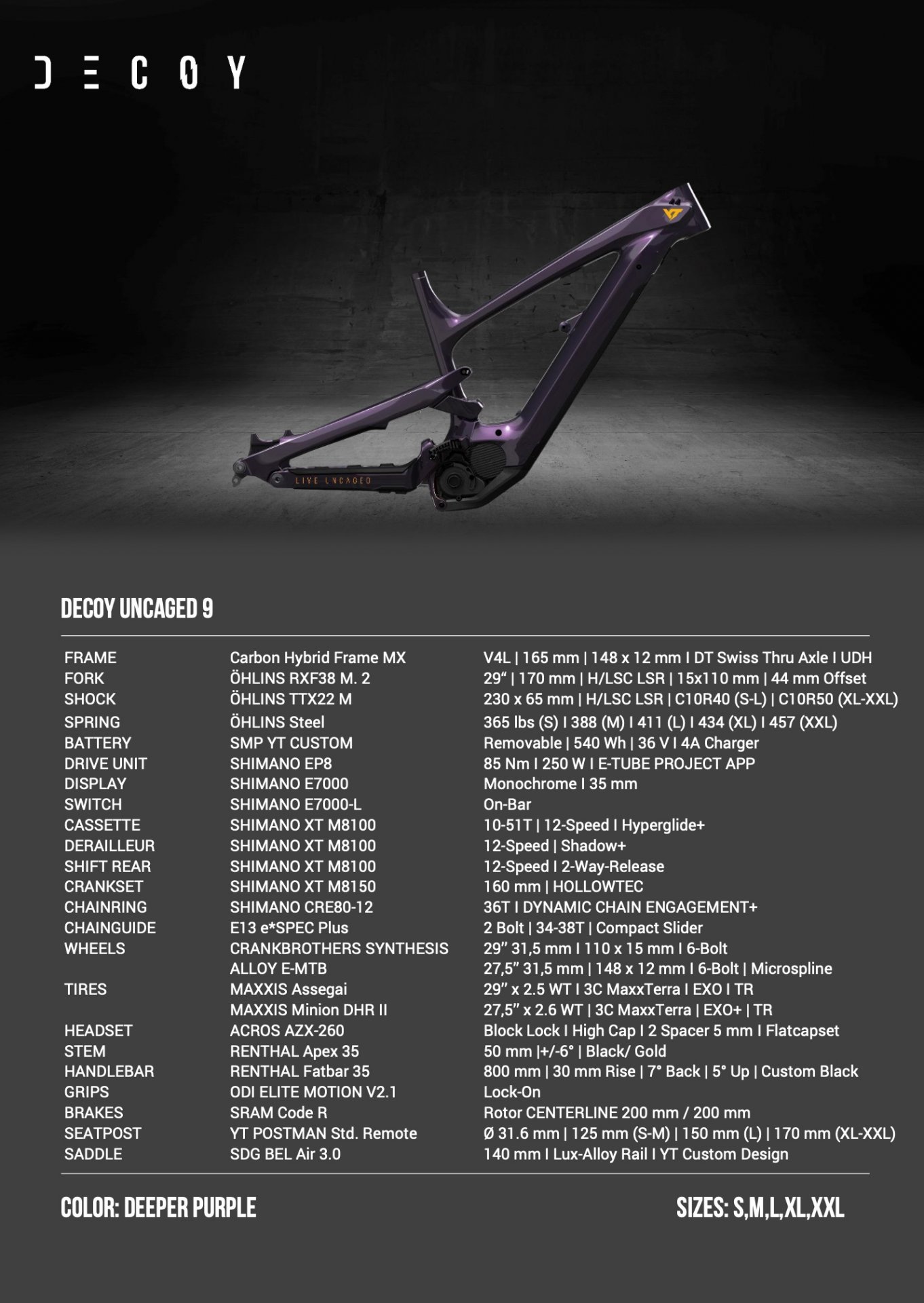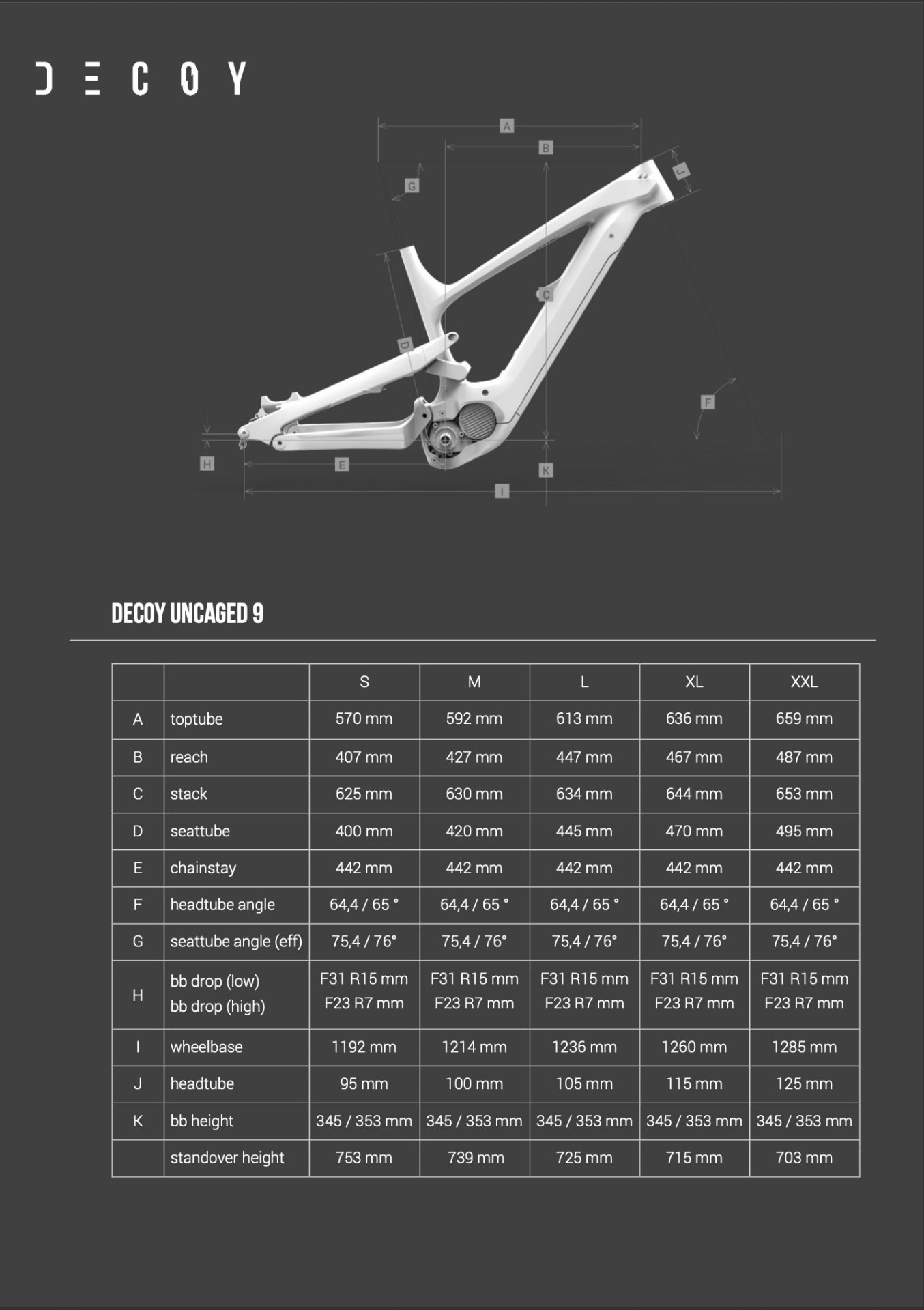 Featured in this Post
Sweden
316,929
Germany
167,319
Comments