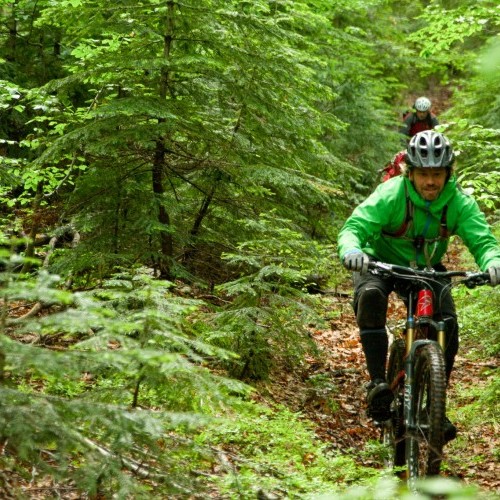 Travel Adjustments
Technique / Seasonal Riding
Introduction
MTB tourism has boomed in the last 10 years and more and more riders are using annual leave to take their passion to new heights and explore the world from behind a riser bar. Whether travelling to a well established, well ridden, holiday hotspot or trailblazing in regions less well known, you will want to get the most from your hard earned holiday.
Great memories and experiences sometimes happen by chance but are never a given. If you want your holiday to run smoother than a 29er on a bowling green and your anecdotes to pertain to sublime single track and epic rides rather than holiday horror stories you can help to stack the odds in your favour.
This issue we take a break from 'on bike' techniques and look at how you can make sure your travel runs as smoothly as a freshly tuned fork.
Afore Ye Go
The first decision is of course where to go. There are a massive range of destinations to opt for and many accommodation and guiding options to suit all budgets. Do some research and where guiding is offered as part of a package speak to the provider. The more they know about your riding aspirations before you go, the better they can tailor their services. If your bag is long technical climbs and epic XC routes you don't want to arrive to be greeted by a storm trooper on a downhill rig....or vice versa. Local knowledge, holding relevant qualifications and First Aid trained are the three big considerations on your checklist when selecting a guiding option. Having done your research and selected your destination its time to book your flights.
Booking bikes on a plane incurs an additional charge with most carriers but also check the exact detail of what the extra allowance includes and perhaps more importantly, what it does not. Going over your weight limit or having additional bags can be a costly start to your trip. If you are in any doubt get an emailed confirmation of what your carrier includes. Budget airlines might offer cheap headline prices but things can ramp up quick and they charge like an injured Rhino if you step outside the terms laid out in often the smallest of print or furthest recesses of their websites.
If you are travelling anywhere abroad travel insurance is a must and if you are entering an event or engaging in more extreme levels of riding get clarification that you have adequate cover for the riding you are going to be doing. Mountain Rescue is good, or better than good, in resorts but helicopter rides are not cheap! Get covered.
Aside from the glaringly obvious there is more to do before you head off. Packing your bike bag so that everything is protected as far as possible is covered in our videos but to ensure that you get plenty of mountain highs there is some groundwork that should start very much before your departure date.
To help guarantee that it is holiday heaven and not hell, certain elements of your preparation are best undertaken well before you leave. We are all savvy enough to book our budget airline tickets as early as possible but when it comes to ensuring your bike is primed and ready for some intensive trail time it is easy to end up leaving it all to the last minute. Putting up with overdue servicing issues on your weekly, 1/2 day blast round familiar trails and surroundings is one thing but if you're heading somewhere with significantly more vertical drop or putting in serious miles these minor annoyances can quickly escalate into a major ball-ache/pain. The difference between having the time of your life and experiencing hell on two wheels is to a larger part in your own hands.
Ensuring you have a good time on your riding holiday should start a good time before you go. Giving your bike a full shakedown 4-6 weeks before your departure might seem a little premature, but unless you can strip a fork and shock yourself, have all the available parts on tap and have the time to do it, the chances are you're not looking at a two day turnaround time. No matter how good your relationship with your local bike store and how switched on the resident mechanic might be, as far as I am aware time travel is not covered at any level of the Cytech qualification. Check for signs of worn seals, play in your bushings and worn bearings. If your fork feels funky or linkage loose it may well be time for a service. Issues you may tolerate on home trails could easily become unacceptable in the mountains. In a week away you may cover the equivalent saddle time of several months riding at home. Added to this, bigger hills and higher speeds are going to put your bike through a whole heap more stress than a bimble round your local trails. In short, don't wait for it to break before you fix it.
Other key areas are your drive train and braking components. You may be planning on taking advantage of an uplift service of some type but skipping gears thanks to a worn chain or cassette can really spoil a ride even if you only plan on going downhill. Your brakes will without doubt be getting a greater work out than Jane Fonda ever delivered. If your brakes are spongy at sea level or pads showing less signs of life than Monty Python's parrot, identify this and address the issue. No matter how much life you think you have in your pads a couple of spare sets are definitely worth investing in and packing for your trip. Checking your bike over in this way well before you travel will reduce the stress of having to perform last minute, botched, half-baked, temporary fixes that will no doubt have a negative effect on your trip. As well as the physical implications of a bike that is anything less than perfectly tuned are the psychological ones. Just knowing your bike has issues will have you riding in a less than optimum frame of mind. When you are faced by bigger terrain than that which you usually ride the focus of your attention should be on the trail ahead not the state of your bike.
As well as keeping well ahead of the game in terms or maintenance and servicing you may also need to consider your set up. This may require making some changes and upgrades to your bike. Is your current set up going to allow you to reach your full potential and get the most out of terrain? Set up will depend on where you're going and the type of riding you are looking to enjoy. If it is a gravity assisted trip taking advantage of an uplift service but your usual riding set up is all about weight saving and pedalling you may need to beef things up. Dual ply tyres will offer better protection from pinch flats and bigger volume tyres will contribute more to grip and shock absorption. A wide bar will offer better control on fast rocky descents. New grips will afford you greater confidence and help you to refrain from strangling the life out of the bike as the terrain heads more gnar-wards. As well as going faster we also need to consider controlling speed. Upping your rotor size is an option to consider.
It may even be a case that the destination you have chosen and the severity of terrain you will be encountering means that your bike is not up to the task at hand. Hiring a more suitable rig might seem an expensive option but being drastically under biked could very easily ruin a potentially great holiday. You wouldn't turn up to a jousting contest sporting an ear bud and expect to have a good time so consider the overall suitability of your bike for the terrain you're intending to ride.
Another area to upgrade so that you get the most out of your time away is not your equipment but you. A skills health check and a couple of hours performance coaching with a qualified professional could add hugely to your time on a bike at home or away. Prevention is always better than cure.
As departure date approaches it is time to pack up your bag securing it firmly and adding as much protection as your baggage allowance will afford you. As the video will show anything that might bend in transit (discs, mech and hanger) can be removed from the frame and cable tied to it where they will be protected.
Fit for Purpose
Having checked, serviced and readied your bike with a few changes to your normal set up, prepared your bike for safe and secure transit you should also turn your attention to personal kit. You might consider some level of body armour depending on how technical the riding will be, particularly if you are likely to be riding terrain at the upper end of your ability. Respect for the terrain and also respect for the mountains is crucial. Sunny conditions and high temperatures at resort level do not mean you should go up a mountain and assume things will be the same at the top or stay that way for long if they are. A spare mid layer, a quality waterproof or soft shell should be in your pack.
In terms of spares the most obvious is brake pads - they are brand and model specific and even if they are common might not be available in resort. Even if they are you will always pay a premium for shopping at altitude. Carrying a spare mech hanger is a good idea if heading out locally, and in the mountains it is a no brainer. The chances of locating one that is right for your make, model and year of bike is low. Don't have your holiday ruined for the sake of a broken mech hanger
Respect
Once you are out on the mountain don't be complacent. It is easy to get carried away in the moment and make a silly error that can spiral into a potentially serious situation. Thinner air will make a notable difference to your performance. A slight hangover at 1000m can become the mother of all hangovers at 3500m. Altitude can provide the highs but with highs can come lows. There are unlikely to be many options for refuelling so plenty of fuel to feed the engine and liquid to keep yourself hydrated are a must. If you are riding unguided and unassisted make sure someone knows where you are headed and what time you expect to be back. Don't forget to tell that person you are in the bar enjoying après-ride shenanigans if that is where you end up.
The mountains are a playground on a massive scale but no matter how much fun you are having keep a semblance of perspective as to where you are, the power of nature and the remoteness of your location. When you start to tire its time to head on home. One last run is often just that. More accidents are caused by unrecognised fatigue than anything else.
A trip away to some bigger terrain can provide memories that last a lifetime. The mountains can inspire you to ride bigger and harder and for me every day riding in the mountains is soul food.
Let this be the summer you make the time to take that trip you have been putting off…
This technique article was in Issue 24 of IMB.
Richard Kelly has been riding bikes since forever, and teaching people to become better mountain bikers for over a decade. He's always out in the Surrey Hills training riders, building trails and riding for himself whenever he gets the chance. His unique perspective on mountain bike technique has earned him fans the world over, with some speculating he is actually Jamiroquai or perhaps Jack Sparrow…
Problems? Ask Below