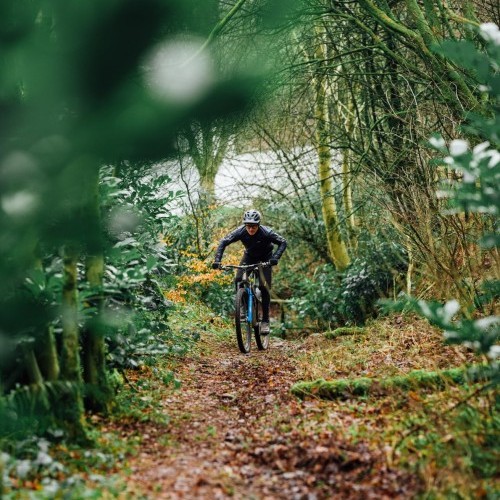 Winter Survival
Technique / Seasonal Riding
With 2023 well and truly underway many of you will be digging deep to keep to those new year riding resolutions. Some of you will be doing a sterling job of hitting your goals to stay in shape or improve your skills, while others may find motivation waning as these winter months drag on.
Staying motivated at this time of year can be hard work, with the sun fading early in the day and tough trail conditions it can be tempting to ditch the bike and instead take on other projects. Not a bad strategy if it means more time on the bike in the summer but it will come at a cost, skills get rusty and fitness can melt away leaving you to play catch up through the summer months. The truth is you can never catch up for lost time, and instead of getting the most out of the summer months riding you end up on the back foot.
We all have different objectives and desired outcomes from our riding experience and this will be the driver of how you personally approach riding. Regardless of your approach, everyone (pros included) can benefit from mixing it up and using different tools to improve on the bike. Personally, I always struggled with rigid structures (excluding hard tails and BMX), and even now my workflow is not compatible with such plans, I have always needed flexibility and variety to engage both body and mind.
Challenges on the bike will come in all shapes and sizes, and that is part of the 'mix it up' philosophy for winter riding. For me it keeps it interesting, doing things differently keeps my brain engaged, and in my humble opinion it is a dam site better than spinning in the shed or being stuck in a gym. So how exactly do you keep motivated through winter and what tricks have I got to share with you to keep it interesting and more enjoyable.
Gear up:
The more hours you spend in the saddle and the more times that your gear goes through the laundry you will start to see (and appreciate) the difference in quality and price points for various garments. When cold winds and water breach clothing layers a mellow cruise can quickly become a miserable experience. Make no mistake, gearing up is going to cost, with such variable weather you will need several cycling wardrobes to get you through the year. I have three consistent variations of layering that get pulled out and used from Autumn to Spring.
Feet: Starting at the bottom a pair of waterproof boots is a must, they may look and feel a bit bulky but as our feet are exposed to spray from the front wheel they can make a huge difference to how you feel on a cold winter's day. For cooler days when it's dry, I'll use a high-cut shoe combined with a pair of 100% merino wool socks.
Legs: Thermal tights, mid-weight tights, and three-quarter tights (or long knee warmers) will keep your legs warm, they dry fast and the different weights and cuts can be selected to keep you acclimatised. For real wet days where you know there will be water running down the trails you may want to opt for a lightweight over-trouser to go over your leggings (the added layer will add heat so a thinner pair of tights should be coupled with over-trousers).
Waterproof shorts can help keep the water off the thighs and seat area, suitable for riders who don't fancy running a rear fender, the downside to waterproof over layers is the noise. Another downside to fully waterproof outer layers is the added bulk, the lack of breathability can result in that 'boil in the bag' feeling when working hard on steep and long climbs.
Torso: A selection of base layers will wick away sweat and help keep the torso warm, some variants have windproof panels in the chest which can help you adapt to a lighter gilet over a bulky jacket. I'll often start a ride in a long sleeve jacket and once warmed up drop the jacket and don a gilet, the windproof fabric keeps my internal organs warm whilst descending and I can simply unzip it for more airflow when working harder in the techy stuff and on steep climbs.
Above the base layer, a long sleeve jersey with a thicker and tighter weave is preferable, you will find the perfect weight jersey through trial and error.
A windproof outer layer is fine on clear days, the weather forecast will indicate if you need to pack a waterproof or not. As before I will also pack a gilet to swap out from a long sleeve garment, if I have to stop for a while to sort navigation, eat or fix something I will still have a second outer layer I can don to help keep the body at working temperature, layering is key.
The neck is a key area to keep warm, cool air passing over muscles in the neck and shoulders can lead to unnecessary aches and pains either during the ride or after. I have a thick thermal neck scarf and a light scarf to use depending on the temperatures and prevailing winds.
Head: Under the helmet, a thermal skull cap keeps the ears warm and stops that ice cream head feeling on colder winter days. If temperatures are more palatable then a headband can help keep ears warm but allow the air to flow over the scalp.
Waterproof garments rely on a Durable Water Repellent layer (DWR) and this wears off over time, especially through laundry cycles where no specific wash treatment is used. Top up waterproofing using wash-in or spray-on treatments to keep your gear in good nic. You may not need to shell out for a new jacket, trousers, or shorts just yet, a re-vitalising wash may be all that is needed.
Dressed for the occasion I opt to let the weather and trail conditions dictate the type of ride (yes there is more than one type of mountain bike ride to enjoy). An easy way to define your type of ride is by thinking about pacing and distance. Think in terms of short distance, medium and long, what that figure is in kilometres/miles is up to you, and will be tailored to suit your fitness level. Long is as long as you can handle and still be relatively capable of sorting your stuff out post-ride, ultra long rides can be detrimental to health, especially in cold and wet conditions, top 24h racers will only take on rides of 4 to 6 hours due to these effects.
As for the effort you put in, that can be based on easy, medium, hard, and mixed efforts. If you are following a program then you can see how this works and you are probably doing this already, just with a little more structure and data. If you have little or no desire to follow a program then this simple method will give you a variety of workouts but without the rigour of precise numbers and data to follow, let the distances and time fluctuate for each combo you put together. If it has been chucking it down then I'll avoid areas that are prone to severe erosion, and instead opt to ride hard-pack only, this may be a single-track day on the purpose-built network or I may opt for a longer mixed terrain ride comprising of forest road, quiet lanes and the odd bit of trail. These longer rides can be done at any desired pace, slow steady rides where the heart rate is kept low will build base fitness which enables you to recover from hard efforts. Neglecting to do these types of the ride will reduce your ability to get fitter, if you have hit a ceiling with fitness then this could well be the reason.
When things are a little dryer and that superb tacky condition prevails its full-on trail time, more technical riding is adopted and this helps develop strength, flexibility, and skills. I am of course aware that you may not have that luxury of trails just outside the door, or the ability to capitalise on the breaks in the weather. For those of you who live a distance from trails and have routines that lack an element of flexibility, there are still ways to get bike time in and keep your fitness and skills honed through the winter months. Gravel bikes have become hugely popular as they offer a way to explore dirty back roads, bridleways, tracks, and various routes accessible by bike. More forgiving than a road bike and more efficient than many mountain bikes (given that a huge amount of people ride big bouncy rigs) a gravel bike and a good set of lights could give you that escape before or after work that helps maintain and build fitness. You will also have to pilot the thing so subtle skills are learned and maintained, stuff you may never think about like cadence and silky smooth gear changes. On that note, my preferred option given the plethora of forest roads here in Scotland is a 29er hardtail, set up with some light wheels and fast-rolling tyres. It is a do it all machine. After much deliberation, I concluded I'd destroy a gravel bike on rough forest roads and be all too tempted to take it into trail terrain so I opted for a versatile MTB. This is my somewhat expensive solution to wet day riding and so it is donned with mudguards, the bouncy bike is left with a clean look sporting just a short from fender to help keep those fork stanchions clean. Of course, I'd lean towards riding tech trails over the mellow stuff and gravel grinders but the prospect of getting covered in cr@p with a soggy bottom on the wetter days does steer me to take the hard-tail out and cover some ground.
Another option that we will look at in more detail in the next issue is using pump tracks or BMX tracks, short sprint sessions and skills drills can be practised in these environments. If you don't have either nearby then you can still set up some skills drills in a quiet car park or street. When I was young I spent hours doing street riding in the winter months and if I didn't have the luxury of trails on the door I'd still be doing it now. My motivation has always been to be a good all-rounder on the bike, which means having strength, stamina, speed, and skills, all of these factors require some dedication to our art and therefore we have to practise. Why suck in the summer when all you need to do is suffer a bit in the winter!
Join us next time when I will expand on some skills drills and alternative riding shenanigans you can do in the comfort of your nearby surroundings. Until then, keep on keeping on.
This technique article was in Issue 74 of IMB.
Clive Forth is a rider who has been there, done that, got the t-shirt and cleaned his bike with it. He has grown with the UK scene and technological developments for the last 30 years and has competed at all levels in all disciplines riding for some prestigious brands along the way. Always looking for that extra edge with endless passion and drive he is geared up to bring you the inside line on all aspects of mountain biking skills and technique.
Problems? Ask Below