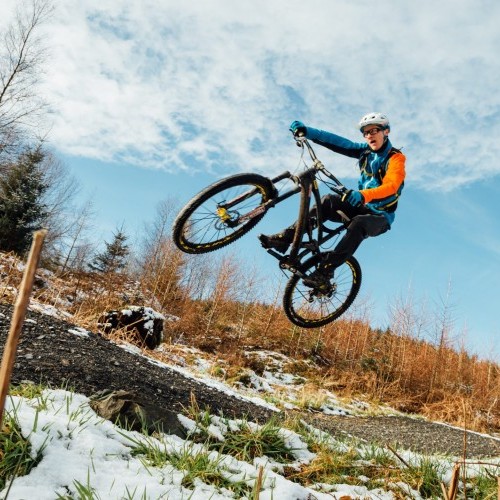 Winter Skills – Part 2
Technique / Seasonal Riding
Introduction
Stop the press, break out the balloons and grab a slice of cake as we celebrate one year with IMB. What a year we've had, and what a year ahead. Creating features is a fascinating process when the guys at IMB approached me my brain went into overdrive with ideas for the technique section.
I've been humbled over the years as I've seen mountain biking grow and its audience diversify; segregated by branding and labelling but all harmoniously singing from the same hymn sheet of having fun on two wheels. I've learnt a lot since I started riding and racing 31 years ago and I wanted to reflect on what we've looked at (and hopefully learnt) over the past year. Reflection is a cornerstone of coaching. We evaluate, modify, apply and continually repeat this process.
From language to line choice, the series has taken us through going and slowing to keeping moving while shapes below us pop up and drop down; with some forcing us to move left and right.
These fundamental techniques get us up and rolling on the trail and in the coming months we will build on that by looking at the core skills of wheelies, manuals, bunny-hops, drops and jumps.
Creating magazine content obviously involves a planning phase before execution, as we approached the end of a year with IMB I sat with a brew and reflected on the past features, I wanted to tap into the winter skills/preparation angle to follow on from the last issue. It just seemed obvious to consolidate those lessons learnt and look at how winter riding inevitably involves a very different approach, my own process for the features leading the way for the words and pictures.
We all have slightly different takes on riding; I'd love to know 'what' you're all riding and 'how'? Tweet me or send me a pic via Instagram of your bike and your trails and I can then tailor some future content for you, I may even hook up with you and cover some stuff on these here pages. So its only fair in this show and tell style that I let you in on what I get up to.
To kick off, I mostly ride with my wife; she is from Tuscany where they live and breath bikes, pasta and pizza. Daria started riding mountain bikes 20 years ago before finding herself hauling arse on asphalt. I can see why when we visit family, there is no place on earth like the Pisa area for cycling, such passion, such speed. An incredible community of riders where on any day at any time of the year you lose count of the number of cyclists out there, it's just insane. She never stopped riding off road I hasten to add.
With big base fitness and strong sustained power she dragged me around the Alps converting me from a small bore turbo machine developed for Maxi Avalanche racing into a world of big endurance and bigger power. I worked hard on my fitness through our years living in the Alps and swapped speed for distance in a process that took three years. I moved towards ultra-endurance efforts and brought to that scene a new approach where risk-taking and dynamic riding were applied.
For the last few years, Daria and I have had a mixed bag of riding where we have ridden in all shapes and sizes. Our goal and plan is to maintain fitness and keep those skills sharp until a time where we decide to take on an event or adventure where we will need to get more specific with our riding and turn riding into training. I think our current type of riding reflect what most people do on their bikes. Fun and fitness rides where you hit some well know classic trails and do a bit of exploring.
I can easily summarise and put these into the following categories.
Short blasts: Less time on the bike than our 'normal' rides; these rides are either high intensity or involve a lot of what I refer to as 'dicking about'; where we stop and repeat features. These rides are between 1h and 1h 30 and mainly on single-tracks with a high level of difficulty / technicality. Finding nasty steep climbs and taking 'alternative' lines.
Medium rides: We approach these with a mixed style. The idea is to cover some ground and bag some time in the saddle, mixing cadence and effort. From stiff climbs to easier gradients on forest roads and quiet lanes linking forests. We will stop and repeat features, and the pace in-between is still fairly intense. 1h 30 to 2h 30 on the clock counts as medium rides for us.
Long rides: big trucking mode engaged, our pace slows, and we only stop for bare essentials. We still ride a mixed bag of technical and non-technical trail but with a less dynamic approach to technical stuff. More often seated while climbing, spinning at higher cadence over grinding massive gear ratios and even walking up steep bits we would normally ride or have a go at. Energy conservation, personal preservation and covering ground are the key objectives. We will be out anywhere from 2 to 4 hours. The approach to the ride dictates whether we call it a 'long ride' before heading out.
The short, medium and long definitions don't just apply to the time on the clock; they are as much about the method in which we ride. Magazine stuff slots into the short blast and medium ride category if we look at the time spent on the bike, the day can often end up being a very long one if we shoot early light and or late light. Taking still images and video involves riding features multiple times, and a stop-start ride is sometimes mixed up with some vehicle shuttle work to get closer to locations.
Pre Ride
To shoot this feature, the planning and prep process is pretty much the same as when Daria and I head out for a ride. I'll start the day with a good feed while checking the news and email. I want to eat some slow burning carbs to last through lunch as this may well be light or substituted by grazing on fruit, nuts and cereal bars while out and about. I also need easy on tap sugar as this is what the body will look for first when I put it into action. After its burnt through the sugars, it then moves into the more complex sugars-aka carbohydrate.
I've eaten porridge for breakfast all my life, and it just works well for me, I can jump straight on the bike and go-no bother. You've got to eat what you like and steer clear of things that will end up on the trail through that inevitable first climb. They tend to be the fattier and more bulky and complex foods.
Coffee always kicks off the day with an Italian wife and a brew seals the deal before I prep my backpack and bike. Knowing the area like the back of my hand poses no problems when it comes to locations to shoot or trails to link. The difference in shooting features compared to day to day riding is considering where and when (or if) the sun will be lighting things up. Great trails to ride don't always make for captivating images.
Gear Up
If I'm off to other parts then I'd have sat the night before and prep my route on the map, made some notes on directions to have to hand in a pocket and cross-checked the weather to make sure that I've either got the right gear or if I've got to adopt my ride plan to suit. This time of year that can be the difference between life and death. Dan the cameraman and I wanted to shoot in the Lakes but with high winds, fresh snowfall and some very low temperatures predicted up high this was just simply out of the question.
Knowing the weather and considering the trail conditions means I can dress appropriately, carry additional gear in line with expectations or maybe lighten my load and leave certain items out. I was schooled as a boy in mountain craft, and I take pride in being self-sufficient, able to fix a broken bike or body and go about my business without causing other people to expose themselves to unnecessary risk by having to come and drag me off a hillside.
The old saying in the British military rings true: Proper Planning and Preparation Prevents Piss Poor Performance. Planning and prep is one thing, you can carry all the gear and still come unstuck if you don't know how and when to use it. I've had hypothermia and nearly died from it. I had the right tools for the job on that February ride in Welsh mountains; I just didn't preempt the onset and deployed their use too late.
I was taught that you could drown in a puddle and die from exposure within sight of civilisation; no matter how near the car or cafe you are, make sure you are equipped to deal with equipment failure and clothed with spare clothing to deal with changing conditions and duration that may be longer than anticipated.
My Ten Pence Worth On Attitudes Towards Kit
The recent influence from Enduro racing to trail riding habits is an ill-fated accident waiting to happen. Riders stripping themselves bare of essentials such as additional clothing and equipment (survival blankets, windproof-waterproof jacket) are leaving themselves exposed. I intend to go for a ride and arrive alive, not to take a long walk with my bike or lay down in the woods one final time.
Sure, kit is more robust, and the likelihood is measurable in the mind's eye, risks taken are 'calculated' and actions justified, I just think it is not a responsible approach to riding trail, and the cause-effect consequences of activities can be better managed. The more you ride, the greater you expose yourself to potential issues, accidents happen and often when doing something quite simple and innocent.
In a race environment there are other racers looking out for one another, marshals, medics and a team of course sweepers clearing the course. Out there on the trail, you may only have your mates or a passer by who can help and you have to ask yourself; are they equipped to deal with a situation and do you want to burden them and others with picking up the pieces for your selfish actions?
It will take Mountain Rescue between 1 and 2 hours before they even depart following a call, most ambulance services are not equipped to access areas where people ride, and first response doctors also have limited gear and access. Whatever goes down you are always in for a wait and in these wintery conditions especially here in the UK we have just the perfect ingredients for a dose of hypothermia.
Even though I feel pretty well equipped if it's a solo mission I make sure I leave details of where I'm going and when I'm likely to return. All the skills, knowledge and technology in the world come up short when your unconscious!
I don't see this as a dark or grey and boring topic, I see it as the potential difference between life and death; facts of life and life for me at least is a wonderful world full of colour.
Typical pack contents in these wintery conditions:
Multi-tool with chain pin driver
Chain quick links
Tubeless tyre fix kit and tyre patch (section of old toothpaste tube)
Inner tube - light weight latex variety
Tube patches - stick on type
Zip ties various
Length of tough tape wrapped around a plastic card
Survival blanket
Emergency whistle and small LED light
Spare gloves (thinner ones for once my hands have warmed)
Windproof - ultra-thin and lightweight (I'll start riding in a waterproof jacket then swap layers just before I start to sweat - we say boil in the bag)
Food - cereal bars to suit duration, based on snacking every 40 minutes
Spare head/neck scarf
Basic first aid bits, sterile wipes, fast stitches and specialist items to plug big bleeds - wound clotting agents
Water - for my body weight (9 stone - 57.5 kg) I need to consume between 500ml and 750ml per hour. If the ride is going to be more intense, I'll portion at the upper end, and if it's an easy pace I'll keep the weight down and run 500ml per hour.
Mobile phone (fully charged) in dry sack-switched off
Tailoring
The level of enjoyment you have can be attributed to your choice of tools for the job. Just as poor tyre selection for the slippery winter conditions can make it a nightmare to maintain control poor clothing selection can severely drain your enthusiasm levels for wanting to ride on a winters day; they can also lead to situations where rider error may have been avoided.
Confidence and enthusiasm are easily knocked, by investing in some good quality gear for the body we can endure the toughest conditions in relative comfort. Layering is key and being prepared to stop and drop layers to avoid overheating and layer back up when static or hitting bigger descents will keep your core at a comfortable temperature. If you're out for long-haul missions, then a change of base layer can also be a good idea.
I've now adopted wearing over trousers to keep the crud and wet out, using an under-short on milder days and opting for tights underneath on cooler days or days where I know I'm going to be standing around more (teaching and getting images). The key with waterproof trousers is that they must sit over the boot, so water doesn't just funnel down into your shoes. Goretex boots are life changing but if your budget doesn't stretch that far then use your adaptive line choice to go round the standing water rather than through it. The same goes for waterproof over-shorts, speed control and line adaptation can help keep you drier for longer.
Neck scarfs and skull caps / head-wear also help keep the cold out, some good wind and waterproof gloves help the hands, but I feel a lot less control on the bar and brakes in these. If I can get away with it once the blood is pumping around the system and my hands have stopped hurting from the cold (even with my thick gloves) I'll swap out for thinner regular riding gloves.
Bike Checking
I'll give the steed a quick once over, thumb test tyre pressures and adjust accordingly, set shock and fork pressure according to conditions and type of ride. Remove crud from jockey wheels and top up chain lube with an ultralight coating. Clean any debris from fork, seat-post and shock wipers. As we ride so often most days the bikes just get a brush off, and the chain dried, the bikes then get their weekly bath before rest day where I will carry out a more thorough inspection and attend to any maintenance.
Trail time
Having that planning and prep in place removes the pre-ride faff (an accumulative multiplier on rides where friends meet at the trailhead). I can ride out the door or jump out the 4x4 slinging my helmet and riding boots on as soon as I arrive at the location. If I've driven somewhere, I'll take a change of clothes as sitting in damp, sweaty clothes plays havoc on muscles.
Applied Technique
All sections of trail will require me to bring in those key techniques, looking ahead reading the terrain in snow has the added challenge of remembering where the trail lies and where the rocks, lumps, stumps and bumps are. Great memory practice and a real test of how much attention to detail you pay when riding.
Reading the terrain and preempting things enables me to carry speed in sections, decelerate or control my speed accordingly. If I'm thinking about my power output, effort and calories burnt then I can adapt my approach and style accordingly, choosing to either grind away and bludgeon sections or ride light in easy gears and thread my way through stuff.
Deep snow just throws a spanner in the works and try as you might to be steady and sympathetic in your approach the inevitable bulldozer moment and rear wheel wash out will leave you working torso vs arms vs legs at angles better suited to contortionists. Conditions like these emphasise the importance of core strength, all weakness in the body, your skill set and technique will be exposed.
Snow, soft ground, running water and sticky spots on the trail can be dealt with by choosing lines that may differ from a dry day, using the available terrain around to keep the bike moving with minimal effort, avoiding the stall and a soaking in the process.
Back at Base
Having completed a ride, we will brush the muck, snow and pine needles from the bikes, dry the chain with a cloth and mop off the crud from the fork, shock and seat post wipers. Next, its key to get some warm, dry layers on and scoff some food. A couple of bananas, a handful of nuts or similar, foods that will be quickly absorbed by the body and are high in protein, natural sugars and containing key vitamins and minerals.
Inevitably there is the post-ride chat and banter where discussions around tricky bits of trail help us build a better mental picture for when we face them next, visualising these sections and talking through the details helps to bring a positive approach enabling us to commit to sections next time around.
So try taking a methodical approach to your riding, enjoy the challenges that winter brings and learn by reflecting on your rides and deconstructing the whole process, from prep and equipment to lines and energy consumption. Remember folks, there is no substitute for time on the bike, and you can still ride trails with your eye shut.
Next time we start going through some core skills drills and looking at how the core skills come into play on the trail, don't forget to tell me your bike type and share some pictures of the terrain you ride.
Clive Forth is a rider who has been there, done that, got the t-shirt and cleaned his bike with it. He has grown with the UK scene and technological developments for the last 30 years and has competed at all levels in all disciplines riding for some prestigious brands along the way. Always looking for that extra edge with endless passion and drive he is geared up to bring you the inside line on all aspects of mountain biking skills and technique.
Problems? Ask Below