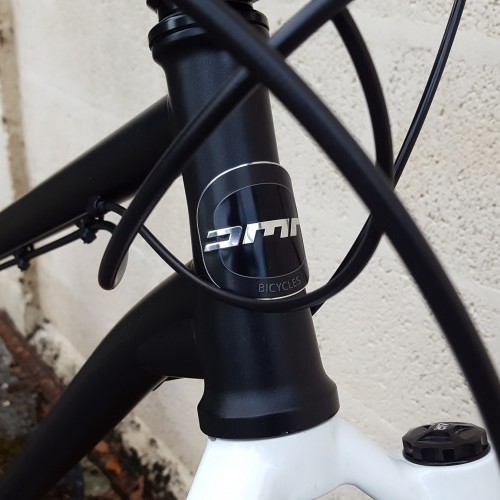 Bike Check – DMR Trailstar
Features / Wed 21st Sep, 2016 @ 12:30 pm
Are you a hardcore hardtail fan? You should be! And they don't come much more hardcore than the latest DMR Trailstar, packing a long, low and slack Cro-mo frame combined with some rock munching components. Ewen Turner drops the bomb on the new XL sizing.
The weekend saw me plummeting the steep hillsides of Exmoor as part of the inaugural DMR EX Enduro, Â 3 days of good times and great riding in the South West of the UK. A chance discussion back at Eurobike had my attention drawn once again to the DMR Trailstar, which seemed to have subtly expanded its proportions from last year. What I was looking at was the brand new extra large frame, the only one in existence, and that got me thinking. A few weeks later and I found myself entered into the hardtail category on board the mighty EX-tra large Trailstar, tricked out with some fine looking parts from X-Fusion and Praxis works.
Frame
DMR Trailstar 4130 Cro-mo steel in XL. This is a classic long, low and slack hardtail designed to be smashed into and over things at high speed. This was the ideal frame for the steeps and rough trails of the EX Enduro.
Wheels
Exciting things these! First ever ride on the new Praxis Works carbon wheels. They are so new I actually know very little about them other than they have been awesome and very very stiff. With a 32mm internal width giving a great tyre profile, the rims are paired up with DT Swiss hubs to make a fantastic package. A full review will follow and I'll get some useful numbers, including weights!
Tyres
To prevent any sudden losses of air I went for the Vee Tire Flow Rumba which, at 1,200g are seriously chunky but provide bullet proof sidewall protection. Running these at 28psi. the sides feel like they are pumped up to 40psi due to the stiffness, but these are a tyre that need to be pushed very hard.
Fork
The X-Fusion Sweep provided the 150mm travel with the awesome Roughcut damper with high and low speed compression dials, all running up and down on 34mm stantions.
Other component goodness included the DMR Axe cranks, the simple but effective 10 speed Praxis Works cassette and the X-Fusion Hilo Dropper post. The whole bike is probably one of the most aggressive hardtails I've ever ridden, and served me well on the rough and steep tracks of Exmoor. Most importantly it was a reminder that you don't need a full carbon bouncy-mega-bike to get your race on at an Enduro, and can give the full suss riders a run for their money!
Ewen Turner is a self-confessed bike geek from Kendal in the Lake District of England. He runs a coaching and guiding business up there and has a plethora of knowledge about bikes with an analytical approach to testing. His passion for bicycles is infectious, and he's a ripper on the trails who prefers to fit his working life around his time on the bike.
Featured in this Post
Comments