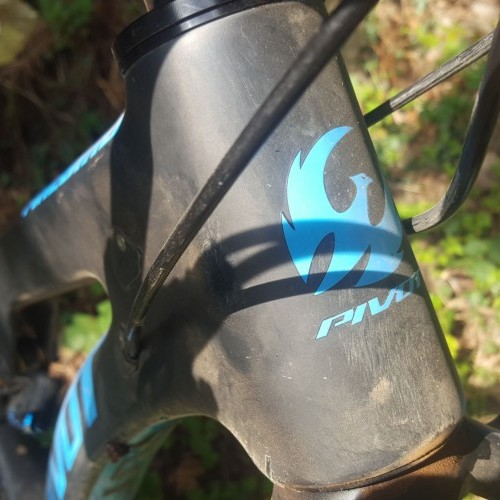 Pivot Firebird – First Ride
Features / Tue 20th Sep, 2016 @ 3:30 am
Mother of dragons and destroyer of mountains, Ewen Turner, takes a first spin on the Pivot Firebird – also some kind of mountain destroying machine! Will the fire-breathing, mid-size-wheeled monster slay our test pilot, or will he saddle it up and ride it to glory?
Flaming Flyer
With 29ers becoming the bike of choice for the budding enduro/trail rider, the 650b wheel is reinventing itself in the form of the mega/super/monster enduro bike. Call it what you will, but these bikes are machines set to get the pulse racing both on and off the bike.
Pivot are having a bit of a renaissance this year, first with the Switchblade, and now with the Firebird, both benefiting hugely from Pivot's updated geometry and sizing, putting a significant chunk of extra reach on its frames, making them longer than ever before. The prospect of riding a large pivot (I'm an XL usually) would in the past have left me feeling pretty cramped, but those days are over, at least for these new bikes with a 465mm reach on the large. Having borrowed a few ideas from the Phoenix, the Firebird keeps a super short back end to complement the long low and slack geometry, and with the capability to run a 180mm fork, this is a big bike. The DW link is a tried and tested system designing to give the best platform for both descending and climbing in conjunction with a custom tuned Fox X2. Other features include Di2 compatibility, front mech mount, rubberised frame protectors and internal cable routing.
My relationship with the Firebird would be generously described as a brief fling, but I felt lucky to have the opportunity to get loose with this flaming flying machine. Pivot were over with the demo fleet as part of the DMR Ex enduro race in Exmoor, and I jumped at the chance.
Take Off
Lets keep things simple and start with fighting gravity. The full carbon frame keeps the weight down, but climbing is not something that was top of the list when pivot were throwing ideas around the office. Pedalling is good, but that 170mm needs to be tamed by smooth pedalling or a quick switch of the impressive Fox X2. This firms things up, but leaves the bike feeling a little high and wobbly on the steep ascents, but leave the shock open and it stays lower and digs in on the more technical climbs, clawing its way up anything. The 60mm stem probably helped on the climbs, but I'm sure riders wanting to ride this type of bike would fit something shorter, which may have an effect.
Let The Bird Fly
Point it downhill and obviously this is where things get exciting. I'm not talking about gentle singletrack cruising, but more 'falling off the edge of the world' steep, or earth shattering speeds. When things get steep or fast, this is where the Firebird comes alive. Make it rough, steep and technical, then turn it all up to eleven and you have the terrain worthy of this bike. With a huge amount of travel on tap, and stable and reassuring geometry, boulders, roots and holes seem to become background trail noise, leaving you looking for bigger and badder features to hit as hard as possible. The Firebird is a tamer of trails, corners can be smashed, braking can be forgotten, consequences can be escalated exponentially. Health warnings apply. There are few trails which would tame this bike outside of the Alps, but that's not to say it isn't fun to ride, and it still retains a playful attitude and style providing the speed is there.
It's On Fire
This is a true downhill monster that will happily make it's way back to the top. The difficultly will be finding terrain worthy of this beast, as taking it on anything less than the gnarliest of trails would be an insult to the capabilities of this bird. First impressions are extremely promising, and when we get more time aboard it'll be great to see how the Firebird holds up on long days in the hills, as this could be a bike with very little compromise.
Ewen Turner is a self-confessed bike geek from Kendal in the Lake District of England. He runs a coaching and guiding business up there and has a plethora of knowledge about bikes with an analytical approach to testing. His passion for bicycles is infectious, and he's a ripper on the trails who prefers to fit his working life around his time on the bike.
Featured in this Post
Comments