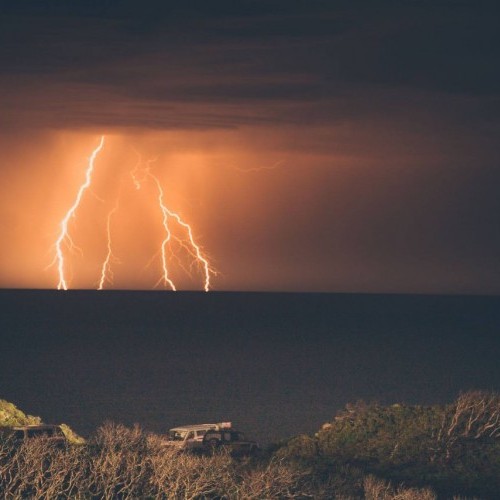 Cape to Cape MTB: 10 Year Celebrations in Margaret River
Features / Sun 12th Nov, 2017 @ 12:30 pm
Battling travel bugs, Australasia's biggest MTB multi-stage endurance race and the need to drink lots of wine, Cat Sutherland ventured to WA, Australia to take part in the tenth annual Cape to Cape epic!
Very Superstitious
As I stood pensively at the Heathrow flight gate, suddenly it dawned on me. Today was Friday the 13th; a day famed for superstition and the propensity for bad luck. A near miss of my connecting flight, lost baggage and the stark realisation I'd forgotten a visa, may count as such.
Nonchalantly, I'd mocked the decision to fly out on this day. I was heading to Western Australia for my final race – the 10th edition of Cape to Cape MTB. As I paced the floor, I wholeheartedly began to regret my choice of departure date. Thankfully, Etihad staff were intent on getting me on-board following a disastrous start at Edinburgh airport.
Once securely in the air, I softened the stress with a glass of red wine and a movie marathon; my mind turning to the anticipation of white, sandy beaches and singletrack trails. With only ten days of travel time, my plan was to explore the coastline by bike as well as by foot.
Marking their decade celebration, the Cape to Cape MTB organisers had decided to shake things up and alter their traditional linear format. Rather than a point to point from Cape Leeuwin to Dunsborough township, this time Margaret River would serve as the centre to all things singletrack.
Four days of type one fun had been promised
Unfortunately, type one hadn't yet begun. My second slip up came swiftly after my arrival to Perth. Rather than lose my life savings to roaming charges, my grand plan was an Australian SIM card. Simply swap the UK Vodafone version for the Aussie equivalent? Apparently not. I'm no expert when it comes to the inner workings of the Vodafone empire, but the end result was one tired lady, a missing bag and no GPS to assist my three hour drive down the coast. Hmm.
Cape to Cape on Foot
Miraculously and deliriously all at the same time, I found my way along the highway to my base at Margaret River. Despite possessing only a single pair of spare pants – my plan was to be up at 6.30 am the next morning to hike three days of the Cape to Cape track.
Past experience scrounging from a fellow traveller's kit bag tells me it's a fast-track way to friendship. Bleary-eyed, I was greeted at breakfast with a collection of borrowed wears and welcoming cheers. My trip was on.
For the next three days, we roamed the trail that took us past nesting ospreys, through lofty Karri forest and across miles of soft, sinking sand in the company of crashing waves along the beach.
With Cape to Cape's change of route, this was also the perfect way to capture the coastline in full – a route that's only accessible by foot. By the final day, I'd amassed a decent distance in the legs and was ready for my next instalment – 230 kilometres of Margaret River's finest singletrack selection.
Ready to Ride Cape to Cape
If I could have imagined a perfect place to pitch a race registration – indeed it would look exactly like Margaret River. This tiny town was teaming with coffee shops, boutiques, cafes, health food stores and tempting juice bars.
Famed for its ability to make a mean brew, I loaded up on caffeine and my newfound favourite – Turmeric Latte – before grabbing my race number and driving back to the Margaret's Beach Resort – home to the bubbly hotel owner who greeted me, as always, with a "G'day Dalin'!"
Sniffles and Singletrack
Waking up to start day one – my head ached and my nose dripped. Travel-lurgy had checked-in right at the wrong time. Sickness is an inevitable gamble with long distance ventures, but I was eager to get a spin on local soil. If I'm entirely honest, my body and mind certainly were not in cutting-edge competitive shape. I resolved to just enjoy the ride. And the wine of course.
Arriving at Xanadu Estate – the first vineyard of the four-day affair – I gulped a little as I lined up behind the antipodean racing snakes. I was part of the 8 am wave but given the shape I was in, soon waved them goodbye as we blasted out the archway.
Flat, fast and at a furious pace best describes the beginnings of Cape to Cape MTB. As we rode out past the perfectly pruned vines, we hit a stretch of tarmac to spread the field of 2000 riders – the biggest field of racers and rookies – to take part in its 10-year history.
Being chased by the second wave in a snot-induced bubble, it wasn't too much time before the hustle of the front riders met my tail. As we rode through dusty, red soil roads for the first 15 kilometres, we soon bit into the meat on the bone.
The Chimney Trail had been revamped from previous years and was a mass of flowing lines, manicured for smiley satisfaction. Whilst not death defying, fallen logs required front-wheel-lift finesse and riders made shapes in the air whilst enjoying whoops and cheers from the enthusiastic side-lines.
To finish this fine spread, we were treated to the freshly finished trails known as Compartment 10, where it was more about bossing berms than poe-faced power. Snotty and smiling, I was in full swing. Behind me I heard a shout;
"I want to do that again!"
In rapid agreement, I was pretty sure we'd see similar trails ahead.
With only one water point and a below par performance, my smiles were stifled slightly by the sign marked '20km To Go' Pondering if my GPS had gone awry, it seemed the course had stretched a further 10 kilometres. As long as singletrack was in sight though, I was happy to keep pedalling on to finish the 65 kilometre day.
Pea Gravel Peril
Waking up to bluebird skies, we were treated to the full force of the Australian sunshine at Leeuwin Estate for the second stint. Smooth lines would be rivalled by the fast, flowing virgin trails of the Karri tree-filled Boranup Forest. During my hike, I'd spotted markers on the track; now it was time to find out where they would lead.
A kill or cure approach to my pesky cold seemed to have gone in favour of riding. As I turned the cranks, I was on the up. The lead bunch shot off once again but I rode steadily along the off-road track, known locally as Rails to Trails.
Crossing a few road intersections, we pedalled through a network of forest that was rapid and ready to snatch at spokes with stray branches lurking. I spotted a few victims on the way, changing punctures and limping along, gaps in their wheels.
As we reached the forest floor, I woke up to the flow of the trails. Two Pints of Guinness kicked us off as we curved through Karri trees; the occasional log to hop with roots that provided perfect pop-offs.
We emerged out to a familiar spot named Highway to Hell; a rock-littered, sandy track that gathered in height and imposing heat. With achy legs and a lack of temperature conditioning, I sucked down gels and chased the backs of other riders. Right ahead, the turquoise blue sea and crashing white caps of the waves were in full view.
Next up was a beastly climb up by Conto's beach at around 50 kilometres. As the sun beat down, the sand sucked the life from us all; an apt reminder that this wasn't all sunshine and smiles. The last few rolling sections carried us to Brooksy's Concoction- a rollercoaster of whippy turns decorated with infamous pea gravel.
I took it steady so as not to end it all early.
Oh, if only I'd know.
As we popped out the trail and formed a line to shield against the beastly headwind, I was in full force with steely focus. Taking my place on the front, disaster struck.
More accurately, a rider struck. Me.
He missed the arrow signalling right and slammed into me, side on. The impact threw me from my bike. I thumped to the ground by way of my head. Grit gouged at my side. Stunned and sore, I couldn't help but burst into tears, mostly from shock. I'm largely impenetrably thanks to a childhood filled with bumps and crashes, but being blindsided shook me up, literally. A gibbering mess, I made the last 500 metres to the finish line, then swiftly on towards the medical tent. Luckily it was mostly superficial; my poor boyfriend woken at some antisocial hour to offer sympathetic assurances.
Beer with Bilbo Baggins
Beer was the beverage of the day for our third instalment and riders filled the fields around Colonial Brewery. As waves gathered, I stood in line, shying slightly to the back and keen to shake out my legs after yesterday's brutal interruption. Behind me, a rider reached over and tapped me on the shoulder.
"Are you the girl who was hurt in the crash?"
"Yep. That's me. The wailing lady that limped over the finish line", I thought to myself.
"I was the guy who pushed you along."
I remembered a kind soul giving me a friendly nudge as I picked up the pieces.
With weary legs, I pedalled the mix of trail and tarmac for 20 kilometres. Eventually the road gave way to the usual fast forest track and eventually, on to open field. This was prime kangaroo territory. Knowing how they like to jump out, I kept a lookout, keen to not be mowed down for a second time.
Tolkien Territory
We'd been promised Middle Earth today, a mash-up of trails that oozed flow and features for those of singletrack persuasion.
Lines of riders carved through tight trees, over man-made rollers, lively drops and steep, sandy berms. At one point, I cut through the centre of a burnt-out tree; an eerie gateway for riders as they whooshed through this seemingly endless stream.
With names like Helm's Deep, Frodo, Bilbo Baggins and Mordor- each had its own flavour of fantastical rhythm. Mordor was a series of razor sharp, red rock with sporadic lumps and no obvious line. These murderous blockades were interwoven with tight, crooked trees, which wore at my jarred neck and required firm focus to avoid an intimate moment with nature.
We emerged breathless on to a short section of road. The course arrows decided they weren't done with singletrack for the day as we looped onto newly cut section; a combination of slick mud along with a man-eating waterhole, which had me close to waist deep.
We weren't done with water yet either. After the days of hard rain in the run up, a giant puddle lay in front. An eager photographer coaxed us on; I watched the guy ahead slowly sink, close to crying out for a snorkel I'm sure.
Ending the day, we'd clocked 55 kilometres; certainly, enough to earn a beer or two.
May the Force Be with You
Stormy skies set in overnight, resulting in rainfall that made it an early start for the organisers. Up before sunrise, they'd cleared the course and remarked washed away arrows in time for the last 50 kilometres. Riders framed the main street of Margaret River township and funnelled towards the start one last time.
Being the second day since my crash, I was close to Rigor Mortis. I'll happily admit, I was feeling mighty worse for wear. Determine to finish, today was deemed the pièce de résistance; a ride in The Pines was not to be passed up.
Another sci-fi inspired mash-up of trail names that included Princess Leia and Return of the Jedi, formed the route. I was soon lost in the ebb and flow of the forest and the pain wore away. Indeed, I barely recall a fire road the entire ride; only a short gravel section that lead us on the familiar routes from day one. I've never ridden singletrack in such succession – never mind as part of a multi-day stage event.
Just as I was getting tired, I sucked down a caffeine gel and a took a lively run through Double Espresso and Long Mac; a timely wake up call. Polished to perfection, the Compartment 10 trail had riders whipping and jumping over rollers and carving berms for the final time.
As we pedalled past the final stretch of water, the sounds of ardent supporters filled the forest and the adrenaline kicked in for the last punch of trail. Crossing the finish line for the final time, I had mixed emotions; happy to be in one piece yet sad to say goodbye to the stoke of Margaret River's singletrack delights.
After only ten days, whilst a mere flash of time to explore such an expanse, I'd seen so much. Taking to the trail by foot and then by bike I'd made time to stop and look; to relax and absorb what was around me, followed by the rush and thrill of a race. Heading home, I'd be sure to recommend this little haven of fine wine, calming coastlines and endless opportunities for outdoor adventure.
Having worked in the outdoor, cycling and running industry for the last 10 years, I'm never far from my bike, a pair of running shoes or my trusty kayak! Based in Kendal, a small outdoor town in the The Lake District, I've incredible trails on the doorstep and it's the perfect playground for adventure. As a mountain biker at heart, I'm most drawn to endurance and love nothing better than hours in the saddle, preferably somewhere far-flung with good coffee at the finish. I've raced in South Africa, Spain, France, Israel and Canada and so I'm never far from my passport or my bike bag!
Featured in this Post
Comments