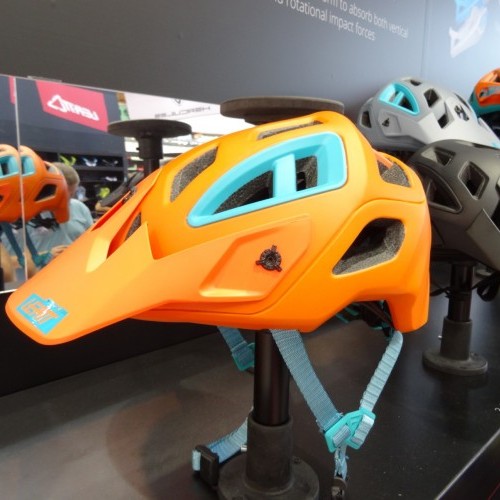 Leatt 2017 Eurobike
Features / Wed 7th Sep, 2016 @ 6:30 pm
They just make neck braces, yeah? Wrong,very wrong, and even more wrong for 2017. The South African corporation makes protective kit for many sports including snowsports, motocross and of course mountain biking. They may well be best known for their Leatt-Brace but the new range of helmets, clothing and pads vastly increases their offer to the discerning mountain biker.
First up we have the much anticipated DBX Enduro and All-Mountain helmets, both featuring Leatts new 360 Turbine Technology. These small Armourgel pads stiffen on impact whilst also moving laterally to absorb rotational forces. The All-Mountain model is a classic half lid, where as the Enduro, which is based on the same lid, has a removable chin bar. This chin bar clips on with two simple clips and converts to a full-facer in virtually no time at all. Other details for both helmets comprise of 18 vents, Fidlock magnetic closure, custom fit dial and adjustable breakaway visor.
Also for 2017 we see a newly re-vamped full face helmet with more classic style than the 2016 DBX 5 and 6. A more pronounced chin guard and longer visor give it a more conservative look, but still super cool.
The Clothing line looks on point and features 4 jerseys, 3 shorts and 2 jackets covering a range of prices and functions. Prepared for all weather, the line up includes waterproof jackets and shorts with some great attention to detail in the features and perfect compatibility with the neck brace (obviously). The glove line up includes 4 styles, all of which feature the unique Nanogrip palm which is incredibly strong and grippy, even in the wet and feels soft and pliable.
And last but not least, they also make neck braces.
Ewen Turner is a self-confessed bike geek from Kendal in the Lake District of England. He runs a coaching and guiding business up there and has a plethora of knowledge about bikes with an analytical approach to testing. His passion for bicycles is infectious, and he's a ripper on the trails who prefers to fit his working life around his time on the bike.
Featured in this Post
Comments