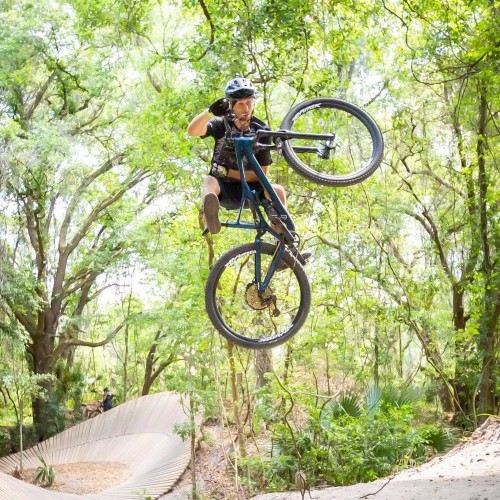 Mountain Biking In Florida? No Way!
Features / Fri 7th Jun, 2019 @ 9:30 pm
Win a GO3 Camera by Insta360 this issue in our FREE subscriber prize draw.
Everyone knows Florida has Disney World, golf courses and white sandy beaches, but mountain biking? Not far from Tampa is the Alafia River State Park, a scenic gem nestled near suburban Hillsborough County. Up until the 1960s, the park and surrounding areas were strip mined for phosphates, resulting in some of the most radical elevation changes in the state.
In the subsequent decades, the region remained mostly undeveloped, leaving the indigenous flora and fauna to reclaim the area. Tall ridge lines left behind by strip mining drop off into green, murky swamps. Wildlife flourished over time as deer, turtles, rabbits, hawks, fish and alligators proliferated and eventually became protected by the state park system. Eventually, it became home to the Alafia MTB Trail System.
In the 1990s, a few certifiably crazy mountain bikers led by Wes Eubank stood on these ridgelines and, where others saw swamps with large alligators, they saw single track slicing up and down ridgelines and darting along the swamp's edge. They spent the next two decades dragging tools and materials into the swamps and carving out world-class, single-track trails. Trail bosses changed through the years, each imparting wisdom and experience to help advance the trail system and build the local mountain bike community.
Angelo "Geo" Giambrone, a local firefighter, took the reigns as trail boss in 2017 and created the Alafia Trail Crew (ATC). He ` forged relationships with Friends of Alafia – a nonprofit charged with protecting, preserving and supporting the state park – and the state park manager, to further develop a safe and exciting mountain bike adventure that riders of all abilities could enjoy. Best of all, this diverse group formed a tight-knit family that looks out for each other and helps to advance the sport for future riders.
The good news is Alafia mountain bike trails are open year-round. The bad news is Alafia mountain bike trails are open year-round. The trails are under constant siege from hot humid summers, wet hurricane seasons and dry winters, so natural trail features take a beating. On Sundays alone, the park has an average of 1,200 riders, so ATC and the rider community volunteer daily to build drainage systems, repair trail damage and create new features.
It's not uncommon to see Geo leading a team of Boy Scouts into the swamp to build a 40-foot bridge, families with rakes and loppers cleaning trails after a storm, and seasoned trail builders bench cutting a new trail by hand along the side of a ridgeline. Ron Haertlein and the build team are busy redesigning the Sand Pine trail to accommodate adaptive bikes and challenge these athletes with a two-mile, XC-style course winding around oak trees and palmettos. It takes a village to build and maintain trails, and the Alafia MTB community fully embraces this attitude.
Last November the team decided it was time to build a sustainable feature that could stand up to the elements for years to come. The local MTB community joined forces with the Alafia Trail Crew to build its latest project, unofficially named the "Gwazi Berm" by the rider community. It's become the favorite attraction for intermediate and expert riders. A fast descent down rocky terrain leads to a massive, wooden double berm turn on the edge of the swamp with a perfect setup into a tabletop jump. It's a quick trip through the berm and around the "do it again" turn so it's not uncommon to see riders sessioning this feature repeatedly.
Alafia Trail Crew held a day of festivities to celebrate the opening of the berm and to honor MTB community members who dedicated money, time and resources. The highlight of the festivities was a competition at the berm turn where competitors were judged on their big air, whip, and style.
Moonscape, Graviton and Gatorback trails offer advanced riders a unique riding experience as they traverse narrow ridgelines, dive down steep drops towards the swamp, and navigate through a variety of rocky, technical climbs, switchbacks, mandatory drop-offs and narrow bridges. Things happen quickly on these trails as steep technical descents change quickly into punchy, vertical climbs. Local riders have a saying, "pedal down, coast up," which perfectly captures the best strategy for these challenging trails. Grab all the speed you dare on the descents and carry that speed up the climbs.
One of the park's more exciting features is a 30-foot gap jump over the swamp. A fast-flowy downhill section through a series of rollers and smaller jumps sets you up perfectly to launch across the ominous looking green swamp. Savvy riders will check for alligator eyes peering up through the green moss before launching. The Swamp Gap Jump is not for the faint of heart but it's one of Alafia's favorite jump lines for the more experienced riders.
The First Responder Games are an Olympic-style competition that takes place in Florida annually. The multi-sport event attracts thousands of Police, Fire, Paramedics, EMTs, Military, and Federal Agents from all over the United States. Available events include soccer, flag football, ice hockey, fishing, archery, golf, softball, volleyball, bowling, billiards, darts, cycling and more. Alafia MTB trails hosted the MTB-style cycling event in 2019. Alafia River State Park has hosted many race events through the years, but nothing quite like the First Responder Games.
The footprint of the MTB trails is relatively small and adds to its unique character. Chair lifts and transport vehicles aren't needed as the major trailheads begin at the main parking lot and branch out into the park, forming a hub-and-spoke layout. Riders depart their vehicles and access trails within 30 seconds. They can hit the Gwazi Berm playground in less than a minute. Blue trails meander through the park with more advanced Black trails branching off, allowing riders the opportunity to push their skills. Twenty-six trails ranging from beginner to expert are accessible from the parking lot within minutes.
Riders can spend an entire day going back and forth between their favorite trails and refueling with friends at their base camp in the parking lot. A map in the main parking lot provides riders with an explanation of the trails, rating system, and shows all trails ranked from easiest to most difficult. Riders can visit the website before arriving at the park to plan their riding excursion and see videos of all the trails. ATC encourages riders to submit suggestions for new trail features or to report maintenance issues through the website.
Alafia River State Park has all the amenities one would expect from a well-managed and maintained state park, plus it even has a full-service mountain bike shop at the trailhead. The shop has a full selection of rentals ranging from short-travel XC to long travel enduro bikes. Break a chain or get a flat and the bike shop will have you back on the trail in minutes. The park manager recently installed a water purification system for the fountain. Riders can now fill their bottles and Camelbacks with cool, clean water.
You can ride mountain bikes in Florida 12 months out of the year, but the ideal time to enjoy the trails is late fall and winter. While most of North America is covered in snow and many bike parks have transitioned to ski resorts, Alafia Trails has its best riding season with comfortable temperatures and perfect single-track conditions. Grab the family and take them to Disney World, a vacation on the beach, or play on some of the best golf courses in the world but leave space in your luggage for your bike gear because you won't want to miss a truly unique MTB experience at Alafia MTB trails.

Featured in this Post
Comments