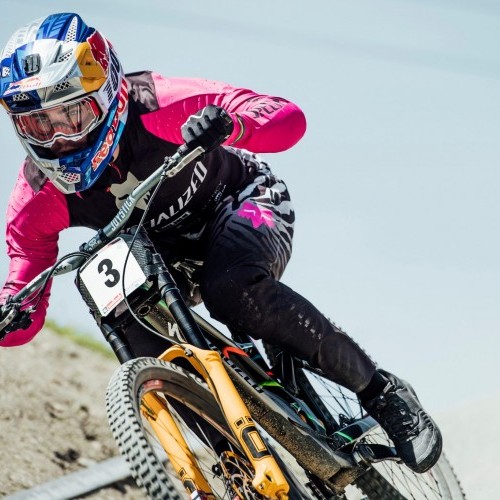 UCI DH World Cup 2019 Final Results: Leogang
Features / Sun 9th Jun, 2019 @ 9:30 pm
The Leogang Bike Park track, although sometimes criticised for a lack of technicality, is known for its staggering speeds and seldom fails to produce captivating battles. Here is all you need to know:
Australia's Tracey Hannah and France's Loïc Bruni took their respective elite class victories amid a thrilling third round of the Mercedes-Benz UCI Downhill World Cup in Leogang, Austria.
In the elite women's race, New Zealand's Kate Weatherly took the hot seat early on with a superb run. Marine Cabirou, one of the emerging French talents, crashed out from a good position to leave the Kiwi's first top-flight podium looking like more of a reality.
Germany's Nina Hoffman, who had grabbed her own first top-three finish at the previous round in Fort William, was the first to pip her time.
Rachel Atherton, the defending champ, crashed high on the course and was over 20 seconds back at the first split. That left the fastest qualifier (for the third time this season) Tracey Hannah alone at the top. The Aussie's run was perfectly balanced amid the dusty conditions, which she admitted suited her, and she was duly rewarded with her first win of 2019.
Speaking after her win, Hannah said: "I've won three World Cups, but none of the World Cups I've won Rachel has started in. I've finally had the chance to be strong enough and fit enough to give her a run for her money. That means more to me than the World Cup win alone; racing against her and being able to win."
In the elite men's race, the fastest qualifying time of Saturday was beaten early in the day as the track dried and burned in. Greg Minnaar had gone fastest on Saturday, so the big question was whether he could convert that into a remarkable 22nd World Cup win.
The USA's Charlie Harrison initially held the hot seat, until world champ Loïc Bruni beat his time by over three seconds. Bruni celebrated in the finish area, but quickly declared that he didn't think that he'd done enough. He felt that he'd left too much time on the fast middle section of the track.
The last man who stood a chance of taking top spot was Minnaar. The South African was faster towards the bottom of the track, but the damage had been done at the top, leaving Bruni to celebrate his second win of the season.
A delighted Bruni commented:
"I was struggling on the top section at the beginning of the weekend, then yesterday at the bottom, so maybe today I kind of found the balance. I started the run pretty committed and I couldn't really feel the grip. It was super-hard because it dried up a lot. I just held on, depended on everything I had – because every detail counts on this track – and it was enough."
There is now a break of a few weeks before the season resumes in Vallnord, Andorra on July 5.
Leogang women's downhill result:
1. Tracey Hannah AUS 3:42.107
2. Nina Hoffmann GER +2.435
3. Kate Weatherly NZL +9.360
4. Marine Cabirou FRA +9.564
5. Veronika Widmann ITA +12.085
UCI MTB World Cup women's downhill overall:
1. Tracey Hannah AUS 650
2. Rachel Atherton GBR 500
3. Nina Hoffmann GER 475
4. Marine Cabirou FRA 440
5. Veronika Widmann ITA 307
Leogang men's downhill result:
1. Loïc Bruni FRA 3:16.132
2. Greg Minnaar RSA +0.324
3. Troy Brosnan AUS +0.746
4. Danny Hart GBR +1.994
UCI MTB World Cup women's downhill overall:
1. Troy Brosnan AUS 520
2. Loïc Bruni FRA 515
3. Amaury Pierron FRA 450
4. Danny Hart GBR 435
5. Greg Minnaar RSA 321
Originally from Sheffield, James lives and works in the mountain bike mecca that is the Lake District and has been falling off bikes since he was six. In between working on bike events, riding bikes, racing bikes and writing about bikes he enjoys talking about bikes with anyone who will listen. He really likes bikes.
Featured in this Post
Comments