A trade show within the UK's best known race track? Genius! Politely ask the security guard for directions, calmly drive past then as soon as he's out of sight drop a gear and hoon it round the course before walking into the show as if nothing's happened. Welcome to the 2012 Bike Place Show!
Without any doubt the buzzword of the show had to be "29er". Every exhibitor either had a 29er on their stand or had plans to start making one. 29ers it seems, are here to stay.
OrangeÂ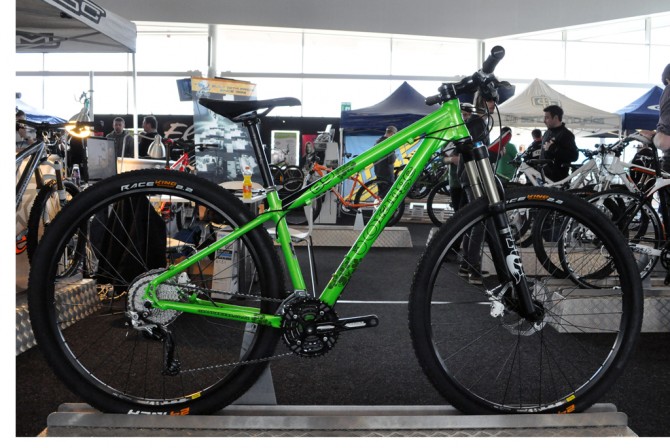 It's almost impossible to go to a bike show in the UK and not see an Orange bike, and that'd got to be a good thing. Pictured is the E9, Oranges take on a 29 hardtail, with a 120mm fork for trail and cross country riding. Orange also have the first single pivot full suspension 29er, which should be available in very limited numbers from March. If this sounds like it could be your thing then get in contact with the guys from Halifax quick. The limited run of Five Black Gold's sold out in just over a week!
Devinci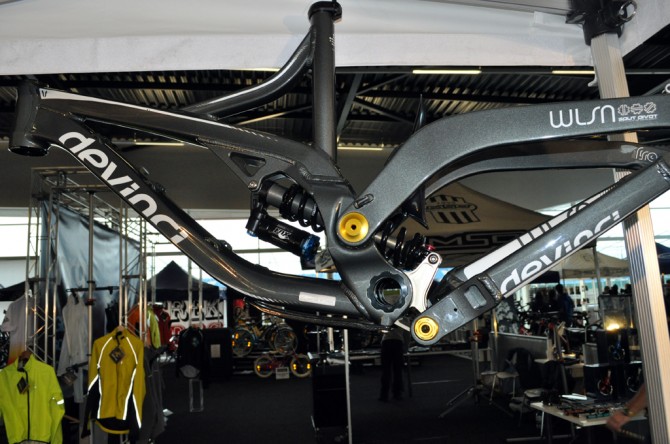 Devinci had a fantastic 2011, helped I'm sure by the success of Stevie Smith on the World Cup circuit, as well as all the hard work by the guys at Haven Distribution. For 2012 the Wilson is available with the option of a carbon fibre seat stay as well as a slightly longer frame compared to last years. We can't wait for the first round of the World Cup and to see this bike in action. Also on display was the new Atlas 29er with 110mm of rear travel.
Velocite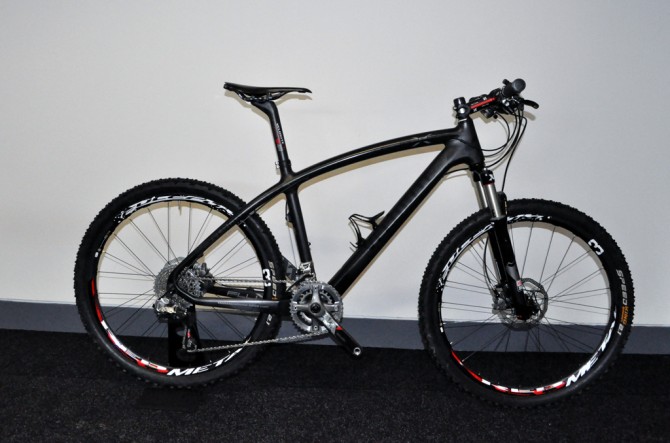 The Flux is Velocite's first mountain bike, built with one thing in mind: speed. This is one very light, very fast bike. This issue we've got a selection of hardtails on test and we're lucky enough to be able to include the Flux in the grouptest. Whilst this might be Velocite's first mountain bike there are already plans to expand the range including a full suspension build and of course a 29″ wheel option! Be sure to check issue 16 of IMb for a full test of the Flux.
Ram Bikes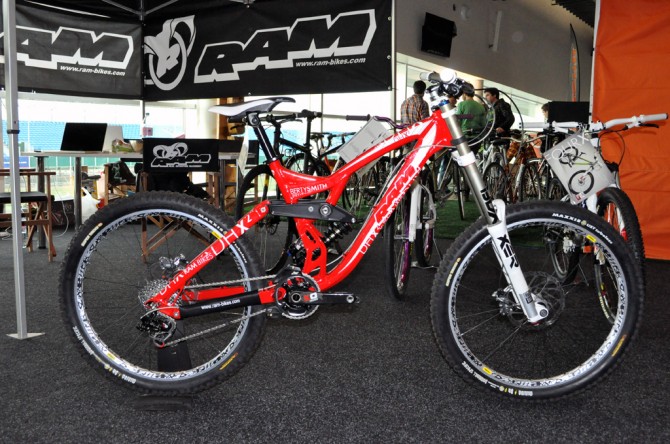 Expect to see big things from Ram Bikes this year. They've got a complete line up of bikes to cater for every type of riding from cross country racing to enduro, but I just couldn't take my eyes off the DHX 2.1 seen here. With adjustable chainstays and adjustable progression settings the dhx is bound to be top of many rider's wish lists.
Head over to our facebook page to see more photos from the show, and while you're there don't forget to give it a like! Apologies in advance for the shoddy quality of the photos. I'm blaming poor lighting, poor use of flash but mostly my poor photography skills!
Wed 1st Feb, 2012 @ 3:09 pm
Featured in this Post
United Kingdom
74,451
Taiwan
5,620
Comments