Diamondback returns to downhill racing with sponsorship of 44Racing Rockstar Team
Diamondback UK is proud to announce its return to downhill mountain biking through the sponsorship of the 44Racing Rockstar team, the official Rockstar Energy Drink UK MTB team.Headed up by Team Manager, Christian 'Hatch' Hatcher, the 5-man squad will ride Diamondback's new DH8 downhill beast, which was officially launched by Diamondback in January 2013.
Diamondback Product Manager Jason Boness was instrumental in setting up the sponsorship deal and he's keen to prove why Diamondback deserves to regain its place at the top of the podium.
"Diamondback's name has always been associated with racing so I'm thrilled that we'll be putting these new bikes through their paces in one of the most structurally demanding disciplines of bike racing."
"We'll be working closely with the team, getting feedback so we can learn, refine and push forwards the technology required to compete at the pinnacle of off-road racing."
With a squad of five riders, the team's approach will be to develop UK talent and compete in World, European and National levels.
Although he takes a managerial role with in the team, Hatch is no stranger to the race scene, having been involved in racing since 1993.
"I'm really excited to have the team on Diamondback bikes for 2013 as it is a brand that has had a great race pedigree and one that I have grown up with. We have been heavily testing the new Diamondback DH8 during the off season with great feedback from all of the team riders. I am looking forward to working closely with Diamondback to get the team on the top step of podiums across the UK and Europe"
The team will be pre-season testing in northern Italy during March. The first race for 44Racing Rockstar on their new Diamondback DH8 bikes takes place on 13th/14th April 2013 at BDS Round 1 Combe Sydenham, Somerset, followed by a host of races across the UK and Europe.
The five strong squad looks like this:
Christian "Hatch" Hatcher – Team Manager/Rockstar Energy DH Team Rider – Master CategoryChris Sinden – Rockstar Energy DH Team Rider – Elite CategoryNick Geoghegan – Rockstar Energy DH Team Rider – Expert Category
Sam Johnson – Rockstar Energy DH Team Rider – Expert Category
Joe Mallinson – Rockstar Energy DH Team Rider – Senior Category
Keep in touch with all the latest Diamondback news via @diamondbackuk, facebook.com/diamondback.bikes, or http://ukdiamondback.wordpress.com/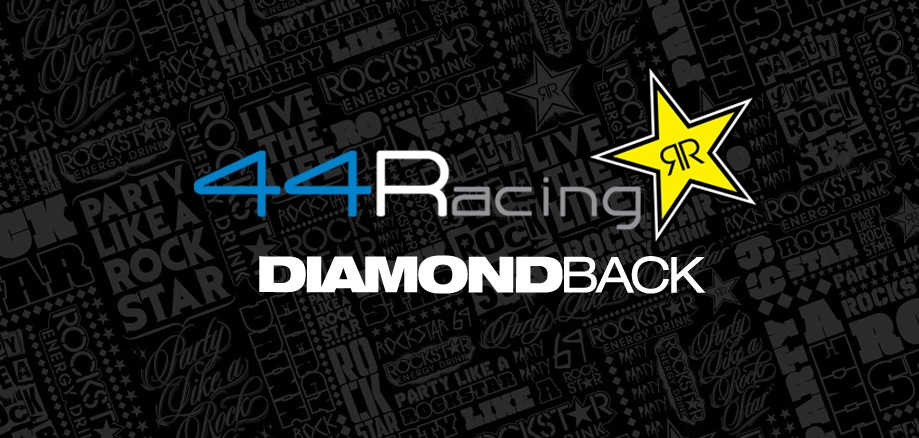 Keep a look out for 44Racing Rockstar in 2013.
Sun 20th Jan, 2013 @ 1:00 pm
Comments