We Become The Commencal/Vallnord Team!
The @commencal @RidingAddiction team becomes Commencal/Vallnord, as the team announce their full rider line up and a new title sponsor, in the form of @Vallnord! As with their bikes, the future looks bright for this team!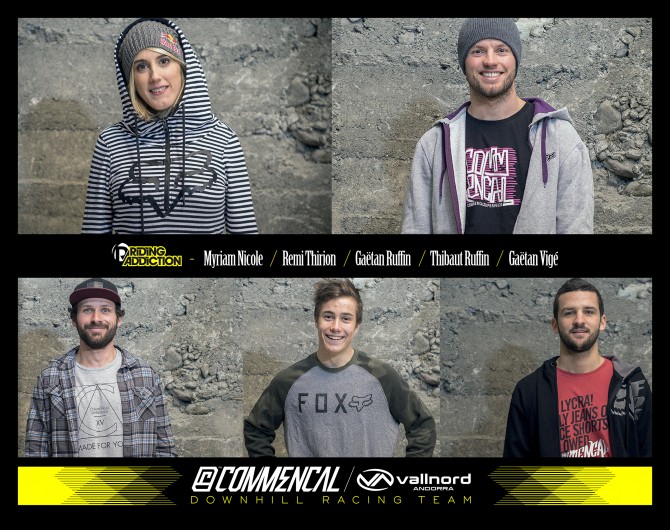 After six years of collaboration with the Commencal brand, our team Commencal/Riding Addiction is honoured to announce the arrival of a new Andorran partner, Vallnord resort!
Still managed by the Riding Addiction structure with Thibaut and Gaëtan RUFFIN, our team has changed names and will now be known as Commencal/Vallnord to honour the two main partners.
Its bike park, its different enduro trails and its sports complex, make VALLNORD an ideal playground for our team. Its bike park has not finished being exploited and we are confident that together, we will get to make VALLNORD a must see destination resort.
This excellent collaboration is also confirmed by the signing of a new contract which will bind Commencal and Riding Addiction for another 3 years. Thus until 2017, the team will be composed of Myriam Nicole, Rémi Thirion and the Ruffin brothers, Gaëtan and Thibaut.
The growth on the front of the international scene will remain as in the past, their main objective, and they will have at heart to shine and wear high the colors of their partners.
Another change, a promising young rider joins them: Commencal/Vallnord will count on the talent of Gaëtan Vige which strengthens the group and will evolve in the Junior category for the next two seasons.
Besides Commencal and Vallnord, regarding our technical partners, we are fortunate to work with leading brands which provide us advanced equipment: we are pleased to continue our collaboration with BOS MTB for the suspensions and we welcome Hutchinson who becomes our tire partner. We will still have the support of SRAM for all that relates to the drivetrain and braking; Novatec will also be on our side for wheels, CN Spoke for spokes, HT for pedals and Renthal for cockpits.
Our collaboration with Fox Head continues, we will wear the race kits, helmets and pads as well as the casual wear of the brand.
We will also count on the support of the following partners:
Morgaw . Gamut USA . Alpha . Lezyne . EPIC TV . Feedback Sports . FIVE TEN . GoPro . Compressport . Jagwire . Squirt Lube . Goodman Cycles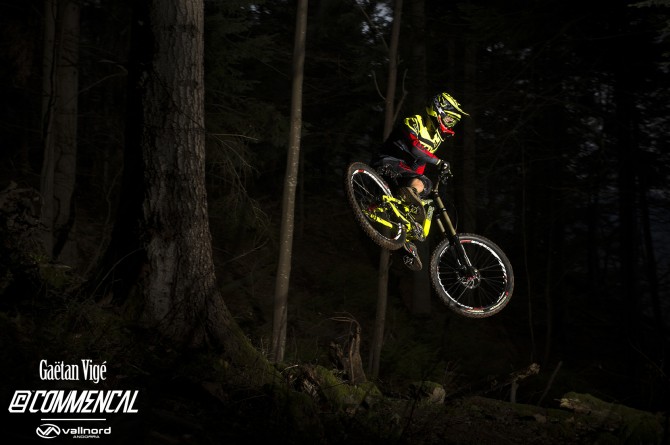 "The whole team joins to renew his thanks to all those partners without whom all these adventures wouldn't be possible.
Over the years alongside Commencal, we have become one big family. We share the same vision of our sport and we have the chance to work with a team of highly skilled enthusiasts. It was therefore essential and natural for us to extend this partnership to move forward together.
The arrival of Vallnord to work alongside us is the icing on the cake and reinforces the image of the team! No doubt that with a training ground such as Vallnord, we will have everything it takes to prepare and progress in the best environment. We are also very happy to have Myriam Nicole and Rémi Thirion for the next three seasons. They are a big part of the team. We will do our best to continue to lead them to the highest steps of the podium.
We also bet on youth Gaëtan Vige. His good humour fits perfectly with our spirit. In addition, he has an amazing talent on the bike and we are delighted to have him on our side. We all look forward to seeing what this season will be made of!" Thibaut Ruffin, Team Manager.
"It's a great joy for me to sign with Thibaut and his gang again for another three years. I've always loved success stories, where the goal is so far away but in the end you reach it! It doesn't work out every time, but when it does, it's most beautiful. It has happened to us quite a few times in the past! This year the team is great! We worked hard on the bikes and it's not impossible that a prototype (Supreme V4) makes its appearance. The riders have a fantastic new partner (Vallnord), a new bike (maybe), World Championships at home (Vallnord, Andorra – first week of September): The season promises to be exciting, and that's what matters!"
Max Commencal.
"I'm really happy with the turn taken by the Riding Addiction team. Since arriving in 2010, each year the team is more professional while maintaining a fun spirit! The team with which I work is extraordinary. The partners are the best in my eyes and our goal is the same: to have the best product to get on the top step of the podium!
This year I am happy to have a small junior at my side, he's crazy but we do have fun! In short, the dream is not about to stop, we have many years ahead of us…"
Myriam Nicole.
"The end of my contract was due to end in late 2015, but the Commencal/Riding Addiction Team asked me to extend this year, up to 2017. It has been two years that I've ridden for them and it is with this team that I've had my best performances. I feel good and I do not see myself moving elsewhere at the moment. The team is becoming more professional but also keeps the family atmosphere that I like so much. It's for these reasons that I gave them my green light. I cannot wait to start the season, lots of new things await us."
Rémi Thirion.
"It's just the bomb! We have fun like crazy. And it's huge for me to integrate into this team. They are really great with me, so I feel good with them. I'm looking forward to my first race with them."
Gaëtan Vige.
Featured in this Post
Comments