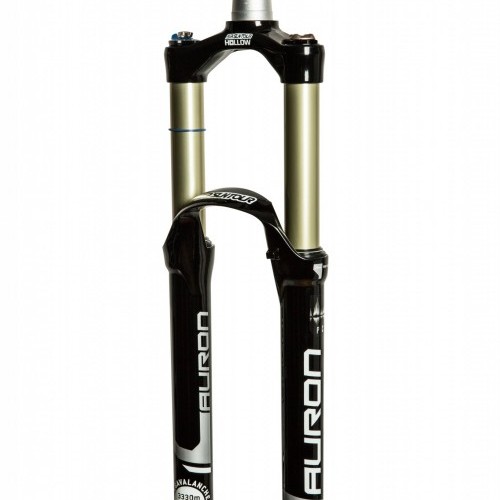 New SR Suntour Auron Megavalanche Edition RC2 PCS Fork
Thu 16th Jun, 2016 @ 9:30 pm
"In 2015 Remy Absalon on a 29" Auron took the win. The mix of perfectly balanced suspension, lightness, stiffness and durability was probably not the worst combination in the world for Remy's fork.

"The AURON Megavalanche edition with its all new RC2 PCS damping cartridge, is a culmination of all the years SRSuntour has spent working with riders on the Mega."
The moment the infamous 'Alarma' is rings out on the glacier of the 3300 m high Pic Blanc in Alpe d`Huez,
even die-hard racers and mountainbikers get goose bumps faced with probably the most demanding and most complete downhill endurance race ever.
Approximately 2000 participants every year take part in this challenge either racing to win this prestigious competition or to have the 'best time of their life'. SR Suntour has been supporting the Mega for more than a decade, especially as we love unique and challenging but not necessarily elitist events. Open to everybody and a perfect test arena for our R&D department.
Last year Remy Absalon on a 29″ Auron took the win. The mix of perfectly balanced suspension, lightness, stiffness and durability was probably not a bad the worst combination in the world for Remy's fork.
The AURON Megavalanche edition with its all new RC2 PCS damping cartridge, is a culmination of all the years SRSuntour has spent working with riders on the Mega. Available in 29″ and 27.5″, with and without travel adjust, with travel of 130mm to 160mm (27.5″) respectively 150mm (29″).
From mid June the Auron will be available from the official UCC shop, the organizers of the Megavalanche venue, or selected retailers.
What is the RC2 PCS damper all about?
Our newly developed damping cartridges with Piston Compensator System (PCS) aid traction, control and consistency on the trail
and the simple construction allows for easy handling and quick maintenance. The integrated piston separates air and oil in the damping cartridge and prevents cavitation, bubbles and vacuum within the damping unit, mainly happening during fast rides in rough terrain. Consequently the cartridge works very fast and smoothly whilst at the same time ensuring sufficient travel for the next hit.
After having introduced the all new DUROLUX R2C2 PCS the AURON is our tool for 15mm wheelsets and riders, who are focussed on every gram and second.
Model: AURON Megavalanche
Cartridge: RC2 PCS, TA-RC2 PCS (27.5″)
PCS: Piston Compensator System for traction, control & consistency
Wheel: 27.5″, 29″
Travel: 160mm (27.5″), Travel Adjust 160-120mm (27.5″) , 150mm (29″), Federwege internally adjustable (130mm, 140mm)
Stanchion diameter: 34mm
Stanchion colour: Hard Anodized Gold
Colour: White, Black gloss, Black matt
Axle: QLoc2 Ti 15mm
Weight: starting from 1896 g
RRP: €679
Available: from mid June 2016
Featured in this Post
85,151
6,039
Comments