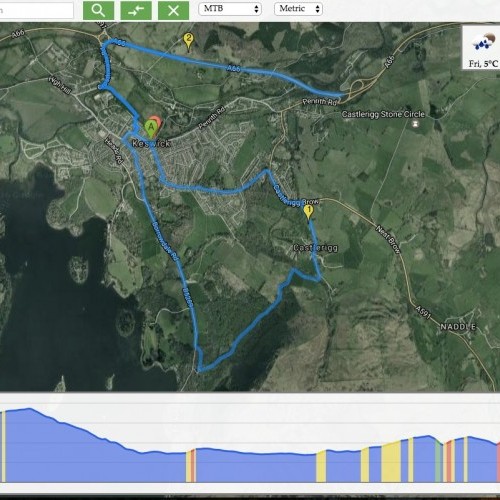 BikeRoll – Free Bike Route Planning Site
Sat 24th Dec, 2016 @ 12:30 am
Technology moves in mysterious ways, right? Twenty years ago who'd have thought that we'd have electronic shifting, accurate GPS in our pockets and on our wrists – and dare we mention eBikes? So is there room for more, can the market keep going, and where will it end? BikeRoll is a simple, browser-based free site that allows the creation of cycle routes quickly easily. Its creator, Botond Attila Bocsi, is here to give us the deets on this handy online app.
I have been cycling for almost ten years. I needed quite a time to figure out the quality of a bike track – how much I enjoy it – because that is the ultimate measure of quality and it greatly depends on the chosen track. The nice routes which are close to where I live were taken pretty early so finding new challenges became an issue. I was left with the problem where should I bike if I want to go on a simple Sunday ride? At this point the Internet helped me out by providing a plethora of cycle route planning software. These applications can be used to pre-plan the route I want to take and see a lot of details before even taking the bike from the balcony.
In this article I present my bike route planning website: BikeRoll. It is a relatively new website but offers some features that make the planning process much easier and overall the resulting route can be much more enjoyable. Why BikeRoll is a great cycle route planning site? Let me explain it.
Easy to use
First of all, its most important feature is its simplicity. It has one and only one purpose, make the planning process efficient. For example, there is no need for registration (at this point it is not even possible to register). When you enter the site, you are given a map centered at your current location so you can start designing the route right away. No unnecessary menus, clicks, or login. Furthermore, a random route is always generated starting from your actual location (sharing location settings must be enabled to have the feature). It must be admitted that the generated route is not always the best but, hey, better than a complicated menu system.
The planning itself can be done with the mouse as one would expect with any Google Maps application. Using right click the menu offers change the start and destination point, and adding middle points. Middle points are locations where the route must pass. Once added, these points (start, destination, or middle) can be dragged (or removed with double click) as you would expect on Google Maps. It is simple, nothing fancy.
But if it is so simple and similar to Google Maps why you should use it instead of Google Maps? See the explanation as it follows.
Suggestive elevation profile
The main difference between driving a motorcycle and a bike is that motorcycles are less affected by altitude difference while a long climb on a bike can be exhausting. For example, a long, e.g., 30km 10% slope, climb on a bike needs proper pre-training while the same route with a car or a motorbike is a piece of cake. On the other hand even a short, e.g. few hundred meters, climb on a 30% slope, is impossible with most of the cars while you can always get off the bike if facing such a situation and continue afterwards. Long story short, the altitude profile of a bike route can be crucial.
A very nice and suggestive elevation profile is exactly what BikeRoll provides. First of all it is slightly bigger than the usual elevation graphs, making it more detailed. Second, it has non-uniform coloring. Almost flat segments are blue, easy ramps are yellow, hard climbs are red, and very steep descents are green. Having these colors, just by taking a short look on the graph one can have a pretty accurate overview about how difficult the track will be. Unless you are a well trained biker, a red elevation profile is really a red flag that should be taken seriously. A more yellowish profile suggests not to forget packing some chocolate, and on blue profiles just enjoy the ride. To enjoy the ride the selected route must suit the bike you own. BikeRoll offers a solution for that problem as well.
Road bike, Mountain Bike, and Google Bike
The same start and destination points with road bike and with mountain bike?
Maybe it did not occur to you but there are two kind of people in the bikers community: road bikers and mountain bikers. Now, road bikers can like mountain biking and mountain bikers can like road biking but nobody likes them both equally. As a consequence in the planning phase it is important to specify this preference. Actually, BikeRoll offers three kind of routes: (a) tracks for road bikes, which are routes that can be taken by cars, (b) mountain bike routes, which are routes that can be taken on foot (roughly speaking, everything that can be done on foot also can be done on mountain bike), and (c) Google bike tracks that use the bicycle layer on Google Maps. Some countries support the Google Bike layer, some do not, so its usability depends on the location where you live. Regardless which kind of biker you are, it is almost certain your route can be planned in BikeRoll.
Shortcuts
A simple but important feature is that planning is made faster and more comfortable with shortcuts. You know the feeling when your route planning is almost finished, you are doing the final adjustments to make it perfect and you delete (or add) a middle point by mistake. The whole route can be ruined and gone. Well, not using BikeRoll, where there are shortcuts for undo [Z] and redo [Y]. Furthermore, you can make your life easier with shortcuts for reverse route [R] and clear map [C] as well. Nothing fancy, just a simple convenience.
Weather support
The feature that I like the most in BikeRoll is its instant weather forecast. You do not have to push any button or link to get the forecast. It is just shown on the top right corner for the area where you have your route planned. And of course it updates once the route is changed. An important question is what happens when the route is so long that different weather conditions will be met at the beginning and at the end. Or what happens when it is sunny in the morning but a shower comes on the afternoon. I suppose some average values are shown that may not be sufficiently accurate in some circumstances. I think this forecast should be rather seen as an overall indicator. For details your favorite weather forecast site should be checked but for pre-planning a few days ahead is just perfect. Anyway, if the BikeRoll forecast is -10 degrees celsius with heavy rain, do not expect much better conditions on your favorite weather forecast site either.
Multi-language
Being an English speaker makes life easy on the Internet in general. However, statistics show that roughly 25% of the Internet usage goes on English. Thus, multi-language support helps a lot of people to plan their bike routes. It is really a small thing, i.e., a one dropbox feature, that can be appreciated only by non-English speakers. I found nine supported languages which try to cover most of the world: US, parts of Asia, and parts of Europe.
PDF summary
The thrilling thing about bike route planning is that on the day you get the chance to actually go through the planned route. The reward of the time spent in from of the computer (or cell phone) is finally received. Well, it is received if you find the route and stay on it. In some cases it is pretty easy not to get lost, in other cases it can be a true challenge to stay on course. BikeRoll provides two simple ways not to get lost. The first one is for more old-fashioned (not old of course but rather traditionally thinking) people: paper based instructions. You can print a paper summary of the route that contains an overall map, the elevation profile, and some key instructions not to get lost. The attached figure shows an example summary  for a road bike route.
Real-time tracking of the current position
Nevertheless, most of the people prefer their mobile devices over plain old paper to keep track of their position. BikeRoll offers a mobile based solution as well. It is again as simple as possible. You do not even need to download an app or install anything on your smartphone. The tracking is done in the browser. Once the route is opened in a browser red concentric circles will show your actual position. If the browser is kept open while biking, the actual position is updated, thus, one can see where he is on the route (or how far he is from the route :)). It is very comfortable, especially because the site has a nice mobile friendly design. The whole tracking requires no interaction with your phone.
In a nutshell
Generally speaking, BikeRoll is a simple, easy to use tool to plan bike routes. It does not want to force anything on the user. Its goal seems to be to enter the site, plan the route, and ride the track. To be honest, if there is one feature that I miss it's that the routes cannot be saved. There is the possibility to save it as a bookmark, but that is not the same as having a nice interface on the site. Of course this feature would require registration but I would go through a simple registration process to have it. Nevertheless, I would recommend BikeRoll for every biker, it's definitely worth a try.
Featured in this Post
Comments