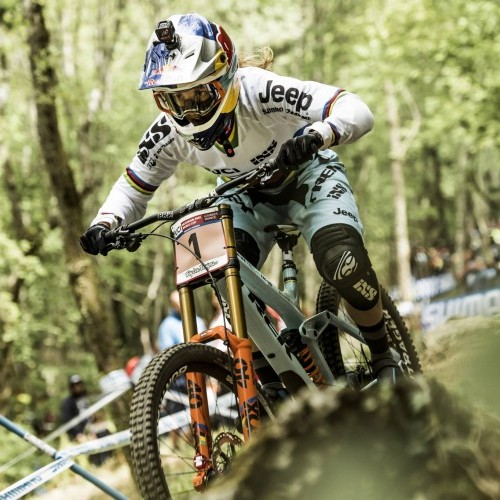 Atherton And Fayolle Win At Lourdes
Mon 1st May, 2017 @ 12:30 am
The build up to the opening round of the UCI DH Mountain Bike World Cup was all about the introduction of 29″ wheels into downhill racing as the Santa Cruz Syndicate unveiled their V10 29er, but it was to be the weather that proved the difference in Lourdes, as heavy winds and rain battered the course halfway into the men's race.
The opening round of the UCI Mountain Bike World Cup in Lourdes was won in dramatic circumstances by home downhill hero Alexandre Fayolle as the defending women's champion Rachel Atherton coasted to victory.
Despite a dusting of snow at the start hut earlier in the week, things in France had stayed sunny and pleasant. The track, which had seen some minor changes from last year was running extremely fast and dusty, but Briton Atherton still had it all to do in the first race.
As things stood after qualifying, it was her young compatriot Tahnée Seagrave who was the rider to beat after she finished 1.3secs up on Rachel with Australian Tracey Hannah also looking at home in the dust.
Myriam Nicole cheered the home fans with a classy ride on Sunday, however Hannah comfortably beat her time as British rider Manon Carpenter struggled.
Atherton, though, is a class act and promptly obliterated the course to post a fearsome time of 3:21.430 which Seagrave fell short of beating by 2.735 seconds leaving Hannah in second place on the podium by the end.
Sadly bad weather was predicted later and fierce winds licked at the bottom of the track as the first of the elite men's field began to enter the finish arena.
Scotsman Fraser McGlone impressed with an early, but lengthy, sit in the hot seat before he was eventually displaced by Fayolle.
As he watched his run, which was just a tenth of a second off the previous day's fastest qualifier, Fayolle puffed out his cheeks; he knew that it was good.
Canadian Mark Wallace came close (+3.3secs) as did Colombia's Marcelo Gutierrez (+3.4secs), but then it started to rain with the start hut barely visible.
One by one, big names like Gee Atherton and Bernard Kerr arrived at the finish line increasingly coated in mud shaking their heads in disbelief.
The top 10 qualifiers never stood a chance with Aaron Gwin, the reigning overall champ, crashing as did his great rival of last season, Danny Hart.
The French crowd had come to see what was billed as a titanic dual between Loïc Bruni and Loris Vergier, but very few of them would have predicted a Fayolle win.
Featured in this Post
Comments