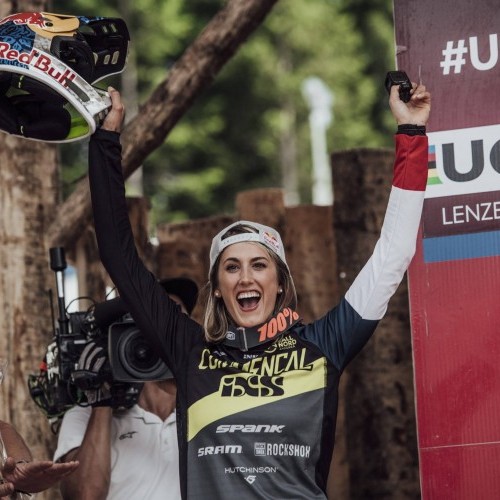 Minnaar and Nicole Triumph In Lenzerheide
Mon 10th Jul, 2017 @ 3:30 pm
Win a Peaty's Complete Bicycle Cleaning Kit this issue in our FREE subscriber prize draw.
South African veteran Greg Minnaar and Frenchwoman Myriam Nicole dug deep for wins at the fifth round of the UCI Mountain Bike World Cup downhill in Lenzerheide, Switzerland.
For Nicole it was her second win in as many weekends having tasted victory, her first in six years, last time out in Vallnord, Andorra.
The Commencal/Vallnord rider had qualified in second position behind resurgent World Champion Rachel Atherton, who was still on the comeback trail from a dislocated shoulder sustained in Fort William, Scotland.
It was a rider on home turf however, Emilie Siegenthaler, who took the lead in dominant fashion – a crash costing Britain's Tahnée Seagrave dearly.
Overall points leader, Tracey Hannah, qualified third but would have to settle for fourth on the day ahead of Seagrave as she failed to top Siegenthaler's time.
Nicole did manage to beat it with Atherton losing time on one of the few flat sections to hand her rival back-to-back victories and the points leader jersey.
She said, "This is such a hard track and hard to find a good feeling on it. It was tough for everyone and pretty stoked that Rachel is back racing with us."
Atherton added, "I never thought I would be back on the podium so soon. Pompon (Nicole's nickname) has been racing for so long with so many injuries and such bad luck. It is really cool to see her at the top."
In the men's race, as with the women's, we had been treated to four different winners at four different rounds with Minnaar the most consistent of the protagonists.
Great Britain's Philip Atwill shocked many when he claimed the early lead with compatriot Laurie Greenland dislodging him after a sensational run.
Reigning UCI World Champion Danny Hart was on the hunt for his first win of 2017 and the track which had seen him take his debut victory 12 months previously seemed as good a place as any to do it.
He pipped his fellow Britons, nevertheless in-form Minnaar rolled back the years again superbly to capture the lead with Australian Troy Brosnan falling just short.
American Aaron Gwin looked set to better them all halfway down with splits in the green, however a puncture deflated his chances and handed Minnaar an astonishing 21st UCI World Cup downhill triumph.
Lenzerheide 2017 was also to be his 75th career podium, yet another milestone for a rider already crowned the greatest of all time. The series moves next to Mont-Sainte-Anne in Canada on August 5-6.
Minnaar said, "Aaron had such a good race and he was in the lead when he punctured. Who knows what the end would have been like.
"The funny thing is after 75 podiums, I am still having a fun time and I honestly feel like I am 18 or 19."
Gwin revealed, "I haven't had a flat tyre in probably two or three months, so it is just a bummer it had to happen here. That is racing."
Men's result:
1. Greg Minnaar RSA 2m57.042s
2. Troy Brosnan AUS +0.162s
3. Danny Hart GBR +1.826
4. Laurie Greenland GBR +2.943
5. Philip Atwill GBR +3.788
Overall men's standings:
1. Greg Minnaar RSA 902 points
2. Troy Brosnan AUS 742
3. Aaron Gwin USA 649
Women's result:
1. Myriam Nicole FRA 3m26.890s
2. Rachel Atherton GBR +0.512s
3. Emilie Siegenthaler SWI +2.387
4. Tracey Hannah AUS +4.539
5. Tahnee Seagrave GBR +5.733
Overall women's standings:
1. Myriam Nicole FRA 980 points
2. Tracey Hannah AUS 900
3. Tahnee Seagrave GBR 819
Featured in this Post
Comments